California 47
---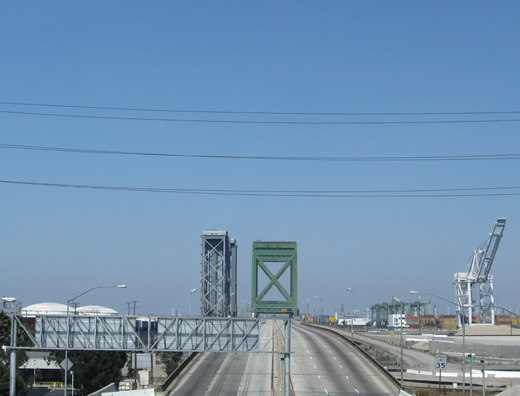 Departing from the Interstate 710 and Ocean Boulevard interchange in the Port of Long Beach, California 47 follows the Terminal Island Freeway north toward the Heim Bridge and points north via the Alameda Corridor. Photo taken 09/28/08.
California 47 is a north-south state route that begins at Interstate 110 in San Pedro and extends east to Terminal Island (Port of Los Angeles), then north along Alameda Street to California 91. California 47 connects San Pedro and its cruise ship terminal with Terminal Island, which is home to the Port of Los Angeles and Port of Long Beach. From Terminal Island, California 47 turns north via the Commodore Schuyler Heim Bridge to cross the Cerritos Channel to return to the mainland. Exiting at Henry Ford Avenue, California 47 joins the Alameda Corridor by following an improved Alameda Street north to the interchange with California 91. The rest of the state highway is unconstructed, but if built, California 47 would continue north along the Alameda Corridor to connect with Interstate 105 and ultimately Interstate 10.
History, Planned Improvements, and Future Aspirations
The state route begins at its junction with Interstate 110 in Los Angeles, just north of San Pedro. The Seaside Freeway between Interstate 110 and the Vincent Thomas Bridge was opened to traffic on July 9, 1970. Heading east from Interstate 110, California 47 immediately ascends the Vincent Thomas Bridge, which was opened to traffic on November 15, 1963. This four-lane, green-painted, suspension bridge is free; however, it was tolled from 1963 until 2000. The Vincent Thomas Bridge is frequently seen in movies and commercials (and is sometimes referred to in movies, including Al Pacino's erroneous "St. Vincent Thomas Bridge" remark in the 1995 movie Heat).
At the eastern end of the Vincent Thomas Bridge, California 47 has one interchange with Ferry Street (Exit 1B). Between Ferry Street and the city limits, California 47/Seaside Avenue is maintained by the city of Los Angeles. There is one at-grade intersection with Navy Way. Seaside Avenue will change names to Ocean Boulevard upon leaving the city of Los Angeles and entering the city of Long Beach. The city limits is located after the Navy Way traffic signal, where California 47 shifts from Seaside Avenue to Ocean Boulevard.
A new diamond interchange was constructed between Ocean Boulevard and the Terminal Island Freeway; the interchange opened to traffic in 2007. Prior to the construction of this diamond interchange, California 47/Ocean Boulevard, California 47-103/Terminal Island Freeway, and the newly extended Interstate 710 met at a traffic light on Terminal Island. Now, through traffic on California 47 north exits, while Interstate 710 continues east along Ocean Boulevard to cross the Back Channel via the Gerald Desmond Bridge. Upon exiting, California 47 has a traffic signal with Pier S Avenue, then turns north at the second traffic signal to turn north onto the Terminal Island Freeway. A freeway-to-freeway connector is currently planned between Ocean Boulevard and the Terminal Island Freeway in the context of the replacement of the Commodore Schuyler F. Heim Bridge.
From this new interchange California 47 travels north along the Terminal Island Freeway and is joined by California 103. The two state highways share alignment between the diamond interchange with Ocean Boulevard and the exit with Henry Ford Avenue and Anaheim Street. Prior to the Heim Bridge, there is a partial diamond interchange with New Dock Street (no access from northbound). California 47-103 then crosses the Commodore Schuyler Heim Bridge. This lift bridge was built by the U.S. Navy and opened on January 10, 1948. The Heim Bridge is slated for replacement due to its inability to withstand a major earthquake. Plans call for a new fixed bridge, coupled with a direct expressway connection from the bridge to the Alameda Corridor, to replace the existing connection via the Heim Bridge and Henry Ford Avenue between the Terminal Island Freeway and the improved Alameda Corridor. Five alternatives are being considered regarding the Heim Lift bridge replacement and proposed "Port Access Expressway," including upgrading Henry Ford Avenue to expressway standards and extending California 103/Terminal Island Freeway north from its current terminus at Willow Street to join Alameda Street. For more, see the Schuyler Heim Bridge Replacement and SR-47 Expressway Project Record of Decision from August 2009. Construction of the Port Access Expressway and Heim Bridge replacement is slated to begin in 2010.
After crossing the Heim Bridge, California 47 reenters the city of Los Angeles and then departs from the Terminal Island Freeway at the Anaheim Street/Henry Ford Avenue exit. California 103 continues north along the Terminal Island Freeway past California 1 until its aborted end at Willow Street. (Original plans called for the Terminal Island Freeway to continue northeast from Willow Street to merge onto Interstate 405/San Diego Freeway and Interstate 710/Long Beach Freeway at their current interchange; now its future is tied to the proposed Port Access Expressway.) Between Ocean Boulevard and Willow Street, spotty signage is posted for California 103, including some signs at the southern terminus of the Terminal Island Freeway and Interstate 710. For our purposes, California 47 and California 103 share alignment between these two points due to the signs for both routes at the Ocean Boulevard interchange, but legislatively, California 103 begins at its split from California 47.
Meanwhile, California 47 turns north on Henry Ford Avenue, which is a regular surface street with several traffic signals; this alignment is temporary and will be replaced once the Port Access Expressway is completed. Once Henry Ford Avenue reaches Alameda Street, California 47 turns north along the Alameda Corridor and follows it north. An improved railroad corridor closely parallels Alameda Street; the goal of the Alameda Corridor improvements (built through the late 1990s and early 2000s) was to improve rail speeds and reduce traffic congestion associated with idling cars and trucks at railroad crossings. The parallel section of Alameda Street is built to expressway standards with grade separations between Alameda Street and major intersecting streets, including Sepulveda Boulevard, 223rd Street (which offers connections to Interstate 405/San Diego Freeway), Carson Street, and Del Amo Boulevard. Connections with these intersecting streets is typically offered with two-way connector ramps that are governed by traffic signals.
After the California 1 (Pacific Coast Highway) interchange, California 47 leaves Los Angeles and enters the city of Carson, then enters the city of Compton. Immediately after entering Compton, California 47 signage ends at the interchange with California 91/Gardena (Redondo Beach) Freeway. A grade separation is in place between Alameda Street and Artesia Boulevard. Once in Compton, state highway signage could continue alongside the improved rail corridor to Interstate 10, since the rail and roadway improvements continue north past the end of signage at California 91. However, some of the features that are seen along California 47 south of California 91 (such as grade separations with major intersecting streets) is not seen. The route of Alemeda Street north of California 47's terminus in Compton is mostly a surface street with some limited expressway features, and the rail corridor is below grade and adjacent to Alameda Street and its frontage roads.
The Alameda Corridor in its entirety from the ports to downtown closely follows the long-proposed but never constructed Industrial Freeway, which was planned to provide relief for trucks traveling from the ports north to the east-west freeways that originate near downtown Los Angeles. The Industrial Freeway was intended to relieve Interstate 710/Long Beach Freeway especially, since it is especially crowded with trucks. The Alameda Corridor improvements have improved truck and rail movements, but since it is not built to freeway standards, it is not nearly as common to find trucks on the Alameda Corridor as it is on Interstate 710. However, most of the improvements involve upgrading Alameda Street to expressway standards, and the Heim Bridge replacement project would more directly connect the Terminal Island ports with the Alameda Corridor expressway improvements.
Highway Guide
California 47 scenes
This trailblazer signage is found in San Pedro (a community of Los Angeles) and points the way to Interstate 110 and California 47. The Vincent Thomas Bridge, which is painted green, can be seen just beyond this shield assembly for Interstate 110 and California 47. Photo taken 07/21/01.
Northbound Pier S Avenue in the Port of Long Beach approaches the signalized intersection with New Dock Street. Signs here point the way to California 47/Alameda Street and California 103/Terminal Island Freeway north. Photo taken 05/02/10.
Southbound Pier S Avenue meets Ocean Boulevard. Turn right to follow California 47/Ocean Boulevard west to San Pedro or left for Interstate 710/Ocean Boulevard north. Photo taken 05/02/10.
| | | |
| --- | --- | --- |
| | | With the Gerald Desmond Bridge visible in the background over the top of the fence, eastbound New Dock Street meets the onramp to California 47-103/Terminal Island Freeway north. Photos taken 09/28/08. |
| | |
| --- | --- |
| | This freeway entrance signage was previously posted on the ramp from California 1 (Pacific Coast Highway) north to California 103/Terminal Island Freeway north. This sign assembly should technically only have California 103 shields, but it was at the time signed for California 47. This sign is now gone. Photo taken 03/30/03. |
Alameda Corridor (High Priority Corridor 22)
The Alameda Corridor project, at a cost of $2.4 billion, is a dedicated trainway that follows a reconstructed Alameda Street (California 47 expressway) and minimizes disruption due to passing trains. This corridor is managed by Alameda Corridor Transportation Authority (ACTA) and is part of Congressional High Priority Corridor 22. The trainway features the Mid-Corridor Trench, which follows a depressed section for ten miles between California 91 in Carson and 25th Street in Los Angeles (built between 1997 and 2002). Over 200 at-grade railroad crossings were eliminated. According to Department of Transportation documents, this will eliminate 90% of the traffic delays; hence, local traffic circulation and congestion should be improved in this corridor as a result of these improvements. These improvements are designed to increase trade volume from 90 million tons to 190 million tons by 2020.
Facilitated by the Alameda Corridor Transportation Authority (ACTA, which is a joint powers authority governed by the City of Los Angeles, Port of Los Angeles, City of Long Beach, Port of Long Beach, and Los Angeles County Metropolitan Transportation Authority), the first project started in July 1996, when a new railroad bridge was constructed over the Los Angeles River at the corridor's north end. The ACTA secured $400 million in loans to commence this project in June 1996. Specific improvements along the corridor include nearly 50 new bridges and 200 grade separations. Here are some of the key improvements, as identified by the Engineering News-Record Magazine:
Northern Connection - $200 million - connects the Alameda Corridor to "the main tracks at the railyards near downtown Los Angeles and requires roadway and rail grade separations, flood control and construction of a $6-million, 300-foot-long, three-track replacement Los Angeles River Bridge."
Redondo Junction - $40 million - grade separation project that "will include two overpasses, elevation of Amtrak and Metrolink railroad tracks, and a flyover."
Southern Segment - $200 million - connects "to the ports and will require grade separations, road shifting to accommodate the trench, a three-track bridge replacement over Compton Creek and another bridge over Dominguez Channel."
Alameda Street Widening - this road parallel to the railroad corridor will be be "widened from four to six lanes with new left-turn pockets." Caltrans does not currently plan to take this street into the state highway system, even though a freeway is still proposed for the Alameda Street corridor. The route was signed as California 47 in 2001.
Henry Ford grade separation project - $70 million - provides "rail connection to the port terminus facilities."
Alameda Trench - $700 million - this trench will be "10 miles long, 50 ft wide and 30 ft deep. It will carry freight trains through Alameda Street without disrupting traffic, which includes trucks that carry freight between the ports and railyards used by freight railroad companies Union Pacific and Burlington Northern Santa Fe. Local cross-streets will be carried over on new bridges. The tracks return to grade level at the southern end as the highways swing overhead."The article further indicates that the "double-track trench, heading straight through working-class, industrial towns south of central Los Angeles, will require moving three million cubic yards of earth."
The Februrary 1998 cover story from the Engineering News-Record Magazine, "$2-billion Alameda Corridor finally breaks ground to unclog traffic at Los Angeles-Long Beach ports" indicates that the corridor is akin to being an artery, and the corridor is built to accommodate the "90-mile 'veins' of railroad track between the ports and the downtown Los Angeles rail hub and eliminate 200 railroad at-grade crossings that currently hold up local traffic on Alameda Street, which the corridor will parallel. Consolidation of three freight routes into the corridor is projected to save about 15,000 hours a day now spent in local traffic, says a study by the Alameda Corridor Transportation Authority (ACTA), the biport agency that oversees the project. Trains traveling between the railyards and the ports to the south will be able to move at 40 mph rather than slog along in congestion." As of the 1990s, 20,000 truck trips and 25 trains used the Alameda Corridor per day, but it is expected that this will grow to 49,000 truck trips and almost 100 trains after corridor work is completed in 2001.
Funding for the Alameda Corridor is varied. In 1997, the "city councils and harbor commissions of Los Angeles and Long Beach approved spending $4 billion over the next 25 years for port and transportation projects, including $2 billion for the Alameda Corridor. The U.S. Transportation Dept. also approved a $400-million loan that is contingent on Congressional appropriations and will come in three installments." In addition, managers with these agencies are also exploring public/private partnerships to fund the project.
The Alameda Corridor is complete as of April 2002, with all grade separations and the parallel California 47 expressway complete. The total cost of the project is $2.4 billion, which is within the budget set for the project. An extension to the Alameda Corridor is High Priority Corridor 34, Alameda Corridor East/Southwest Passage, from East Los Angeles (which is the northern terminus of Alameda Corridor) through Los Angeles, Orange, San Bernardino, and Riverside Counties, to termini at Barstow in San Bernardino County and Coachella in Riverside County. To the south, improvements are planned on California 47, which is the Port Access Expressway from California 103 south to Interstate 710.
The Alameda Corridor has already resulted in some major economic benefits to the ports at the southern end of the corridor. First, the corridor is able to handle 200 million tons of cargo, which is double the amount fed through the Alameda Corridor prior to the reconstruction activities. According to Engineering News-Record Magazine, annual trade activity is projected to increase from $157 billion to $253 billion, and the project will generate 10,000 construction jobs alone, with nearly 700,000 long-term jobs expected as the ports expand.
Alameda Corridor scenes
This suite of pictures shows the Mid-Corridor Trench, which parallels Alameda Street and carries three separate tracks of railroad through the city of Compton for a ten-mile stretch. The Mid-Corridor Trench, which opened on April 15, 2002, begins north of California 91 and extends north parallel to Alameda Street to 25th Street in Los Angeles. The tracks are owned by the Alameda Corridor Transportation Authority to facilitate rail traffic from the Ports of Los Angeles and Long Beach north to downtown Los Angeles. The first four pictures were taken from the Greenleaf Boulevard overpass in Compton looking north; the second two photos look south from the same location. Photos taken 09/28/08.
Sources:
---
Page Updated October 21, 2010.