California 78
---
California 78 travels through the foothills between Ramona and Santa Ysabel. Thunderstorms were brewing near Warner Springs north of here on this late-summer day. Photo taken 08/25/07.
California 78 is a major east-west route, starting at Interstate 5 in Oceanside and leading east through the inland valleys of San Diego County, over the Laguna Mountains separating the coastal areas from the desert, and through the vast Imperial Valley. The highway ends at its junction with Interstate 10 in Blythe, just shy of the Arizona State Line. Through the busy corridor between Oceanside and Escondido via Vista, California 78 is a freeway, with its first sections constructed in 1958. It downgrades to a two-lane conventional highway just east of Escondido, serving the communities of Ramona, Santa Ysabel, Julian, and Banner before entering Anza-Borrego Desert State Park. California 78 continues east through here, merging with California 86 (old U.S. 99) before splitting 24 miles further southeast, at Brawley. East of Brawley, California 78 resumes its lonely trek, passing by the famous Glamis Sand Dunes before turning northeast. California 78 is headed nearly due north when it finally reaches its end at Interstate 10; travelers may continue straight ahead onto Business Loop I-10 to reach the services of Blythe.
Highway Guides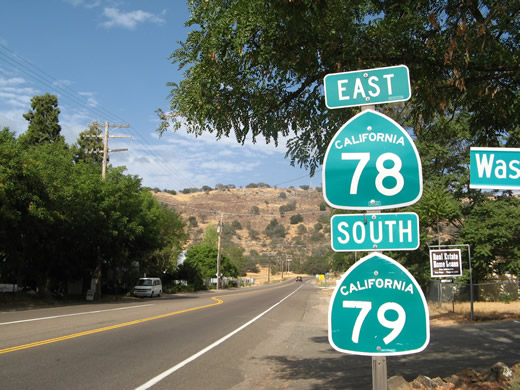 This reassurance shield assembly for California 78 and California 79 is posted in Santa Ysabel, about seven miles west of Julian. Photo taken 08/25/07.
Former California 78/Main Street west (Brawley)
Traveling through downtown Brawley, California 78 was rerouted onto the Brawley Bypass in October 2012. As a result, the old alignment is known solely as Main Street and to date has not been designated officially as a business route. Here, westbound Main Street proceeds toward downtown Brawley after its intersection with California 78 and California 111. Photo taken 04/20/13.
Westbound Main Street (former California 78 and California 111) approaches Old Highway 111 and Best Road. This used to be the point where California 78 and California 111 met before the Brawley Bypass opened to traffic. Photo taken 04/20/13.
Several blocks west, Main Street meets Eighth Street at this traffic signal. Turn left for Imperial County S-31 south to El Centro or right for Imperial County S-31 and Old Highway 111 north to California 111 north to Calipatria. Both California 78 and California 111 shields were posted here until 2012; now only S-31 shields remain. Photo taken 04/20/13.
Main Street passes through downtown Brawley. Photo taken 04/20/13.
Westbound Main Street meets Third Street in Brawley. Photo taken 05/07/06.
| | | |
| --- | --- | --- |
| | | Two blocks west, westbound former California 78 meets California 86/First Street in Brawley. Turn left here for California 86/First Street south to Imperial and El Centro. Ahead, former California 78 and California 86 proceed in unison northwest toward Westmorland, Indio (via California 86 north), and Julian (via California 78 west). Note the changes to the signs between 2006 and 2013, with California 78 no longer signed here. Photos taken 04/20/13 and 05/07/06. |
California 78 scenes
Main Street in western Brawley was signed as both California 78 and California 86. In 2012, California 78 was rerouted onto the Brawley Bypass, leaving California 86 on Main Street. However, in 2013, this street blade guide sign was still posted at the intersection of Main Street and Western Avenue, one block west of California 86/First Street. Photo taken 04/20/13.
This California 78 route marker is posted along northbound Seventh Street in the central business district of the unincorporated community of Ramona about three blocks northeast of the northern terminus of California 67. Note the unusual approach of signing California 78 with Series E font on this shield. Photo taken 08/25/07.
Now in downtown Brawley next to Plaza Park, southbound Plaza Street approaches former California 78/Main Street near the now defunct and removed Planters Hotel. Turn left for Old California 78 east to California 111, Glamis, Palo Verde, and Blythe. Turn right here for Old California 78 to California 86 north to Indio and california 78 west to Borrego Springs, Julian, Ramona, Escondido, and Oceanside. Photo taken 05/07/06.
This series of picture shows the Osborne Overlook at the Imperial Sand Dunes Recreation Area operated by the federal Bureau of Land Management. The overlook is located south of California 78 in the sand hills area at Glamis. A short road (Osborne Park Road) travels south from California 78 to the overlook. Photos taken 04/01/06.
---
Page Updated May 31, 2013.