California 111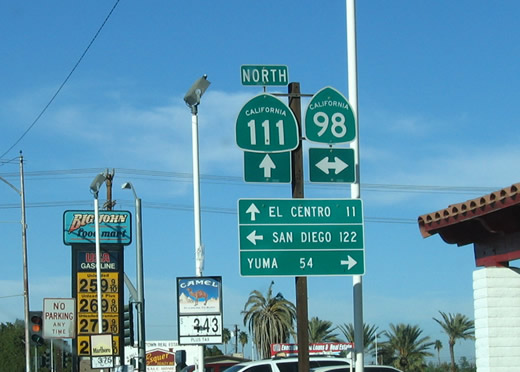 Northbound California 111 approaches its junction with California 98 in Calexico. Turn left for California 98 west to San Diego, turn right for California 98 east to Yuma, or proceed ahead on California 111 north to El Centro, Brawley, and Indio. Photo taken 01/27/06.
Routing
Beginning at the U.S.-Mexico International Border Crossing, California 111 begins in Calexico and travels north through the heart of the Imperial Valley to serve the cities of El Centro and Brawley. Most of this route is four-lane expressway with some freeway-like segments. Joining California 78 at Brawley, California 111 briefly takes the Brawley Bypass, then departs north to follow the eastern shore of the Salton Sea toward Calipatria, Bombay Beach, and Mecca. The highway is mostly a two-lane rural highway along this route, as most through traffic transitions onto the California 86 corridor at Brawley. Upon reaching Coachella and Indio, California 111 turns northwest and west to serve Coachella Valley cities such as Indian Wells, La Quinta, Palm Desert, Rancho Mirage, Cathedral City, and Palm Springs. Most of the route through these cities was transferred to local control between 2000 and 2012. However, an extant state-maintained segment carries California 111 from Palm Springs to meet Interstate 10 near the San Gorgonio Pass.
Business California 111
In Palm Springs, California 111 splits into Business California 111 via Palm Canyon Drive and regular California 111 via Gene Autry Trail and Vista Chino. The business route is not very well-signed but is described on a separate page.
Highway Guides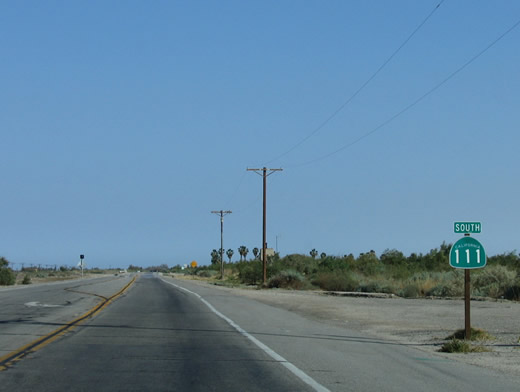 This view shows California 111 just south of Mecca as it proceeds toward the Salton Sea State Recreation Area and Niland. Most of California 111 between Mecca and Calipatria is a two-lane, rural highway that follows the eastern shore of the Salton Sea. Photo taken 05/07/06.
Scenes Pertaining to California 111: Calipatria Flagpole
In Calipatria, a towering flagpole is mounted in Rademacher Park west of Park Avenue, west of California 111/Sorenson Avenue, and north of Imperial County Route S-30/Main Street. The flagpole is 184 feet tall, marking the distance from ground level to sea level, since Calipatria sits -184 feet below sea level. Several commemorative plaques and signs are mounted at the bottom of the flagpole. Photos taken 05/07/06.
Page Updated March 29, 2013.