Interstate 40
---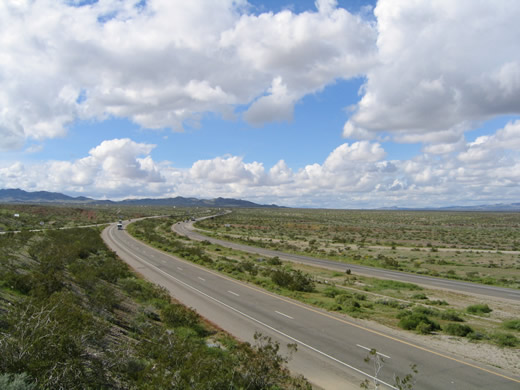 Looking west from the U.S. 95 north interchange, Interstate 40 proceeds west toward South Pass and Barstow. Interstate 40 is known for its sprawling, seemingly endless desert and mountain beauty. Photo taken 02/20/05.
Routing
Transcontinental Interstate 40 starts its journey at its junction with Interstate 15 in Barstow, and it crosses the Mojave Desert on its way east to Needles and the Colorado River. Through California, the freeway parallels the route of U.S. 66, the Mother Road. It only passes through two cities: Barstow and Needles; the rest of the journey is through the scenic Mojave Desert. Interstate 40 continues to cross Arizona, New Mexico, Texas, Oklahoma, Arkansas, Tennessee, and North Carolina.
Future Aspirations
If California 58 is upgraded to Interstate standards as far west as California 99 or Interstate 5, it is possible that it might be nominated for inclusion in the Interstate Highway System as an westerly extension of Interstate 40. However, such an upgrade is likely to be decades away.
Highway Guides
Interstate 40 Scenes
In the Mojave Desert, snakes and other wild animals are common, and they have been sighted even on the freeway. Signs such as this remind motorists who stopped at the westbound rest area to be wary of such animals, especially rattlesnakes. Photo taken 02/16/04.
View of the hardened lava field located north of the westbound rest area on the north side. Photo taken 02/16/04.
| | | |
| --- | --- | --- |
| | | This freeway entrance signage for Interstate 40 is posted along Historic U.S. 66 east of Needles. Photos taken 01/21/02. |
| | | Interstate 40 freeway entrance signage near Daggett. Photos taken 01/21/02. |
| | | | |
| --- | --- | --- | --- |
| | | | These freeway entrance shields for Interstate 40 are posted at the onramp from Kelbaker Road to Interstate 40/Needles Freeway eastbound. Photos taken 11/11/08. |
| | | |
| --- | --- | --- |
| | | Interstate 40 and U.S. 95 freeway entrance signage in Needles at the eastern end of Business Loop I-40. Photos taken 01/21/02. |
| | |
| --- | --- |
| | This Interstate 40 directional signage for Barstow and Needles is located near Daggett. Note how the button copy reflects against the camera flash (since this picture was taken into the sun). Photo taken 01/21/02. |
| | | | |
| --- | --- | --- | --- |
| | | | Northbound J Street approaches its junction with Interstate 40 in Needles. Note the overhead sign for Interstate 40 west to Barstow posted on the Interstate 40 overpass. Photos taken 03/14/09. |
| | |
| --- | --- |
| | A freeway entrance shield is posted from Park Moabi Road to Interstate 40 east. The Park Moabi interchange is the easternmost interchange along Interstate 40 in California. Photo taken 04/01/07. |
| | This view looks north along Park Moabi Road toward the Interstate 40 interchange and the Colorado River. Photo taken 04/01/07. |
| | Northbound Park Moabi Road crosses over Interstate 40 southeast of Needles. Photo taken 04/01/07. |
| | Turn left from Park Moabi Road north to Interstate 40 west to Needles. Photo taken 04/01/07. |
| | | |
| --- | --- | --- |
| | | Views of the Interstate 40 bridge over the Colorado River looking northeast from the foot of the long-since-demolished U.S. 66 Red Rocks bridge in California. The railroad bridge is located just beyond the highway bridge. Photos taken 04/01/07. |
| | | | |
| --- | --- | --- | --- |
| | | | This view looks south along the Colorado River at the two natural gas pipeline bridges. The white through arch bridge, which is the Old Trails Arch Bridge, was built in 1919. In 1947, U.S. 66 was realigned to a through truss bridge (the Red Rocks Bridge), which was dismantled in 1978 (which is 11 years after the opening of the Interstate 40 bridge in 1966-1967). Photos taken 04/01/07. |
| | |
| --- | --- |
| | This historic U.S. 66 billboard is located near Park Moabi on the California side of the Colorado River. The billboard faces Interstate 40 traffic at the Colorado River just west of Topock. Photo taken 04/01/07. |
| | On the reverse side of the same sign is a Come Back Soon with another U.S. 66 historic shield. Photo taken 04/01/07. |
---