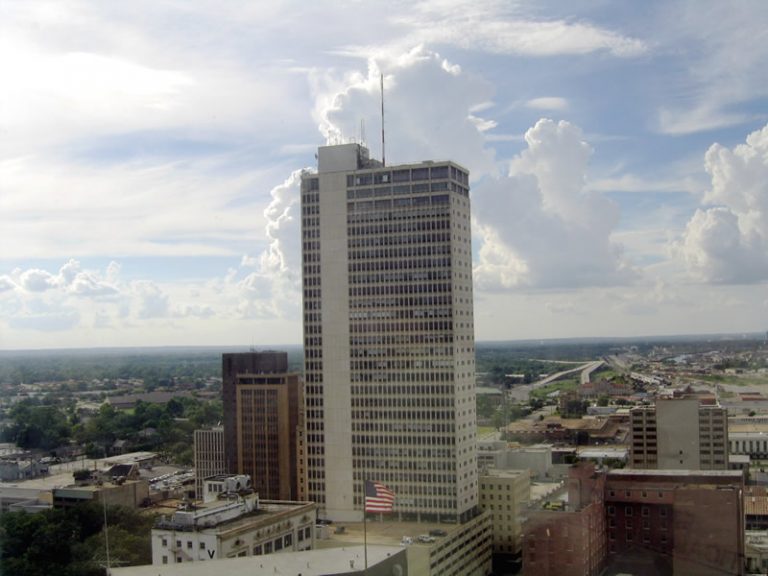 Kennedy Street is a local through street north from Spring Hill Avenue to Martin Luther King, Jr. Avenue.
A north-south street between Government Street (U.S. 90) and Martin Luther King, Jr. Avenue, Lafayette Street road passes through residential areas of Lyons and Hannon Parks. Alphonso Mason adds
Up until the 1980s, the southern one-piece four-way traffic light was the only one standing at the intersection of Kennedy Street and Martin Luther King Jr. Avenue. It used to have both the green and amber lenses illuminated until the late-1970s. The two-way traffic signals were later added at that intersection during the 1980s."
Dr. Martin Luther King, Jr. Avenue
Four lane arterial linking Downtown Mobile with Prichard at U.S. 45 (Saint Stephens Road). Bishop State Community College and the college's Central Campus are located along the urban boulevard. Martin Luther King, Jr. Avenue was previously named Davis Avenue east of Catherine Street and Stone Street to the west of Catherine Street. Stone intersection markers bearing the old names are still present at some intersections.1
North-south collector between the Mobile Aeroplex at Brookley / Mobile Downtown Airport (BFM) near Interstate 10 and Government Street west of Downtown Mobile.
Old Shell Road connects Downtown Mobile with Spring Hill College, the University of South Alabama (USA), and Schillinger Road near the U.S.C.G. Aviation Training Center. With two lanes, Old Shell Road travels through residential areas throughout most of Midtown and the Spring Hill area in Mobile. West from University Boulevard, the road expands into a multi lane arterial along the south side of USA. Widening of Old Shell Road west to Hillcrest Road was underway in 2004, and from there to Schillinger Road by late 2009.
Royal Street heads north from historic Fort Condé through the central business district. The street converted from one-way northbound to two-way traffic in 2003.
Until 1941, Royal Street was a part of the original U.S. 90 alignment through Downtown Mobile. U.S. 90 used Royal Street between Goverment and St. Louis Streets as part of its loop north to the Cochrane Bridge. When the Bankhead Tunnel was completed, U.S. 90 was realigned.
A number of mast-arm signals were removed along St. Louis Street north of Downtown Mobile. Alphonso Mason provided an explanation for the missing signals:
There is history behind most of those traffic signals in Downtown Mobile being removed and replaced with stop signals. During the 1970s, 24″ Crouse Hind signals with metal sun visors used to be erected on those older style mast arms along the inner downtown area (running north-south from St Anthony Street to Conti Street; running east-west from Royal Street to Claiborne Street/Martin Luther King Avenue). Hurricane Frederic in September 1979 blew away most of those traffic signals off of those mast arms. I recall those traffic signals on Dauphin Street at Joachim and Jackson Streets the only ones survived the storm fully intact. Frederic only accelerated the (brief) decline of Downtown Mobile. At one point, older traffic signals replaced some of the destroyed Crouse Hind signals at some of the downtown streets. Eventually, the traffic signals were taken down at downtown intersections never seeing traffic.
Saint Stephens Road (U.S. 45)
Generally a two lane highway, St. Stephens Road branches north from U.S. 98 (Spring Hill Avenue) to Prichard and Interstate 65. Primarily used by local traffic, St. Stephens Road navigates through residential areas and a commercialized intersection with Martin Luther King, Jr. Avenue and Craft Highway.
Spring Hill Avenue extends west from U.S. 98 at Moffett Road with four lanes to Forest Hill and Langan Park. The arterial changes to Zeigler Boulevard at PRF John D. New Street and continues west to Tanner Williams Road.
Texas Street is a minor collector leading west from a half diamond interchange with Interstate 10 to Broad Street and Michigan Avenue through the Washington Square community south of Downtown Mobile. Traffic signals operated at Washington Avenue until after the Central Texas Street urban renewal project.1 A road diet reduced Texas Street east to I-10 from five lanes to two lanes by 2016.
University Boulevard represents the main north-south arterial between Interstate 65 and the Schillinger Road corridor through West Mobile. The four-lane, divided roadway winds northward from Cottage Hill Road and Demetropolis Road to the University of South Alabama (USA) campus, Azalea City Golf Course, and U.S. 98 (Moffett Road). Highpoint Boulevard extends north from a grade separated intersection with Moffett Road to Bear Fork Road and Lott Road (SR 217) in Prichard. Belcase Road further extends the road north to U.S. 45 (St. Stephens Road).
Virginia Street is a secondary arterial heading east from Houston Street to Ladd-Peebles Stadium, Mobile National Cemetery, I-10 at Exit 24, and the Ezra Trice Boulevard overpass to McDuffie Island.
Water Street is a six-lane urban boulevard paralleling the Mobile River north from I-10 and the Alabama Cruise Terminal to Interstate 165 and U.S. 90 (Beauregard Street). Water Street was constructed in place of Interstate 210, a planned elevated freeway through Mobile and Prichard.
Other Mobile Arterials and Streets
Sources:
C-Ro, email: "About Mobile," May 28, 2004.
Page Updated February 27, 2018.