Drove 618 miles across Florida yesterday, covering ground from Orlando north to Daytona Beach and Jacksonville. Looked at progress on the I-4 Ultimate megaproject, which extends northward from SR 435 (Kirkman Road) by Universal Orlando to SR 434 near Longwood. Also checked out the delayed systems interchange project at I-4/95, which the project web site amended the completion date from late 2019 (after it was late 2018 previously) to Spring 2020.
Posted the first photos from the roadtrip covering State Road 152 west from I-95 to SR 13 in Jacksonville. All the span wire signals photographed in 2010 are now mast arm assemblies. Additionally the arterial was expanded with additional turn lanes between SR 115 (Southside Boulevard) and Prominence Parkway during work finished last year.
Next updated the westbound guide for Florida State Road 202. Drove the entire direction westbound, replacing all photos from 2006 and 2010 and covering the 2017 completed upgrades at Belfort Road and Interstate 95. Also drove SR 202 east from U.S. 1 (Philips Highway) to I-295, finally reshooting the exchange with the East Beltway to show the 2011 upgrade from SR 9A.
Page updates for November 8 and 9 include adding photos from Florida State Road 115 (Southside Boulevard) north from U.S. 1 to SR 202 in Jacksonville, adding/replacing photos along I-95 north from SR 421 at Port Orange to SR 100 in Flagler County, and updated southbound coverage of I-95 from CR 210 in St. Johns County to SR 421 in Volusia County. This includes photos covering the new c/d roadway system connecting Interstate 95 with SR 400 (Beville Road), I-4 west and U.S. 92 (International Speedway Boulevard). Additionally a number of guide signs in northern Volusia and Flagler County were carbon copied earlier this year.
Guides for Interstate 4 east from SR 435 (Kirkman Road) to I-95 at Daytona Beach were updated on November 10. Photos were added to SR 400 for the westbound beginning of Interstate 4 as well. Several changes were made over the last several months through the I-4 Ultimate Project area: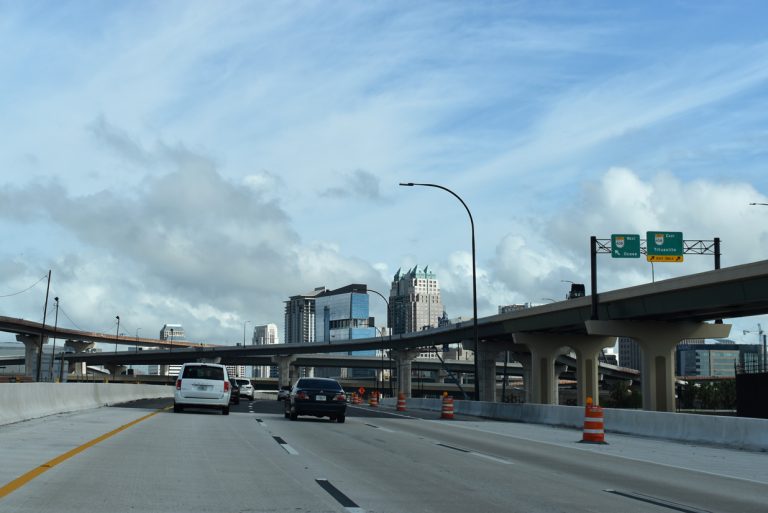 Traffic to SR 408 from I-4 east is now directed onto high flyover ramps by Downtown Orlando. Several traffic shifts were implemented as well, with the eastbound mainline alternating between the eventual general travel roadway or future Express roadway.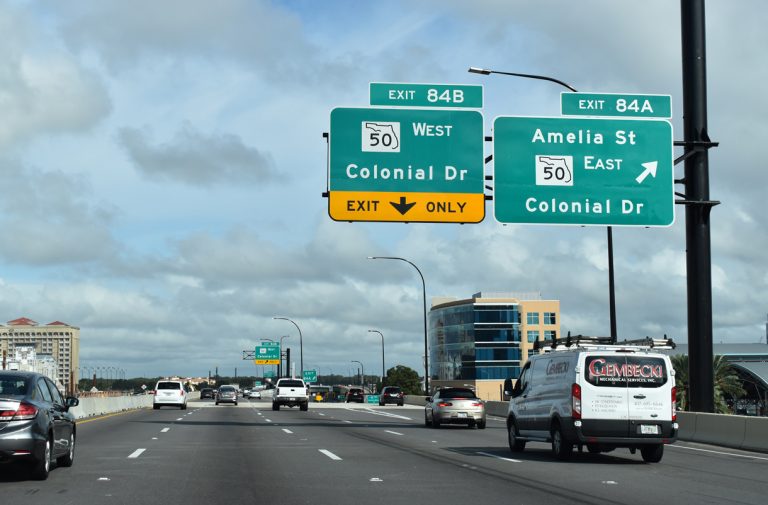 Exits 83A/B for U.S. 17/92 and SR 50 (Colonial Drive) were renumbered to Exits 84A/B.
New Arrow Per Lane (APL) overheads were installed along Interstate 4 east leading into the systems interchange with I-95. These replaced a series of signs added by 2017.