US Highways | State Routes | Bakersfield Streets
Located at the southern end of the Central Valley near the major oil fields of Oildale and Taft, Bakersfield is a regional agricultural hub. Founded in 1869 and incorporated in 1873, the city sits at an elevation of 408 feet above seal level. Growth in the 142 square mile city added 125,000 new residents from 2000 to 2015, with population numbers estimated at 376,380 in 2016.
Interstate 5 is the closest Interstate highway to serve Bakersfield. Following the Westside Highway, Interstate 5 stays west of Bakersfield and avoids most of the metropolitan area.
California 99 is the main north-south corridor through the eastern Central Valley. Much more populated than the western side of the Central Valley, the eastern side is home to cities such as Bakersfield, Visalia, Fresno, Madera and Modesto. California 99 passes directly through these cities, while Interstate 5 bypasses to the west and does not come close to California 99 until near Manteca and Stockton.
California 99 is the original route of U.S. 99, which was decommissioned in stages starting in 1964. Old alignments of the original route are preserved as business routes in the urban areas, and the freeway was continuously upgraded to six-lane freeway standards.
California 99 approaches the Bakersfield area from the south. Splitting with Union Avenue, which is the historic route of U.S. 99 through the city, California 99 stays west of Downtown Bakersfield. Union Avenue travels through the city center and provides access to most businesses. Joining with California 99 near the business district is California 58, which originates from the California Central Coast to the west and travels east through Bakersfield and Tehachapi Pass into the Mojave Desert.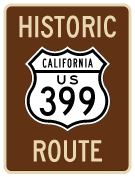 U.S. 399 was decommissioned in 1964. The route began in Ventura, traveled north along California 33, then turned northeast on California 119 at Taft. For the final mileage of this short route, U.S. 399 shared alignment with U.S. 99 along Union Avenue to its end at U.S. 466 (Sumner Street) in Downtown Bakersfield.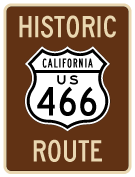 U.S. 466 was decommissioned in 1964 and was replaced by California 58 east of Bakersfield. The route shared a brief overlap with U.S. 99 north of the city. California 46, and a few other routes, replaced the remainder of the US highway leading west from Bakersfield. Historic U.S. 466 remains intact along Sumner Street and Edison Highway through central and eastern Bakersfield.
California 178 is a trans-Sierra Nevada highway that originates in Bakersfield and travels northeast to Lake Isabella via the Kern River Canyon. At Lake Isabella, California 178 turns east to cross Walker Pass and meet California 14 at Freeman Junction. California 178 continues east through Inyokern and Ridgecrest, ending near Trona in the Mojave Desert. A separate section of California 178 exists east of Death Valley and travels east through Shoshone into Nevada. It is unlikely that the current gap in California 178 between Trona and Death Valley will be built, so the best alternate is to take local roads to California 190, then rejoin California 178 southeast of Badwater. While portions of California 178 are built to freeway standards, the majority of this state route is two-lane rural highway.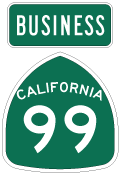 California 99 Business is the old alignment of U.S. 99-399 (south of Sumner Street) and U.S. 99-466 (north of Sumner Street / 23rd Street). The section of California 99 Business north of California 58 to the interchange with California 99 is maintained by the state and co-signed as California 204. The route of old U.S. 99 (California 99 Business) includes Union Avenue from California 99 (Golden State Freeway) Exit 11 north to the intersection with Golden State Avenue, then past Garces Circle to rejoin California 99 at Exit 27 (Airport Drive interchange). Owing to significant traffic volume leading from Downtown Bakersfield to the Golden State Freeway, the northern section of California 204 is a freeway as it passes over the Kern River and joins California 99.
Panorama Drive
Panorama Drive is a Bakersfield city street notable for its route along Panorama Park. The park offers magnificent views toward the Kern River, Sierra Nevada, Oildale, and oilfields north of the city. It is also the best route from Union Avenue to Alfred Harrell Highway.
| | |
| --- | --- |
| | Union Avenue reaches its north end at this point, where Manor Street turns northwest and Panorama Drive turns northeast. 03/15/09 |
| | |
| --- | --- |
| | After Manor Street and Panorama Drive split from Union Avenue, Panorama Drive turns northeast to parallel Panorama Park, a beautiful green space that overlooks the Kern River below it. Parking is available on the street and at nearby parking lots; the view is worth it. 03/15/09 |
| | |
| --- | --- |
| | Panorama Park comes into view on the north side of Panorama Drive. 03/15/09 |
| | |
| --- | --- |
| | Residences line the south side of Panorama Drive. 03/15/09 |
| | |
| --- | --- |
| | The Sierra Nevada foothills also come into view in the distance along Panorama Drive. 03/15/09 |
| | |
| --- | --- |
| | Eastbound Panorama Drive meets River Boulevard at this traffic signal. The Greenlawn Memorial Park Cemetery is located at the southwestern quadrant of this intersection; Panorama Park continues along top of the southern bluff above the Kern River. 03/15/09 |
| | |
| --- | --- |
| | This view looks east on Panorama Drive at Bryn Mawr Drive. 03/15/09 |
| | |
| --- | --- |
| | Panorama Park continues for just a short distance longer. Ahead is the traffic signal with Haley Street and Bakersfield College. 03/15/09 |
| | |
| --- | --- |
| | The do not enter signs on the left are a one way off-ramp from westbound Alfred Harrell Highway (via China Grade Loop) onto westbound Panorama Drive. 03/15/09 |
| | |
| --- | --- |
| | Eastbound Panorama Drive meets Haley Street. On the south side of Panorama Drive is Bakersfield College. 03/15/09 |
| | |
| --- | --- |
| | Opened in 1913, Bakersfield College is a community college that is among the oldest such colleges in the state. The main campus is located on the south side of Panorama Drive and encompasses approximately 153 acres, with an average enrollment of about 15,000 students. 03/15/09 |
| | |
| --- | --- |
| | The next traffic signal along Panorama Drive east is with Mount Vernon Avenue south and Alfred Harrell Highway east. Mount Vernon Avenue travels south along the eastern edge of Bakersfield College and connects to both California 178 and California 58. To the northeast, Alfred Harrell Highway is a locally maintained freeway that extends to Hart Memorial County Park along the Kern River. 03/15/09 |
| | |
| --- | --- |
| | Eastbound Panorama Drive meets Mount Vernon Avenue south and Alfred Harrell Highway east. 03/15/09 |
This suite of photos shows the view looking north, east, and west across the Kern River toward the unincorporated community of Oildale and the oilfields located east of Oildale and north of Bakersfield. The Kern River flows silently below the Panorama Park bluff, along with the South Side Kern Island Canal. Hundreds of oil derricks dot the hills north of the river. The last few pictures show the park itself, which is mostly turf between the edge of the bluff and Panorama Drive. Photos taken 03/15/09.
Not in the state route system, Alfred Harrell Highway is a freeway that connects Mount Vernon Drive and Panorama Drive with Hart Memorial County Park. Interchanges along the route include China Grade Loop, Fairfax Road / County Dump Road and Goodmanville Access Road. The highway begins on a bluff above the Kern River and travels northeast as it lowers in elevation to the park.
Page Updated September 19, 2009.