Business Loop I-10
---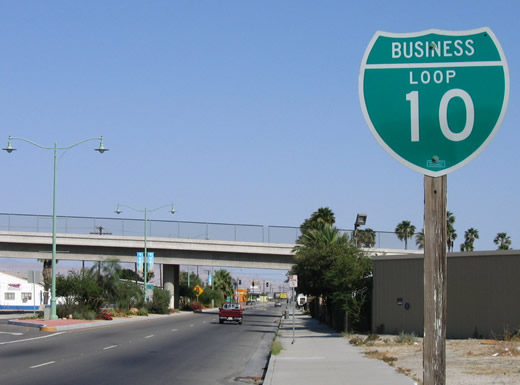 Traveling through Indio along an expressway once designated as Historic U.S. 60-70-99 and now known as Indio Boulevard, Business Loop I-10 was well-signed until 2008, when most of the business route shields were removed by the city of Indio. This particular shield has a State of California property tag (note small rectangle with text at bottom of shield), which leads to the likelihood that it was placed by Caltrans prior to the decommissioning of California 86 along Indio Boulevard north of California 111/Highway 111 in the late 1990s. This particular route marker along eastbound Indio Boulevard near the civic center is now gone. Behind the route marker is the Golf Center Parkway overpass, which was built in 1978 to connect nearby California 111 with Interstate 10. Photo taken 05/07/06.
In California, there are four instances of Business Loop I-10 previously or currently in existence (some better signed than others). All four instances of off-Interstate 10 business routes in California still have remnant business loop signage of varying degrees as of 2013:
Pomona, Montclair, and Ontario - This loop for the most part does not exist anymore, although some remnant signs are still around. It was formerly U.S. 70-99 Business and was signed as Business Loop I-10 in the 1960s along Holt Boulevard. The loop begins at the Kellogg Interchange (Exit 42B to southbound California 71, then east on Holt Avenue at Exit 14 from California 71) and extends east through Pomona into Ontario. Shields still remain along this route, which follows Holt Boulevard between California 71 and just east of the Ontario International Airport. Ali Pezeshkpour wrote on May 1, 2001, "The business shields are only found in Pomona, and even though I have desperately tried to find some sign that would point to a business route, I have found none on California 71 or Interstate 10. The interchanges with these freeways are not optimal, because first of all, only Westbound Interstate 10 can access Holt Boulevard, and only Eastbound Holt Boulevard can access Eastbound Interstate 10, which allows for minimum signage even for Holt Boulevard. [At] the California 71 interchange no signs are here for any loop either. The loop shields were continuous until California 71. The reason I suspect the shields are only in Pomona is because Pomona is Los Angeles County and Ontario and beyond is in San Bernardino County" or in a different city. There are no signs for this business route from mainline Interstate 10.
Fontana and Colton - This business route begins east of Interstate 15 and follows Valley Boulevard (former U.S. 70-99) through Colton between Exit 59 (Etiwanda Avenue/Valley Boulevard/Commerce Drive) and Exit 71 (Mount Vernon Avenue). Cameron Kaiser has photos from 2006 that verify that the loop is signed at least once on Valley Boulevard, but this business loop is not listed in the 1991 state signing log. Remnant signs, especially in the city of Colton, can still be found along Valley Boulevard as of 2008. Remnant signs are harder to find west of there toward Fontana. There are no signs for this business route from mainline Interstate 10.
Indio. This business route follows Indio Boulevard along former U.S. 60-70-99, beginning at Exit 139, following Indio Boulevard south to Dillon Road, and returning via Dillon Road east to Interstate 10 at Exit 146. This business route is a well-preserved section of old U.S. highway through Indio as it parallels a train yard. The western and central parts of the route are maintained by the city of Indio (the middle segment was formerly controlled by the state as part of California 86-111, but the state transferred the route over to the city). The eastern section of the route is maintained by the city of Coachella. As a result, signage varies depending on the entity maintaining the road. The City of Indio has seemed to lose interest in its segment of Business Loop I-10, as signs for the route were largely gone by 2010, replaced with "Historic U.S. 99" signs that had been added starting in 1999. However, the segment along Dillon Road near the California 86 expressway interchange and eastern Interstate 10 interchange (Exit 146) still has business route signage, even as of 2012. According to the California State Highway System Signing Log (October 1991), Business Loop I-10 in Indio runs from "Interstate 10 and Indio overcrossing near Indio via Indio Boulevard and State Route 86 to Interstate 10 and Dillon Road." This business route remains signed in both directions from mainline Interstate 10. The Dillon Road Grade Separation (built in 2009 at the intersection of Indio Boulevard and Dillon Road) is not an intuitive connection for traffic trying to follow the Business Loop I-10 through route, and there are few if any business route signs at this critical intersection alongo the route.
Blythe. This business loop is not listed in the 1991 state signing log, but it is well-signed as the western end. The eastern end is not as well-signed. The business loop begins at Exit 236, California 78/Neighbors Boulevard. From Exit 236, Business Loop I-10 follows Neighbors Boulevard north briefly, then turns east onto Hobsonway (Old U.S. 60-70), then follows Hobsonway (also signed as Hobson Way) east into downtown Blythe. The business route retuns to Interstate 10 near the Colorado River at the Riviera Drive interchange (Exit 243). To rejoin Interstate 10, the business loop follows Hobsonway to Queshan Park, then turns due south to pass under Interstate 10, and then it turns west briefly to the on-ramp back onto Interstate 10. This business route remains signed in both directions from mainline Interstate 10.
Business Loop I-10 Highway Guides
---