California 52
---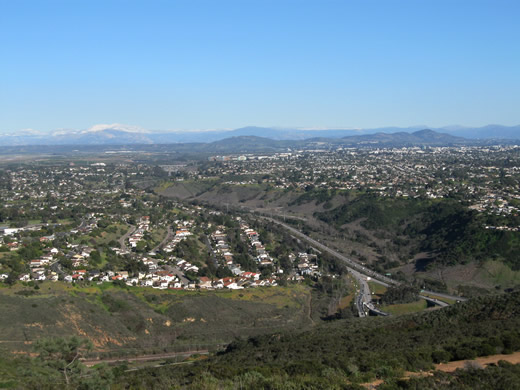 California 52 travels through Marian Bear Park (San Clemente Canyon) between Interstate 5 and Interstate 805, then passes by Miramar Landfill en route to Tierrasanta, Mission Trails Regional Park, and Santee. Looking down from Mount Soledad at the freeway as it cuts through San Clemente Canyon, this view takes in the Laguna Mountains and foothills on a cool, blustery day after a storm brought a foot and a half of snow to the higher elevations. Photo taken 02/27/11.
California 52 is the Soledad Freeway, starting at Interstate 5 at the foot of Mount Soledad in Rose Canyon and ending at California 67 in Santee. California 52 begins at the confluence of La Jolla Parkway and Interstate 5 and travels east through San Clemente Canyon to Interstate 805. At Interstate 805, the freeway climbs out of San Clemente Canyon, headed to the top of the old Miramar Landfill and adjacent to the current landfill. The freeway was constructed on top of the original landfill, and as such, the freeway undulates (dips) as the trash settles beneath it. At Convoy Street, motorists may reach the expanded Miramar Landfill for refuse disposal. California 52 continues east from here as an eight-lane facility, with two lanes exiting for California 163, Kearny Villa Road (Former U.S. 395), and Interstate 15. The mainline continues east, narrowing to six lanes as it passes through the Mission Trails Regional Park (widened from four to six lanes in 2008-2009). The freeway leaves the city of San Diego and enters the city of Santee near Mast Boulevard. Until March 2011, California 52 ended at its transition into southbound California 125, but the freeway is extended to California 67 through Santee as part of the Sunnyside Gateway Project.
California 52 Highway Guides
According to a Caltrans State Route 52 Brochure, the extension of California 52 through Santee is known as the Sunnyside Gateway Project. Land acquisition for this new segment of freeway between California 125 and California 67 began in August 2002. After environmental studies and design were completed, construction began in 2007. The project cost $255 million and features four direct access, flyover ramps (75 feet tall) at the California 52-67 interchange. Originally, plans called for a staggered opening of freeway (by opening the first segment between California 125 and Cuyamaca Street first), but officials decided instead to open the entire freeway at one time.1, 2, 3
Once funding for the project was secured, the freeway was intended to open in December 2010. The date was moved back as a result of weather conditions and changes to the construction contract.2, 3 Assuming no further complications, the extension of California 52 east to California 67 in Santee has a grand opening ceremony on March 19, 2011, followed by its opening to traffic on March 29, 2011.4,5
Long-term plans call for expansion of California 52 to include high occupancy managed lanes between Interstate 15 and California 52. Similar facilities are planned for other busy segments of freeway in San Diego County, with Interstate 15 between California 163 and California 78 being the first to receive managed lanes.
History
California 52 has been built in stages, initially between Interstate 5 and Interstate 805 and gradually extending east, with the final segment open (between California 125 and California 67) on March 29, 2011.
Key Opening Dates of California 52 freeway sections:
La Jolla Parkway (former Ardath Road) to Interstate 5 - May 28, 1970
Interstate 5 Separation to Ayar Overhead - December 23, 1966
Ayar Overhead to Genesee Road Undercrossing - May 28, 1970
Genesee Road Undercrossing to Interstate 805 Separation - March 22, 1972
Interstate 805 Separation to San Clemente Creek - July 28, 1987
San Clemente Creek to Convoy Street - July 28, 1987 (widened August 5th, 1994)
Convoy Street to California 163 - June 30, 1988 (widened August 5th, 1994)
California 163 to Interstate 15 - June 30, 1988
Interstate 15 - April 4, 1988
Interstate 15 to Santo Road - April 4, 1988 (widened December 17, 1993 and again in 2009)
Santo Road to San Diego River - December 17, 1993
San Diego River to California 125 - May 15, 1998
California 125 to California 67 - March 29, 2011
Many thanks to C.J. Moon for his assistance in providing this historical chronology.
California 52 scenes
California 52 and its interchange with Interstate 5 are visible from on top of Mount Soledad. A small park, located off La Jolla Scenic Drive, allows visitors to look east and down on Rose Canyon and San Clemente Canyon. Interstate 5 passes through Rose Canyon, while California 52 travels east through San Clemente Canyon (part of Marian Bear Park). In the distance, the snow-capped Laguna Mountains frame a beautiful vista. Photos taken 02/27/11.
At the top of Mount Soledad is a cross and war memorial is located at a scenic vista point surrounded by a public park. The cross is visible from California 52 as it travels west through San Clemente Canyon. The park can be accessed off of La Jolla Scenic Drive. Photos taken 02/27/11.
Traveling north along Clairemont Mesa Boulevard prior to changing into Regents Road in San Clemente Canyon, these California 52 overhead signs provide motorists guidance to both directions of the California 52 freeway. Note the close-up photo of the second sign, which shows a scraped off "Ardath Road." Ardath Road is the former name of what is now known as La Jolla Parkway west of Interstate 5. Photos taken 10/28/04.
This view looks down on California 52 in San Clemente Canyon (Marian Bear Natural Park) toward the Clairemont Mesa Boulevard and Regents Road interchange (Exit 1) looking north and east. Photos taken 10/28/04.
| | | |
| --- | --- | --- |
| | | Westbound Mission Gorge Road approaches California 125 south to Chula Vista then an on-ramp to California 52 west. Photos taken 03/19/11 and 03/31/07. |
A companion sign is found on eastbound Mission Gorge Road approaching the junction with California 52 and California 125 in Santee. Construction activities related with California 52' eastern extension to California 67 was evident at the time this photo was taken. Photo taken 03/28/09.
West of Interstate 5, the approach road into California 52 is La Jolla Parkway (formerly Ardath Road). This four-lane expressway connects downtown La Jolla with California 52. This picture shows the signage approaching the on-ramp from La Jolla Scenic Drive South onto eastbound La Jolla Parkway (formerly Ardath Road). Note the use of the California 52 and Interstate 5 shields. This is a city of San Diego sign, hence why it is not up to Caltrans standards. Also note the substandard design of the on-ramp in the second picture. Photos taken 07/27/02.
State Route 52 from Sea to Santee Grand Opening Celebration: March 19, 2011
On March 19, 2011, the San Diego Association of Governments in conjunction with the city of Santee hosted a grand opening celebration for the California State Route 52 extension from California 125 east to California 67. The freeway actually opened to traffic ten days later, on March 29, 2011. This banner was posted on the freeway to thank the sponsors of the event, which featured free food, t-shirts, and games for attendees. Photo taken 03/19/11.
While bicyclists rode on the westbound lanes of the new freeway, tents were staged on the eastbound lanes to allow people to visit tents operated by the various sponsors. Most of the food and games offered was free of charge. The opening of the festivities was heralded by an airplane flyover. Photo taken 03/19/11.
One of the runways for Gillespie Field (a general aviation airport operated by the County of San Diego) is offered from the main lanes of California 52 looking south in Santee. Photo taken 03/19/11.
The extension of California 52 was paved with concrete. This section is located on the eastbound lanes prior to the gore point for the California 67 split. Photo taken 03/19/11.
Mission Trails Regional Park
Mission Trails Regional Park is a large, open space park located in San Diego and Santee south of California 52. The best route through the park is via Mission Gorge Road. This photo shows Kumeyaay Lake near the campground off Mission Gorge Road and Father Junipero Serra Trail within the park. Photos taken 03/28/09.
The Old Mission Dam used to impound the San Diego River for the purpose of providing drinking and irrigation water for the San Diego Mission. The dam was finished between 1813 and 1816 but later fell into disrepair. A flume carried the water from this location downstream to the mission near Qualcomm Stadium. Photos taken 03/28/09.
A series of trailblazers for California 52 are posted along northbound Santo Road. A direct connection ramp leads from Santo Road to the California 52 bicycle lane. Photos taken 03/25/10.
---
Sources:
---
---
Page Updated April 9, 2011.