California 91
---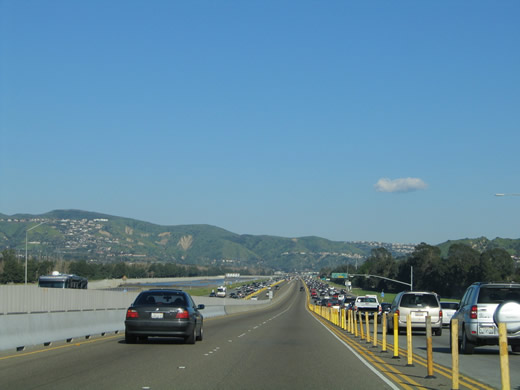 Eastbound along the tolled 91 Express Lanes through the Santa Ana River Canyon near Anaheim Hills in Orange County. Photo taken 01/30/05.
California 91 is a major freeway corridor connecting the coastal areas of southern Los Angeles County and inland Orange County with the Inland Empire, culminating in the city of Riverside. Starting as a city street at its intersection with California 1 in the cities of Hermosa Beach and Manhattan Beach, California 91 is locally maintained by the cities it passes through (Hermosa Beach, Manhattan Beach, Redondo Beach, Torrance, and Gardena) until it becomes a freeway (at Vermont Avenue in Gardena) near the interchange with Interstate 110. The city street section was decommissioned (removed from state control) but signs for the continuation of the route to California 1 still remain on Artesia Boulevard.
As a freeway, California 91 is one of the busiest highways in Southern California, ferrying commuters between the Inland Empire and the southern portion of the Los Angeles Basin and Orange County. There is so much traffic that a private vendor constructed toll lanes in the center of California 91 between California 55 (Costa Mesa Freeway) and the Orange-San Bernardino County Line in 1995; these lanes were taken over by the Orange County Transportation Authority (OCTA) in 2003 (this authority is not the same as the Transportation Corridor Agencies (TCA), which manage the 241, 261, 133, and 73 toll roads). The 91 Express Lanes are open for FasTrak customers; during off-peak hours, vehicles with three or more occupants may use the lanes free of charge. There is no cash toll collection, so during peak hours, only FasTrak customers may use the toll express lanes.
California 91 is a very busy route that might see some expansion in the future; provisions are made at the south end of the 60-91-215 interchange to allow for more lanes leading southwest through Riverside. Since Santa Ana Canyon is a frequent obstacle for travel between Riverside and Orange Counties, authorities are looking at alternate routes, including parallel roadway and more transit. A second crossing of the Santa Ana Mountains via tunnel is being considered as part of the Irvine-Corona Expressway, perhaps on an alignment that would connect Calajco Road and Interstate 15 in Riverside County with the California 133 and California 241 interchange in Orange County. Such a freeway would be very controversial and costly.
California 91 Highway Guides
California 91 carries a variety of freeway designations along its route. The state route starts as Artesia Boulevard (replacing pre-1964 California 14), then changes into the Gardena Freeway (formerly Redondo Beach Freeway) at Vermont Avenue. California 91 is known as the Gardena Freeway between Interstate 110 (Harbor Freeway) and Interstate 710 (Long Beach Freeway) in northern Long Beach. Between Interstate 710 (Long Beach Freeway) and Interstate 5 (Santa Ana Freeway) near the city limits of Fullerton and Anaheim, California 91 is known as the Artesia Freeway. East of Interstate 5 (Santa Ana Freeway), California 91 is designated as the Riverside Freeway. The Riverside Freeway was built in stages between 1963 and 1975; the express lanes were added in 1995. While California 91 ends at the 60-91-215 interchange in Riverside, the Riverside Freeway designation continues north of the eastern terminus of California 91 as part of Interstate 215. The Riverside Freeway ends at the interchange with Interstate 10 (San Bernardino Freeway).
The Gardena Freeway (built between 1965 and 1975) was known as the Redondo Beach Freeway until 1991. This designation was changed at the request of coastal cities since the last segment of California 91 freeway was never built west of Interstate 110 and thus would not connect with the intended destination city (Redondo Beach). The name change now implies that the existing freeway will end at Gardena rather than in Redondo Beach (or any other beach city).
History
California 91 between Redondo Beach/Manhattan Beach and the California 19 interchange was originally California 14/Artesia Boulevard; the route was renumbered with the route changes that occurred in 1964. Artesia Boulevard was decertified and returned to local control in 1997 in Gardena and 2003 in Manhattan Beach. Freeway segments replaced Artesia Boulevard east of Gardena.
While some sections of California 91 freeway corridor were complete by 1964, many other sections of freeway were still under construction when the designation changed from California 14 and U.S. 91 to a unified California 91. East of the California 19 interchange, California 91 replaced the U.S. 91 and California 18 corridor through Anaheim and the Santa Ana Canyon. West of this interchange, California 91 replaced California 14.
U.S. 91 might have been realigned to follow the California 14 freeway had the massive elimination of U.S. Highways not gone forward in 1964. Between 1947 and 1964, U.S. 91 traveled mostly city streets west of Interstate 5. (U.S. 91 was extended to Long Beach in 1947; it had previously ended in Barstow.) It followed California 18/Lincoln Street and Carson Street (briefly known as California 214 before being shifted to local control) through Anaheim and Lakewood, then turned south along Lakewood Boulevard. U.S. 91 then traveled south along with California 18-19/Lakewood Boulevard to Alternate U.S. 101/Pacific Coast Highway at the Los Alamitos Traffic Circle. U.S. 91 used to turn west along Alternate U.S. 101/Pacific Coast Highway to near downtown Long Beach, where it ended at the intersection with California 15/Atlantic Avenue. This intersection also served as the western terminus of transcontinental U.S. 6. It is possible that this section of U.S. 91 would have been relocated onto the new freeway parallel to California 14 as it was built.
The following list provides the opening dates for the California 91 freeway between Interstate 110 and Interstate 215, courtesy of C.J. Moon:
Interstate 110 to Broadway - January 1, 1985
Broadway to Wilmington Avenue - October 1, 1975
Wilmington Avenue to Atlantic Boulevard - December 11, 1974
Atlantic Boulevard to California 19 - September 23, 1970
California 19 to Interstate 605 - November 4, 1968
Interstate 605 to Bloomfield Avenue - June 20, 1968
Bloomfield Avenue to Western Avenue - June 25, 1969
Western Avenue to Magnolia Avenue - August 6, 1970
Magnolia Avenue to Harbor Boulevard - Circa 1958
Harbor Boulevard to Riverdale Avenue - Circa 1959
Riverdale Avenue to California 55 - May 12, 1971
California 55 to California 90 - December 30, 1970
California 90 to Weir Canyon Road - November 4, 1971
Weir Canyon Road to Coal Canyon Road - November 21, 1971
Coal Canyon Road to Orange-Riverside County Line - November 4, 1971
Orange-Riverside County Line to Serfas Club Drive - December 12, 1970
Serfas Club Drive to Magnolia Avenue - Circa 1961
Magnolia Avenue to Arlington Avenue - Circa 1959
Arlington Avenue to Interstate 215 and California 60 - Circa 1957
California 91 Business
In Riverside, Old U.S. 91 was designated as California 91 Business (Magnolia Avenue) until around 2001; today, the old alignment through the city of Riverside carries no numerical designation but follows Magnolia Avenue. The last known California 91 Business shields were posted in downtown Riverside, but they were removed perhaps as part of the widening of the California 91 freeway. It is possible that the business designation extended west into Corona via Magnolia Avenue and Sixth Street.
California 91 scenes

This series of signs is posted along northbound Euclid Street in the city of Anaheim prior to the California 91 freeway interchange. North of the freeway, Euclid Street enters the city of Fullerton. Photos taken 09/28/08.
California 91 freeway entrance signage at the former Exit 42/Coal Canyon Road interchange. The Coal Canyon Road interchange was closed in 2003 to allow for a wildlife undercrossing. Since the exit was designed for local access and does not attach to other highways or city streets, the closure was relatively easy to accomplish. Note that this sign has the "Riverside Freeway" designation on it, which is fairly uncommon today. Of course, as of 2003, these signs were removed once the exit was closed. Photos taken 09/16/00.

California 91 Business - Riverside

California 91 Business through Riverside follows Magnolia Avenue, then turns back to California 91 via Mission Boulevard. This picture shows a California 91 Business shield in front of the historic Mission Inn in downtown Riverside. This designation appears to have been decommissioned, as all signs for the business route were gone by 2008. Photo taken 03/15/01.
---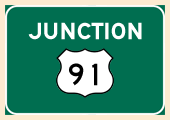 Page Updated July 24, 2010.