California 99
---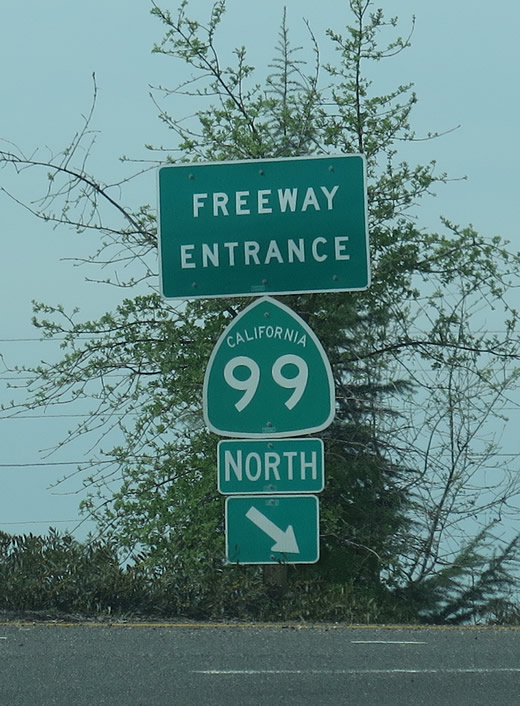 Freeway entrance shield assembly posted along Sacramento County E-2 (Grant Line Road) at the junction with California 99 in Elk Grove, north of the Consumnes River crossing. Photo taken 03/15/15.
California 99, known alternately as the Golden State Freeway and as California's Workhorse Highway (see California Transportation Journal article from 2003), is a busy corridor between Wheeler Ridge and Red Bluff through the Central Valley. While Interstate 5 follows the west side of the valley, California 99 prefers to stay close to the historic route of U.S. 99, and many sections of freeway opened as part of U.S. 99 before the U.S. highway was decertified in favor of the state route. South of Sacramento, projects up and down the valley are underway in 2015 to improve the corridor by expanding the freeway to at least six lanes, fix deficient or obsolete interchanges, and remove remaining at-grade crossings. Some would like to see California 99 made into part of the Interstate Highway System, perhaps as Interstate 9 or Interstate 7, but no official timeline for such a conversion has been released. North of Sacramento, California 99 has freeway segments but also extensive two-lane rural highway segments. In certain areas north of Sacramento, nearby California 70 serves as the predominant through route.
California 99 follows the original alignment of historical U.S. 99 through the San Joaquin River Valley and the Sacramento River Valley from Lebec north to Red Bluff. While Interstate 5 provides the most direct route through these valleys, collectively known as the Central Valley, California 99 serves most of the large population centers in the valley: Bakersfield, Delano, Tulare, Visalia, Fresno, Madera, Merced, Turlock, Modesto, Manteca, Stockton, Lodi, Sacramento, Marysville/Yuba City, and Chico. Many of these cities are served by a business route following the original U.S. 99 alignment, some of which are signed with brown historical signs as well as the occasional state route business marker.
California 99 Highway Guides
North:
South:

Tehama County
Kern County #1
History
California 99 is a segment of the Pacific Highway, a major north-south corridor bisecting the state of California. The highway was designated as U.S. 99 shortly after the inception of the state highway system in 1926 (the state numbered system was created around 1920-1924). The U.S. 99 designation was decommissioned in January 1964. Signage for the desert route south of Interstate 10 was removed in 1964 (that section of the route is now California 86). Between Indio and Los Angeles, U.S. 99 was replaced by Interstate 10; between Los Angeles and Wheeler Ridge, U.S. 99 was replaced by Interstate 5.
Between Wheeler Ridge and Sacramento, U.S. 99 signage was replaced with California 99 shields in Summer/Fall 1966. North of Sacramento, U.S. 99 and U.S. 99W designations remained until early 1973, when the last two-lane section north of Sacramento replaced by the Interstate 5 freeway. The section of California 99 between Sacramento and Yuba City/Marysville was not part of U.S. 99, U.S. 99E, or U.S. 99W. However, California 99 replaced U.S. 99E through Chico. California 99 ends just east of Red Bluff at California 36. However, older sections of U.S. 99 persist alongside Interstate 5, including some state maintained sections (such as California 263). Certain sections of Interstate 5 were signed as "Temporary Interstate 5" along the expressway portions between Redding and the Oregon state line until January 1992, which was when the last section of Interstate 5 in the lower Sacramento River canyon was opened to traffic.
Upgrading of U.S. 99 to four-lane expressway commenced circa 1935; most of the rural portions of U.S. 99 were four-lane by 1949; in-city portions of the route remained either two-lane or four-lane undivided at that point in time. Because of this situation, the California Division of Highways (Caltrans' pre-1973 predecessor agency) elected to concentrate initial construction of limited-access/grade-separated facilities as bypasses around the larger cities and towns along the route. The "first draft" plan featured freeways around the cities, connected by the existing expressway sections; this original plan was modified in the ensuing decades as populations centers shifted and expanded outward in the postwar growth spurt, resulting in the original freeway bypass plans being extended to encompass the suburbs which tracked the U.S. 99 alignment outward from central city points.
Eventually, the growth of the Central Valley from the 1950s onward prompted the Division of Highways eventual decision to upgrade the entire route to a full freeway. The early routing of Interstate 5 up the U.S. 99 corridor would have meant the full development of the route by 1972 or 1973; the realignment up the Legislative Route 238 "beeline" along the west side of the valley circa late 1957 and the corresponding shifting of the 90% federal funding share away from U.S. 99 resulted, after 1958, in a more "leisurely" deployment of funds toward the upgrading of that route. While most larger cities along the route (with Turlock being the most notable exception) were bypassed by the mid-1960's, the older rural expressway sections, including those traversing smaller towns, took somewhat longer to be fully developed. An exception was the succession of smaller cities in southern Tulare County (Earlimart, Pixley, Tipton); those were bypassed as a single project entity as if they were one long linear metro area.
Special thanks to Scott Parker for researching and writing most of this historical section on California 99, California's Main Street.
Timeline of Freeway Construction
The following is a timeline of the various cities to be bypassed, with notations as to the limits of the bypass project(s):
1952: Manteca bypassed; extended from the north end of Ripon (south of Jack Tone Road) to the French Camp exit (at the Tidewater Southern RR overhead) between Manteca and Stockton. Earliest bypass, featured left exit (south end) and left entrance (north end) for old U.S. 99 alignment (business route) through central Manteca.
1953: Tulare bypassed; extended from Kaweah Slough south of the city to the Tagus Ranch boundaries to the north; as with Manteca, featured left exit/entrances at the ends of the business loop.
Late 1953-early 1954: Chowchilla bypassed, extended from California 152 (which featured a north-to-west directional interchange with left exit) to the Merced county line north of the town. First example of a particular "99" trademark: a crossing of the parallel Southern Pacific (now UP) RR main line which utilized an original two-lane undercrossing in one direction and a parallel overcrossing bridge for the other. This pattern was repeated four times along U.S. 99 between Bakersfield and Sacramento: (1) just south of the north U.S. 99/U.S. 466 (now California 46) junction about 20 miles north of Bakersfield, (2) at the California 99/California 198 junction near Goshen, (3) the aforementioned Chowchilla crossing, and (4) near Elk Grove, about 15 miles south of Sacramento. The Goshen crossing predated freeway development, as it upgraded the first wye-type intersections on either side of the original underpass with the parallel overpass plus trumpet-type interchanges on either side of the RR tracks; these were the only interchanges on what was otherwise a U.S. 99 expressway. Two of these remain (Chowchilla and Elk Grove); the others were replaced as freeway development/expansion progressed over the years.
Mid-1954: Two projects opened to traffic at this time: the Delano bypass, which extended from Pond Road to the south and the Tulare county line to the north. This bypass featured a left-hand entrance at the south end of the old route through town, but a diamond interchange at the north end in conjunction with another crossing road. The second project to open was the freeway section from Galt to Elk Grove between Lodi and Sacramento; this bypass included the California 104 interchange.
Early 1955: The Manteca bypass was extended in both directions; to the south as far as the Stanislaus county line, and to the north to the SP railroad crossing in central Stockton, including the interchange with then-U.S. 50 (Charter Way) in southeast Stockton.
Mid-1955: Two projects completed: the Atwater bypass, from Castle Air Force Base interchange between Merced and Atwater to about 2 miles north of town. A curiosity is the Castle Air Force Base interchange, which featured a left-hand exit/entrance southbound (left-hand facilities near Air Force bases seemed to proliferate in the 1950's; the March Air Force Base exit -- the only grade separation on the old U.S. 395 expressway through Moreno Valley -- featured a left exit as well). The second project was a freeway extending about three miles from the west California 198 trumpet interchange north through Goshen; the main rationale for this small-town construction was an overpass over the Southern Pacific Railroad line to Hanford and the Lemoore Naval Air Station, which featured long trains of military supplies which at the time tended to block the U.S. 99 grade crossing at regular intervals.
Early-mid 1956: Tulare bypass freeway extended north about four miles into Tagus Ranch; project stopped about two miles short of California 198 junction. Also, short (about 1.5 miles) freeway section through McFarland (northern Kern County) was completed; this was done by replacing grade crossings of extant expressway with long bridges (which crossed adjacent SP tracks as well), with one diamond interchange at the south end of town.
Early 1957: North end of Fresno bypass freeway opened: from Shields Avenue (in north central Fresno, just north of Roeding Park) north to the San Joaquin River bridge (twin, relatively narrow two-lane spans).
Late 1957: Southern end of the original Fresno bypass; from Golden State Boulevard south of downtown (about one-half mile north of the present California 41/California 99 interchange) north to the freeway section north of town opened earlier that year.
Early 1958: Tulare bypass extended south to just north of California 190 junction near Tipton. Construction begins on Pixley bypass, including below-grade section through the center of town. Also, trumpet interchange with U.S. 466 (now California 46) at Famoso opened.
Late 1958: Madera bypass completed; extended from business loop south of town (utilizing a semi-directional southbound on-ramp) to just north of the Fresno River; like with Delano, the business loop rejoined California 99 at a diamond interchange oriented for an east-west cross road.
Mid-1959: Galt bypass extended south into San Joaquin County to the Mokelumne River bridge immediately north of Lodi. Another project completed at this time was the extension of the Delano bypass south to meet the previously constructed freeway through McFarland.
Late 1959: Pixley bypass freeway opened to traffic; work begins north and south of that town.
Early 1960: Section from the location of the Interstate 5 divergence near Wheeler Ridge north to the Union Avenue (Business 99) exit opened to traffic; includes the California 166 trumpet interchange. Also, downtown Fresno freeway expanded to 6 lanes from the Ventura Ave. interchange north to California 180.
Early-to-mid 1961: This was the busiest period for construction on U.S. 99: from south to north, the projects opened during this time include: (1) the freeway upgrade in southern Tulare County, bypassing Earlimart and Tipton, connecting the previously-built Delano and Tulare bypasses with the Pixley bypass opened previously; (2) conversion of the east Stockton expressway bypass to full freeway; (3) the Lodi bypass, including two interchanges with California 12 and a new bridge over the Mokelumne River, and (4) the South Sacramento freeway, from the previously built facility through the Elk Grove area to just north of Broadway in central Sacramento. This last portion was the first along U.S. 99 to be originally built as a six-lane facility (north of Florin Road only); north of Fruitridge Road the facility was built out to eight lanes.
Late 1962: North portion (north of Brundage Lane) of Bakersfield bypass freeway opened; U.S. 99 temporarily routed west from Union Ave. along Brundage Lane (at that time Legislative Route 141) to access new freeway until southern section completed. This route extended north, with a semi-directional northbound interchange with California 65, to 7th Standard Road.
Early 1963: In another productive year, the first project to open to traffic in 1963 was the southern section of the Bakersfield bypass, which linked to the three-year-old Wheeler Ridge-Union Ave. section.
Mid-1963: Several sections opened to traffic, including the Selma-Fresno section; the second to feature 6 lanes at the time of opening to traffic. Merced bypass opened, from just south of the south/east 99/140 interchange to Castle Air Force Base.
Late 1963: Southern extension of the Selma freeway through Kingsburg completed to the Tulare county line just north of the Kings River bridge.
Mid-1964: Section from immediately north of Stockton (at merge of Business Loop 99) to Lodi completed. Except for grade crossing of SP branch line east of central Stockton (at the present location of the "Crosstown" California 4 freeway junction with 99), the freeway is complete from the Stanislaus/San Joaquin county line at the Stanislaus River crossing to central Sacramento (30th Street and Broadway).
Late 1964: Kern County section from 7th Standard Road north to just south of the "over/under" railroad crossing near Famoso completed. Also, the section from just north of the California 46 junction at Famoso completed north to McFarland. This completed full freeway from Wheeler Ridge (the beginning of the Interstate 5 designation) north to Tagus Ranch between Tulare and the California 198 junction complex.
Mid 1965: Modesto bypass opened; this extended from Ceres, south of Modesto, north to immediately south of Salida (halfway between Modesto and the San Joaquin county line). This portion was constructed as a six-lane facility except for the last two miles near Salida.
Early 1966: Section from Fresno/Madera county line at San Joaquin River crossing completed north to the extant Madera bypass. San Joaquin River bridge remained as twin spans (original narrow 2-lane northbound + additional 1947-built southbound span, built without shoulders).
Between 1966 and 1970, no significant construction took place along California 99 with the exception of the north-end connection to former Interstate 80 (now Business Loop I-80, U.S. 50, and California 51) in Sacramento. This was also the time frame where sections of Interstate 5 (West Side Highway) were opened to traffic; the Wheeler Ridge connection was finally opened in April 1971.
Late 1970: Section from the Modesto bypass north through Salida completed north to the Stanislaus River crossing; this section included both a diamond interchange with the realigned California 219 and a new Stanislaus River crossing. This extended the continuous freeway (with the Stockton railroad crossing exception cited previously) from the north end at Sacramento to Ceres, south of Modesto.
Mid-1972: Reconstruction of the California 99/California 198 interchange complex, eliminating the "over/under" RR crossing between the twin trumpets. Unusual design, featuring a new set of railroad overpasses on California 99 south of the original location, and using the original "over/under" facilities as part of the redesigned semi-directional interchange. This project also eliminated the last two crossing roads south of the interchange, which extended continuous full freeway from Interstate 5 at Wheeler Ridge to just north of Madera.
Early 1973: Turlock bypass opened; this was a route that had been delayed for over a decade by political infighting; the bypass, unlike others through similarly-sized towns along the route, did not directly serve the city center but instead took a wide arc around the west side of town. It featured a semi-directional interchange with the business loop at its south end, and accessed that loop at the north via a standard diamond interchange with a cross-valley road (which also accessed Cal State Stanislaus, which opened as a general campus around the same time). The bypass did not extend beyond the business loop access points, but reverted back to the 1940's-era expressway at both ends, although it was only a few miles from the south end of the Modesto bypass at its northernmost point (a byproduct of the wide arc around Turlock).
Late 1973: Section from the north end of Bakersfield north through McFarland widened to six lanes; this involved replacing the "over/under" Famoso RR crossing with twin three-lane overhead spans.
Late 1974: Section from Interstate 5 north to Union Ave (Business 99) exit widened to six lanes. Except for safety-related upgrades, this was the final project along this corridor for over five years; from 1975 until 1983, the Adriana Gianturco regime at Caltrans froze most funds slated for capacity increases on a statewide level. One project during this time along California 99 broke this pattern; it was a project which was simply an adjunct to another project; it is described in the next entry.
Early 1980: Section from north of Modesto to the California 120 interchange east of Manteca expanded to six lanes; this included a trumpet interchange with the (then) new California 120 "super-2" east-west southern bypass of Manteca. Pressure on Caltrans from Modesto-area politicos, abetted by the rapid population growth in the region, was the impetus for this project. Success with this endeavor prompted local officials to exert pressure for one more project, which is described in the next entry.
Mid-1981: The expressway "gap" between the Modesto six-lane bypass and Turlock six-lane bypass was bridged by two miles of freeway and an interchange with Ceres Road. However, Caltrans elected to only construct four total lanes within a facility designed for six or even eight lanes. Expansion to six lanes would not occur for another ten years.
Mid-to-late 1983: Several California 99 projects which were advanced earlier that year with a change of management at Caltrans were completed: (1) expanding the Stockton-to-Lodi section to six lanes, prompted largely by suburban development in the area. This also involved revamping the merge of Business 99 with the Stockton bypass section of California 99; the Stockton bypass remained four lanes, but the left-hand entrance now became the left lane of the newly expanded facility. (2) A short section through the town of Delhi (south of Turlock) was built with one interchange; it did not directly connect to any completed freeway, though. (3) The Madera bypass was extended north by about three miles to just south of Berenda. (4) The interchanges with California 26 and California 88 along the Stockton Bypass section of California 99 were reconstructed to eliminate sharp ramp curvature.
Late 1984: Section through Elk Grove, from north of the over/under SP crossing near the Consumnes River bridges northward to Florin Road in south Sacramento expanded to 6 lanes.
Early 1985: Section from California 43 near Selma north to Jensen Ave (rerouted California 41) in south Fresno expanded to six lanes.
Late 1986: Section from Union Avenue south of Bakersfield to California 58 in central Bakersfield expanded to six lanes.
Early 1987: Two projects completed: (1) Expansion of central Fresno section (from California 41 freeway interchange north to alignment of California 180 east-west freeway) expanded to eight lanes -- this included initial grading for the California 99/California 180 interchange; the portion north of there to Herndon (just south of San Joaquin River crossing) expanded to six lanes; San Joaquin River bridges rebuilt as single 4-lane span with shoulders, Jersey barrier. (2) Southern Pacific Railroad abandonment of Oakdale branch, including the one remaining Stockton grade crossing along California 99, occurred; Caltrans removed the tracks and repaved the section between Charter Way and California 26. Also, in conjunction with this, land clearing began for the California 4/California 99 interchange.
Early 1989: Section from California 198 north through Goshen expanded to five lanes -- three northbound and two southbound. Interestingly, the original U.S. 99 alignment along this stretch featured three lanes (including the infamous center "suicide" lane); the original four-lane expressway extended the northbound lanes over this carriageway but centered the two lanes atop the original and using the remainder for shoulders. This widening extended to the rest area just north of Traver, about two miles south of the Kings River bridge.
Late 1989: Madera bypass "remodeled"; remained four-lane but with wider shoulders and improved line-of-sight for on and off-ramps. Dirt median replaced by expanded carriageway width -- each direction was wide enough for six lanes, but marked as four lanes from the California 145 interchange north to the Fresno River bridge.
Late 1991: Four-lane section through Keyes and Ceres between the Turlock and Modesto bypasses expanded to six lanes.
Early 1992: Section from the north end of the Modesto bypass through Salida and across the Stanislaus River bridge expanded to six lanes; the section directly north through Ripon in San Joaquin County remained four lanes but was improved with widened shoulders and median as well as both retaining walls and Jersey barriers between the freeway lanes and the frontage road(s).
Mid-1993: Ramps to "stub-end" of the California 180 freeway in Fresno opened; also, section between the north and south California 120 interchanges near Manteca was improved with slip lanes functioning both northbound and southbound as direct-connection lanes for California 120; this included widening of the California 99/California 120 overpass with shoulders and Jersey-barrier guardrails.
Early 1994: California 4 "Crosstown" freeway junction with California 99 opened to traffic; also, work commenced on relocation of California 99 through the Livingston area (site of the last traffic light on California 99), including a realignment of the Merced River bridge and its approaches.
Early 1997: Merced River bridge widening opened to traffic; approaches (through cuts in the riverside bluffs) realigned to provide shoulders; Jersey barrier replaced low curb-type median strip.
Mid-1997: Livingston bypass opened, including Southern Pacific (by now Union Pacific) Railroad underpass, replacing narrow 1939-vintage four-lane concrete underpass structure with 45 m.p.h. curves. Did not connect to any other freeway section; was expressway south to just north of Atwater and north for about two miles until the short Delhi section commenced.
Early 1998: Work commenced on Merced bypass; section remained as four through lanes (2+2) but slip lanes added between interchanges along elevated section through midtown.
Mid-1999: Merced expansion completed; the section north to Atwater was partially realigned; the STIP from that period stipulated that the southbound left exit/entrance at Buhach Road be eliminated; but that project, which would involve a corresponding realignment of the northbound lanes which cross over the exit/entrance pair (originally serving the now-downgraded Castle Air Force Base, reconfigured as a reserve base and industrial park), was delayed and has yet to be implemented. The Golden State Boulevard interchange, the former north end of the Merced business loop, was expanded to serve traffic heading for the new UC Merced campus, which bordered California 59 about two miles north of California 99.
2000: California 99 no longer signed consistently with Interstate 5 on their overlap through Sacramento. A series of guide signs still point the way for through travelers on California 99.
Late 2001: Preliminary construction commences north of Madera near Berenda, eliminating the "billboard curve" just south of Berenda (where the original NB expressway lanes sharply curved to avoid a billboard supported by a large pillar). Fiscal considerations precluded full freeway upgrading south of the California 152 junction; while some crossroads have been truncated at the frontage road, there remains several grade crossings, which are at present budgeted for overpass construction, although activity toward implementation of these has yet to begin. This project represented the last completed project on California 99 between Interstate 5 at Wheeler Ridge and Sacramento. The operating Caltrans STIP (State Transportation Improvement Program) from 2005, which takes the funding process through Fiscal Year 2006, shows several funded projects along the route's length.
2008: Freeway is widened near California 152, removing more segments of at-grade expressway.
2010: Segment of California 99 between Interstate 5 and California 70 split are upgraded from expressway to freeway standards. A newly configured segment of California 99 (Tudor Bypass) near California 113 opens to traffic.
2013-2016: Remaining expressway segments between Madera and Merced are upgraded to freeway standards, with at-grade interchanges removed along this segment. Capacity improvements, in keeping with the notion that California 99 should be at least six lanes wide for its entire corridor, are planned from Bakersfield north to Sacramento. Additional high occupancy vehicle lanes are proposed.
As of November 2005, there weare five sections of California 99 that remained expressway, all but one in Merced County. From south to north, these were:
The portion addressed immediately above, between two and three miles in length, south of the California 152 junction in Madera County; it has since been upgraded.
From the Merced county line north to just south of Merced, about 14 miles (upgraded via the Plainsburg Road freeway and Le Grand Road freeway projects in 2015). This was the longest non-freeway stretch; upgrading has been problematic both politically and logistically, as the California 99 expressway along this stretch is, for the most part, narrowly squeezed between a massive agricultural complex and the parallel railroad tracks; using eminent domain to forge a wider path met with resistance from well-connected farm interests; but in 1999 an agreement was reached, which has since resulted in enough right-of-way for an initial four-lane freeway, constructed immediately east of the present narrow expressway; this was constructed on an alignment allowing for ready expansion to six lanes. Interchanges would be few and far between, and designed in a similar fashion to those along Interstate 10 in the Palm Springs area, with the southbound ramps (nearest the RR tracks) elevated to meet the crossroad above the tracks to avoid curving the complex in a broad arc away from the original alignment (the purpose here is to avoid massive encroachment on the neighboring orchard land). Construction on this segment began in 2013 and continues through 2016.
North of Atwater, there used to be a four-mile long stretch of expressway before the Livingston bypass is reached.
Between the Merced River bridge and Delhi (about three miles) was the next expressway section.
The shortest portion, slightly less than two miles, used to link Delhi and Turlock; the end of the freeway portions at both ends of this expressway stretch featured "ghost" ends, where the freeway alignment was eventually situated.
The 2005 SAFETEA-LU transportation reauthorization bill added California 99 as Congressional High Priority Corridor 54 and initiated the process to determine if California 99 can become part of the Interstate Highway System. For a route to be designated as part of the Interstate Highway System, the route must meet several basic criteria (per Assembly Bill Analysis of AJR 63):
The corridor must serve long distance interstate travel, connecting metropolitan areas and industrial centers that are important to defense and economic development.
The route must secure final environmental approval and not duplicate other interstate routes.
Routes must also directly serve major highway traffic generators and connect to the Interstate system at each end.
The route must meet Interstate Highway standards, or a formal agreement must be reached between the state and federal government to construct the route to such standards within 12 years.
Due to the age of California 99, the highway was built to Interstate standards in newer sections, but older sections have several deficiencies that would need to be improved according to Caltrans, including:
Lack of vertical clearance of bridge and overhead ramp structures
Lack of shoulder width adjacent to the highway
Insufficient median width
Interchange, spacing and encroachment issues
With the publication of the Route 99 Corridor Master Plan, the recommended designation for California 99 would be either Interstate 7 or Interstate 9 (see Section 3.5.1 Consideration of Interstate Designation on page 57).
California 99 scenes
This freeway entrance shield assembly for California 99 is posted at the intersection of Fremont Street and Ninth Avenue in Delano. Traffic on California 155 west must use Fremont Street to connect to California 99 north. Photos taken 07/31/11.
This fence sign, posted back when Caltrans was known as the Division of Highways, is common on fences located along older expressway and freeway alignments. This sign is located between the northbound lanes of California 99 and Fremont Street in Delano. Photo taken 07/31/11.
Northbound Fremont Street in Delano approaches the left turn on-ramp to California 99 north to Fresno and Sacramento. Photo taken 07/31/11.
| | |
| --- | --- |
| | This California 99 trailblazer sign is posted on southbound Fremont Street in Delano prior to the on-ramp to California 99 north. Photo taken 07/31/11. |
| | Another California 99 trailblazer sign is posted on northbound Road 100 (which serves as a frontage road north of Exit 90) in Tulare prior to the on-ramp to California 99 north. Photo taken 07/31/11. |
| | This freeway entrance shield assembly for California 99 is posted at off of Road 100 in Tulare. The on-ramp travels west briefly, then turns north onto the freeway itself. Photo taken 07/31/11. |
| | California 99 has hundreds of freeway entrance assemblies scattered along its route, since so much of it is freeway (especially in the San Joaquin Valley south of Sacramento). Photo taken by Joel Windmiller, 07/21/02. |
| | This California 99 freeway entrance shield assembly is posted in Atwater. Photo taken by Trevor Carrier (Summer 2002). |
Traveling east on Winton Avenue in Livingston, this sign advises a right turn for California 99 south to Merced or straight ahead for California 99 north to Modesto. The freeway entrance shield assemblies are posted on the connection from Winton Avenue east to California 99 south. Photos taken 11/25/04.
| | |
| --- | --- |
| | This sign clearly shows its age, as a U.S. 50 shield was scraped off of it. The California 99 was centered to cover the old shield partially. Photo taken by Joel Windmiller (06/19/01). |
| | Signage for California 12 and California 99 in Lodi. Photo taken by Joel Windmiller (06/19/01). |
| | This errant sign showing California 99 as Interstate 99 was posted on Peltier Road. Photo taken by Joel Windmiller (05/28/01). |
| | This California 99 trailblazer is posted at the north end of Live Oak Boulevard (Old U.S. 99E) north of Yuba City at the point where the current California 99 reaches its northern terminus, just shy of the community of Live Oak. Photo taken 05/24/08. |
| | | | |
| --- | --- | --- | --- |
| | | | These views of various California 99 shields are taken at various locations along the highway corridor in the Central Valley. Photos taken by Joel Windmiller (06/19/01). |
---
Page Updated October 21, 2015.