California 126
---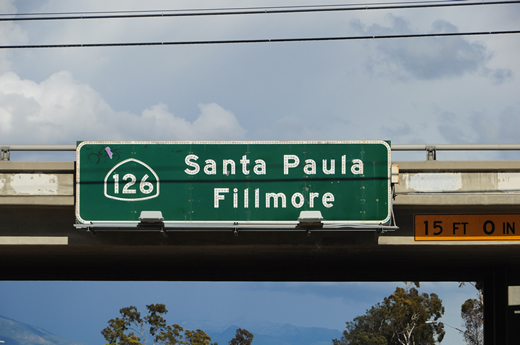 California 126 connects Ventura and Saticoy with Santa Clarita via Santa Paula and Fillmore. The entire route is at least four lanes wide, with a freeway segment between U.S. 101 and California 150. Photo taken 02/26/11.
California 126 connects U.S. 101 in Ventura with Interstate 5 in Santa Clarita near Magic Mountain. California 126 is freeway between Ventura and Santa Paula, and it follows upgraded expressway between Santa Paula and Santa Clarita.
California 126 Highway Guides
Between 1964 and 2002, California 126 used to continue east to meet California 14 via Magic Mountain Parkway and San Fernando Road, but that route was decommissioned. San Fernando Road (Old U.S. 99) was renamed by the city of Santa Clarita as three separate streets (from north to south): Railroad Avenue, Main Street, and Newhall Avenue. A freeway bypass was planned, but it was scuttled due to financial and community difficulties. The 8.5-mile, $245 million Cross Valley Connector (which includes Newhall Ranch Road and Golden Valley Road in Santa Clarita between the Interstate 5 / California 126 interchange and California 14) more or less substitutes for the proposed 126 freeway, although it was built to arterial/expressway standards. The Cross Valley Connector was completed through Santa Clarita on March 27, 2010.1
Former California 126 - Magic Mountain Parkway west

In Santa Clarita, former California 126 used to follow westbound Magic Mountain Parkway from San Fernando Road/Boquet Canyon Road west to Interstate 5. This bridge carries Magic Mountain Parkway after the San Fernando Road intersection. Photo taken 09/25/05.

Some residual state route signage remains on Magic Mountain Parkway, such as this approach signage for Valencia Parkway. Photo taken 09/25/05.

This pedestrian bridge crosses Magic Mountain Parkway after the Citrus Road intersection and before the Auto Center Drive signalized intersection. Photo taken 09/25/05.

A wide variety of power lines cross Magic Mountain Parkway after the Fairways intersection. Photo taken 09/25/05.

Tall, angular monopole power lines cross Magic Mountain Parkway. Photo taken 09/25/05.
| | |
| --- | --- |
| | The first California 126 west sign appears shortly thereafter as westbound Magic Mountain Parkway approaches Interstate 5 (Golden State Freeway). To California 126 west, follow Interstate 5 north to the next exit (Exit 172), then follow California 126 west to Ventura. Photo taken 09/25/05. |
| | | |
| --- | --- | --- |
| | | The freeway entrance shield assembly on westbound Magic Mountain Parkway to Interstate 5 north includes a shield for California 126 west in Santa Clarita. Photos taken 09/25/05. |
| | |
| --- | --- |
| | Soon thereafter, Magic Mountain Parkway approaches the left turn to Interstate 5 south. The parkway then connects with The Old Road (Old U.S. 99) and Six Flags Magic Mountain Amusement Park. Photo taken 09/25/05. |
Sources:
Ready, set, connect: Cross-valley connector opens - City: Ten years in the making, the road opens with a parade event. The Santa Clarita Valley Signal, March 27, 2010. The road's completion was marked with the opening of the Santa Clara River bridge connecting Newhall Ranch Road with Golden Valley Road on March 27, 2010.
---
Page Updated March 29, 2011.