Interstate 8
---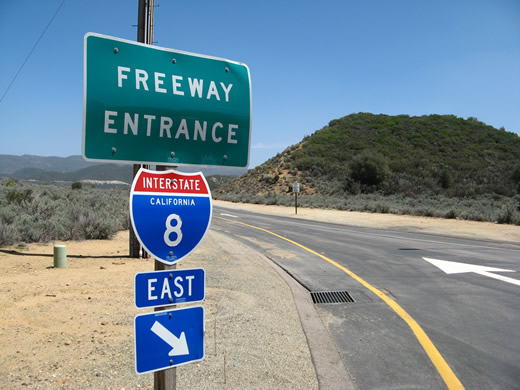 This freeway entrance shield assembly for Interstate 8 east is posted on Pine Valley Road near the unincorporated community of Pine Valley. Photo taken 04/19/08.
Interstate 8 is the main east-west Interstate highway serving the San Diego metropolitan area. It begins at the foot of the San Diego River at Sunset Cliffs Boulevard, and it leads east into Arizona. For most of its route, Interstate 8 replaces U.S. 80, which used to extend all the way to San Diego rather than its current terminus in Dallas.
Interstate 8 California Highway Guides
San Diego County
The following is a synopsis of the history of Interstate 8 in the San Diego metropolitan area:
1954. U.S. 80 routed along El Cajon Boulevard and Washington Street through the City of San Diego. U.S. 80 merges with the new Cabrillo Freeway (Old U.S. 395/California 163) at the Washington Street-Cabrillo Freeway interchange.
Around 1957. Construction began on U.S. 80 freeway between U.S. 395 (California 163) and Ward Road (Future Interstate 15) and Mission Gorge Road.
1958. Six-lane U.S. 80 freeway completed between 70th Street and Baltimore Avenue, with plans to extend the highway to the Grossmont Summit and California 67 (now California 125).
1958-1959. Contract let to construct U.S. 80 freeway between U.S. 101 (Pacific Highway, now Interstate 5) and U.S. 395 (California 163) at a projected cost of $1,214,000 for 1.3 miles of eight-lane freeway. Due to the rapid rise of motels in this section of Mission Valley, land prices begin to climb.
1959. With rights-of-way acquisition completed, construction is underway for U.S. 80 freeway between Chase and Magnolia Avenues.
1959-1960. The Grossmont Summit section of the U.S. 80 freeway is completed at a cost of $3,594,000 between La Mesa Boulevard and Chase Avenue in El Cajon. This segment includes one section with 18 lanes side-by-side, which was unprecedented in the early 1960s. At the same time, the budget for Fiscal Year 1960 includes appropriation for the 2.32-mile section between Baltimore Drive and La Mesa Boulevard.
Early 1960s. Most sections of U.S. 80 freeway are completed between U.S. 101 and the City of El Cajon. The Alvarado Canyon section of U.S. 80, 2.6 miles of six-lane freeway between Waring Drive and Lake Murray Drive (70th Street), replaced a City arterial street. The City planned that Alvarado Canyon Road would be replaced with a freeway, so it acquired much of the necessary rights-of-way (ROW) through this stretch.
1962. U.S. 80 Business routed along El Cajon Boulevard (old U.S. 80) according to 1962 Texaco map of San Diego.
1964. Great Renumbering of 1964. U.S. 80 freeway is officially renamed to Interstate 8, although U.S. 80 signs would remain along the freeway until 1972. A 1966 Mobil Map illustrates Interstate 8 and U.S. 80 as cosigned along the Mission Valley and Alvarado Freeways.
1967. U.S. 80 Business (El Cajon Boulevard) now known as Business Loop I-8 between U.S. 395 freeway and La Mesa. The now-constructed Ocean Beach Freeway is shown on a 1967 Thomas Brothers Guide as California 109, a designation that went away by 1971.
1971. Interstate 8 extended west to meet Sunset Cliffs and Nimitz Boulevards over California 109 (the Ocean Beach Freeway). Some maps still carried the California 109 designation over this freeway as late as 1975, but most maps showed this route as part of Interstate 8 in 1971.
1972. Last vestiges of U.S. 80 are removed from the Interstate 8 freeway.
1975. Interstate 8 freeway completed as far east as Pine Valley.
1996. Asphalt freeway between California 163 and Interstate 5 rehabilitated.
1997-1998. Concrete freeway rehabilitated from the City of El Cajon east to California 163. This was accomplished by removing a thin layer of concrete off the top of the roadway, which promoted a smoother, quieter freeway.
January 1999. Overhead sign for Business Loop I-8 (Washington Street) exit from northbound California 163 removed as part of construction project. It is unlikely that this sign will be replaced.
Summer 1999. New transition ramp constructed from westbound Interstate 8 to southbound California 15.
December 2000. Work continues to expand Interstate 8 by one lane in each direction east of El Cajon.
August 2002. First numbered exit at Hotel Circle (Exit 4A) along eastbound Interstate 8 is placed.
Many thanks to Merle F. McClelland for his assistance in creating this historical chronology.
Statewide Opening Dates of Interstate 8
Sunset Cliffs Boulevard to Midway Avenue (Sports Arena Boulevard) - December 1st, 1969
Midway Drive to Presido Park - July 21st, 1969
Presido Park to California 163 - Circa 1959
Calfornia 163 to Interstate 15 - Circa 1960
Interstate 15 to Fairmount Avenue - Circa 1958
Fairmount Avenue to College Avenue - Circa 1960
College Avenue to Spring Street - Circa 1961
Spring Street to El Cajon Boulevard (Business 8) - Circa 1962
El Cajon Boulevard (Business 8) to East Main Street - Circa 1961
East Main Street to Los Coches Creek Road - July 28th, 1965
Los Coches Creek Road to Harbison Canyon Road - June 20th, 1966
Harbison Canyon Road to Viejas Creek - May 22nd, 1969
Viejas Creek to Japtual Valley Road - October 7th, 1970
Japtual Valley Road to Sunrise Highway - November 25th, 1974
Sunrise Highway to Cameron Road (between Kitchen Creek Road and La Posta Road) - July 7th, 1975
Cameron Road to Crestwood Road - January 23rd, 1974
Crestwood Road to Imperial County - August 8th, 1967
Imperial County to California 98 - May 4th, 1965
California 98 to Drew Road - December 5th, 1968
Drew Road to La Brucherie Road - June 9th, 1967
La Brucherie Road to Calfornia 111 - July 31st, 1967
California 111 to Highline Canal - July 1st, 1971
Highline Canal to All American Canal - June 5th, 1969
All American Canal to California 186 - August 17th, 1970
California 186 to Arizona state line - May 18th, 1973
Many thanks to C.J. Moon for his assistance in providing this historical chronology.
---
Page Updated May 10, 2009.