Interstate 710
---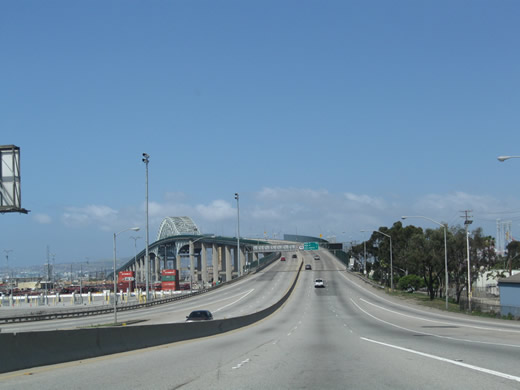 After merging with Ocean Boulevard in Long Beach, southbound Interstate 710 turns west for the approach to the Gerald Desmond Bridge, which was built in 1968. Photo taken 05/02/10.
Interstate 710 is the Long Beach Freeway, which roughly parallels Atlantic Boulevard and the Los Angeles River from Long Beach north to Los Angeles near Alhambra. This a heavy trucking corridor that carries traffic from the busy Port of Los Angeles north to east of downtown Los Angeles. At Alhambra, Interstate 710 connects to Interstate 10 (San Bernardino Freeway). The numbering of Interstate 710 as a spur of Interstate 10 is related to the fact that both Interstate 110 and Interstate 710 connect that freeway with the port. Interstate 710 was original constructed as California 15 and was renumbered as California 7 in 1964. When the California 7 freeway was added to the Interstate Highway System in the mid-1980s, it was renumbered as Interstate 710.
The southern terminus of Interstate 710 is fractured, as it separates into three "spur" freeways: the Terminal Island Spur (this is the official continuation of Interstate 710 south), the downtown Long Beach Spur, and the Queen Mary Spur. Interstate 710 splits into these three spurs after it passes Exit 1, Anaheim Street. The official southern terminus (per the exit numbering) is where the Interstate splits into these three spurs, but confusing signage makes it appear like all three spurs are part of Interstate 710. Therefore, we consider each spur to be part of Interstate 710, even though some sections of these Interstate 710 spurs are maintained by the city of Long Beach.
Gerald Desmond Bridge
The Gerald Desmond Bridge, a through steel arch bridge, carries Interstate 710 over the Back Channel, which separates the Port of Long Beach on the mainland from the ports on Terminal Island. The bridge opened to traffic on June 5, 1968, on the evening after Robert F. Kennedy was assassinated.1 Improvements to the bridge totaling $14 million were completed in 2002, including adding a climbing lane and moving sidewalks to the exterior of the truss to allow for the extra lane. It is considered deficient and is scheduled for replacement with a higher span that would provide adequate clearance for the tallest container ships that pass through the port.
Future Aspirations
The northern terminus of Interstate 710 at Interstate 10 and Valley Boulevard in Alhambra is temporary. Plans call for extension of Interstate 710 from Alhambra north to Interstate 210 in Pasadena, but a construction has not begun due to litigation and ongoing controversy of the selected route of the freeway. It is not clear when this freeway will be constructed. There will not be an interchange at the point where Interstate 710 would meet California 110. A short California 710 spur currently exists from the Interstate 210/California 134 interchange in Pasadena south to Del Mar Boulevard. The future Interstate 710 freeway would connect this stub with the existing Interstate 710 in Alhambra.
Interstate 710 Highway Guides
Interstate 710 scenes
These freeway entrance shield assemblies are posted on the on-ramp from the frontage road at the California 47-103 interchange on Terminal Island to Interstate 710 north. Photos taken 11/08/08.
| | |
| --- | --- |
| | After the intersection with Bandini Boulevard at the boundary between the cities of Bell and Vernon, the left lanes of northbound Atlantic Boulevard shift onto Interstate 710 (Long Beach Freeway) north, while the right lanes will continue on Atlantic Boulevard north to Interstate 5 (Santa Ana Freeway) and East Los Angeles. This sign does not include an Interstate 5 route marker on the overhead guide sign. Photo taken 05/02/10. |
| | Southbound Atlantic Boulevard approaches its complicated intersection with Bandini Boulevard and Interstate 710. Stay right to connect from Atlantic Boulevard south to Bandini Boulevard west. The right lane (after the off-ramp to Bandini Boulevard west) will connect to Interstate 710 south. Photo taken 05/02/10. |
| | Atlantic Boulevard south meets Bandini Boulevard at this signalized intersection. The overpass ahead carries Interstate 710 over Atlantic Boulevard. Photo taken 05/02/10. |
| | After the Bandini Boulevard intersection, southbound Atlantic Boulevard next approaches the on-ramp to Interstate 710 (Long Beach Freeway). Photo taken 05/02/10. |
| | A pair of Interstate 710 freeway entrance trailblazers point the way to the southbound Long Beach Freeway. Now in the city of Vernon, Atlantic Boulevard continues southwest to cross the Los Angeles River and enter the city of Maywood. Photo taken 05/02/10. |
| | A massive, five-circuit tower carries power for the Los Angeles Department of Water and Power. Photo taken 05/02/10. |
| | | | |
| --- | --- | --- | --- |
| | | | Atlantic Boulevard crosses the Los Angeles River on this 1931 closed spandrel, concrete arch bridge, located in the city of Vernon.2 Old style bridge railing belies the age of the bridge. Photos taken 05/02/10. |
| | |
| --- | --- |
| | Now in the city of Bell, southbound Atlantic Boulevard approaches Gage Avenue. Turn left (east) on Florence Avenue to Interstate 710. Photo taken 05/02/10. |
| | Some distance south, Atlantic Boulevard approaches the on-ramp to California 91 west and Interstate 710 south in the city of Long Beach. Photo taken 05/02/10. |
| | To Interstate 710 south, turn right from Atlantic Boulevard south to Artesia Boulevard west. Photo taken 05/02/10. |
| | |
| --- | --- |
| | Prior to the Interstate 710 and Atlantic Boulevard intersection, westbound Bandini Boulevard leaves the city of Bell and enters the city of Vernon. Photo taken 05/02/10. |
| | The right lane of westbound Bandini Boulevard connects to Atlantic Boulevard north first, followed by Interstate 710 north. Photo taken 05/02/10. |
| | A large guide sign spanning westbound Bandini Boulevard points the way to Atlantic Boulevard north, Interstate 710 north, and Interstate 710 south/Atlantic Boulevard south. Photo taken 05/02/10. |
| | Looking more closely at the pull-through sign, the Interstate 710 shields were placed on top of original California 7 route markers, dating this sign at least to the 1980s. Photo taken 05/02/10. |
Sources:
Terminal Island Cargo Has Outgrown Old Bridge by Cynthia Daniels, Los Angeles Times, March 25, 2004.
---
Page Updated November 21, 2010.