18 U.S. highways serve the state of Florida. Between 1956 and 1993, a specific color was assigned to each route to aid in motorist navigation. When two or more routes overlapped, each would retain their respective color on shield assemblies.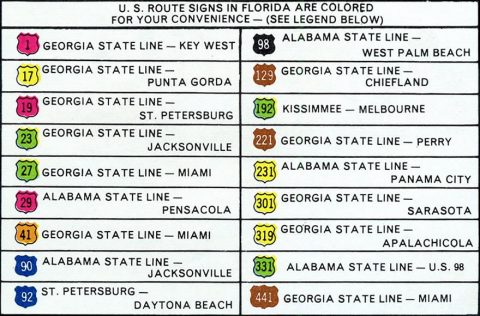 The system assigned a unique color for each route, under the premise that a U.S. highway would not intersect another route using the same color scheme. An exception to this rule took place in 1971. With both routes signed with green markers, U.S. 192 was extended west from Kissimmee to U.S. 27 at Four Corners.
Florida discontinued the colored U.S. route system in 1993 to comply with federal signing standards outlined in the Manual on Uniform Traffic Control Devices (MUTCD). Going forward, all routes were signed with nationally standard black and white markers. However as existing stock was used, some new colored route markers were installed until 1996.
Over the ensuing decades, colored U.S. route markers in Florida were replaced, leaving very few remaining assemblies across the state. Those still standing are generally found in rural areas of the Florida Panhandle, the Big Bend area, and North Florida on county roads or former state secondary roads.