The Tampa Bay Area metropolitan area includes the cities of Tampa, St. Petersburg, and Clearwater. Tampa is the largest of the three cities, with nearly 350,000 residents and an area of 170 square miles. The city was originally incorporated in 1869. St. Petersburg, a city of 137 square miles, anchors southern Pinellas County with around 250,000 residents. It was incorporated in 1892. Clearwater, the Pinellas County seat, lies between the Gulf of Mexico and Old Tampa Bay along both U.S. 19 and State Road 60. The 39 square mile city is home to over 100,000 and was incorporated first in 1891.
Interstate 4 constitutes a major east-west freeway across the Florida peninsula along the U.S. 92 corridor. It begins at the Downtown Interchange with Interstate 275 in Tampa, then proceeds in an easterly direction toward Plant City, Lakeland, and Orlando. I-4 was both the first Interstate in Hillsborough County and statewide in Florida to be completed. Its origins in Tampa date back to 1941 as part of the Grand Central Expressway plan along what is now Kennedy Boulevard (SR 60). Planning maps displayed the current Interstate 4 in 1958, with staged construction following. The first portion completed was the stretch from U.S. 301 (Exit 7) to the Polk County line in 1960. The Downtown Interchange opened in 1964, with completion of the route in Hillsborough by 1965.1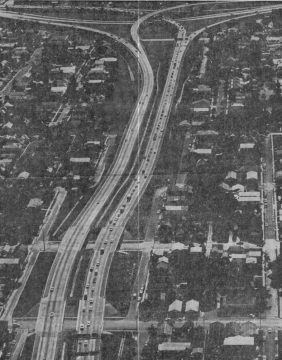 Growth quickly accompanied the newly opened Interstate 4, and cities along it through Hillsborough, Orange and Polk Counties grew by 24% between 1964 and 1970. Traffic congestion ensued, and 100,000 vehicles per day were recorded along I-4 at 22nd Avenue (Exit 1) in 1970. Expansion for I-4 from I-275 east to Lakeland was planned for the period between 1987 and 1992. Construction however was delayed significantly in 1991 when the state reallocated funds for I-4 to expanding I-75 through North Florida instead.1
Within Hillsborough County, Interstate 4 was expanded to six overall lanes through various projects between September 1995 and December 2007. This included total reconstruction of the route in Tampa, with new carriageways built outside a wide grassy median. The median may be used for light rail in the future. Further east through Lakeland, widening was completed through Polk County in 2007.
Historically Interstate 4 extended west from Tampa along the Howard Frankland Bridge to north St. Petersburg in Pinellas County. This changed in 1971 when Interstate 75 was extended southward from the Downtown Interchange over I-4 through Pinellas County. I-75 would later shift to bypass Tampa to the east.
Interstate 75 provides the most direct route from the Tampa Bay region to Southwest Florida and Miami to the south and to Ocala, Interstate 10 near Lake City and points north to Atlanta and Michigan. The freeway stays east of Tampa, acting as a bypass of the metropolitan area while doubling as a commuter route for residents of Pasco County, New Tampa, Brandon, Riverview and Gibsonton.
The 1958 plan for Interstate 75 concluded the route in Tampa at what is now the Downtown Interchange between Interstates 4 and 275. This was the case because in 1961 all Interstate miles were already allocated for the state of Florida. The route of I-75 east of Tampa Bay was proposed as a separate bypass and was later incorporated into a freeway stretching to Naples in Southwest Florida. The toll road was tentatively named the West Coast Turnpike and planned for construction over a 15 year period. It included a western spur, the Palmetto Turnpike, to link it with the Sunshine Skyway. Not much was made public about the Western Turnpike, and by 1969 it was dropped in favor of extending Interstate 75 as additional interstate miles were made available to the state.2
Congress approved the route of Interstate 75 from Tampa to Miami in 1968, and the final design was unveiled in 1971. Extension of the route south to Miami involved renumbering I-4 west from Tampa to St. Petersburg as part of I-75. This took place formally in 1971, with I-75 ending at 38th Avenue North in St. Petersburg. Just two years later, I-75 was rerouted to bypass Tampa Bay, leaving the former route along the Howard Frankland Bridge as new I-275.3 Opposition from environmentalists and growing suburban communities rose as plans for construction of the new I-75 were finalized in 1972. Lawsuits from various environmental groups, and later homeowners, delayed work on the road, leading to a change in road design. This entailed angling I-75 further north in Hillsborough County and reducing the freeway from six to four lanes through the Hillsborough River area. The final route of I-75 was scheduled for completion in Hillsborough County by 1982.3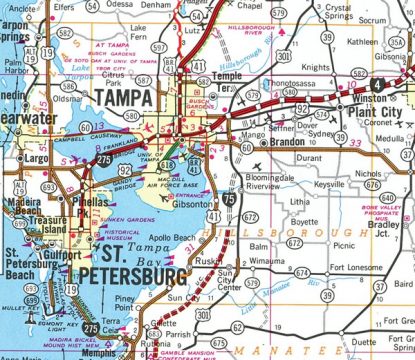 Construction of I-75 through the early 1980s focused on both ends of Hillsborough County, with work progressing to link the separate sections. I-75 was completed from I-275 at the Pasco County line south to SR 582 (Fowler Avenue) in 1984. Opening of the segment between SR 674 (Causeway Boulevard) and Fowler Avenue in 1985 completed the mainline in Hillsborough. Building of the Crosstown Expressway (SR 618) interchange followed in 1986.3
Widening of Interstate 75 to six or eight overall lanes through north Hillsborough kicked off on October 24, 2011 between SR 582 (Exit 265) and SR 56 (Exit 275). This work ran through spring 2016 and coincided with Pasco County expansion of I-75 between SR 56 and SR 54 (Exit 279) between March 2011 and June 2014. Additional work expanded I-75 northward between SR 54 and SR 52 (Exit 285) between May 2014 and winter 2018.
Interstate 175 – South Bay Drive
Interstate 175 is a short spur route leading east from Interstate 275 to Tropicana Field (home of the Tampa Bay Rays MLB team) and the south side of Downtown St. Petersburg. One of the shortest Interstate highways in the national system, it runs partially below grade and ends at SR 687 (4th Street South).
I-175 was planned along side I-375 as 'downtown feeders' to St. Petersburg in the mid-1960s as state roads. Construction on both routes followed in the late 1970s, but I-175 was delayed due to the high cost of land acquisition and lawsuits filed in an attempt to halt work. The $5.5-million freeway was the most expensive road per mile to ever be constructed in Florida at the time when it opened on April 23, 1980.5
The 1.44-mile route was incorporated into the Interstate system in 1978 when Florida realized that the state budget would not support completion of its portion of the Interstate system by 1986, when federal funding was scheduled to run out. The state canceled part of I-75 through Hillsborough County to offset the deficit, leaving five federally funded intestate miles to allocate elsewhere. These were used for both Interstates 175 and 375.
Interstate 275 forms a 60-mile loop west from Interstate 75 through the urban cores of both Tampa and St. Petersburg. A busy route, the freeway winds northward from the Sunshine Skyway through southern Pinellas to the Howard Frankland Bridge across Old Tampa Bay. The freeway turns east toward Downtown Tampa and north along a congested corridor from near Ybor City to North Tampa and Lutz.
Interstate 275 was commissioned in 1973 over the former path of Interstate 75 through both Tampa and St. Petersburg. Construction of I-275 through Tampa initially focused on the stretch between Downtown Tampa and the Howard Franklin Bridge between 1960 and 1964 and from Pasco County southward to Bearss Avenue, which opened in 1961. The east-west portion of the route was designated as Interstate 4 with four overall lanes and an eight foot grassy median.6
Construction of the Downtown Interchange, where I-4 and I-275 currently meet, was completed in 1965. This preceded work to open I-75 southward from Bearss Avenue in 1966. The vigorously opposed stretch of I-75 between Sligh and Floribraska Avenue was completed in December 1967.6
Further south, Interstate 275 spans Old Tampa Bay across the three-mile long Howard Frankland Bridge. The bridge first opened in August 1960 with a single span dumping traffic onto 4th Street North at its west end. Completion of I-75 south into Pinellas aided in the transformation of 4th Street into a busy commercial route. Ensuing commercial interests established along the route delayed construction of I-275 until 1969, when work commenced on an extension south to Roosevelt Boulevard (SR 686) and 58th Avenue North. Subsequent construction extended the freeway south to I-375 in 1978, and I-175 by April of 1980.7
South from Downtown St. Petersburg, construction on I-275 commenced in June 1978. Resistance to the new freeway was less than previously encountered in areas to the north, but opposition from both environmentalists and Eckerd College resulted in some hurdles. Agreed compromises between parties involved were incorporated into the freeway design including landscaping, the installation of sound walls, the rebuilding of a popular marina displaced by the route and the redesign of the Pinellas Bayway/54th Avenue S interchange to reduce to impact to Eckerd College land. Work took I-275 southward to a temporary end point six times from 1978 to 1984. The portion south to 28th Street South opened in January 1981, to 22nd Avenue South in May 1982, and to 54th Avenue South in January 1984.8 The route through to the famed Sunshine Skyway Bridge was opened by June 1985. The cable-stayed bridge was completed in 1987, replacing a cantilever bridge by the same name that partially collapsed in 1980. The four-lane toll bridge totals 4.2 miles over the main shipping channel for both Port Tampa Bay and Port Manatee.
As traffic counts increased, capacity improvement projects were made to Interstate 275 in both Hillsborough and Pinellas Counties. Reconstruction of the freeway took place in Tampa through the 1970s, with expansion to six overall lanes and redesign of the diamond interchange at Memorial Highway (SR 60) into a parclo between 1974-76. The Himes Avenue interchange was first proposed in May 1983 and advertised to enhance access to Tampa Stadium for the 1984 Superbowl. The partial interchange was to be funded by the Tampa Bay Bucs franchise and Westshore mogul Al Austin, who owned a large tract of land near the stadium location. Funding did not acrue in time for the Superbowl, and the interchange was built in late 1984 and paid mostly by the state.6
The Gandy Boulevard interchange with SR 694 was partially completed in 1976. Plans at that time called for Gandy to be built as a full freeway, so elements of the junction with I-275 were tabled until that upgrade came to pass. The cancellation of the Gandy Freeway led to an upgrade at the interchange with I-275 to provide the previously missing movements.7 A second span for the Howard Franklin Bridge across Old Tampa Bay opened in August 1991. The bridge did double duty while crews rehabilitated the 1960 span, ultimately leading to eight overall lanes of capacity.
Modernization of the freeway through both Tampa and St. Petersburg commenced in November 1999 and continues through fall 2016. This includes the total rebuilding of I-275 between the Howard Frankland Bridge and Downtown Interchange with new carriageways and a wide grassy median reserved for potential light rail. Work included the acquisition of several blocks worth of property to the south of I-275 to accommodate the wider footprint.
Interstate 375 – North Bay Drive
Interstate 375 forms a second short spur route leading from Interstate 275 into Downtown St. Petersburg. The 1.34-mile route runs east, partially along a viaduct, to the couplet of 4th and 5th Avenues North (SR 595) near Mirror Lake and just shy of the western terminus of U.S. 92 (4th Street North).
Planned along with I-175 to the south, Interstate 375 cost $3.1-million to build and opened initially from I-275 east to 9th Street North on January 17, 1978. Completion of the route eastward followed in January 1979.5
U.S. 19 follows the Gulf Coast southward from the Nature Coast through to New Port Richey and built-up areas of west Pasco County. Leading south through Pinellas County, the highway splits with an Alternate route looping west through Palm Harbor, Dunedin, Downtown Clearwater and Seminole while the mainline stays east to Pinellas Park and St. Petersburg. U.S. 19 is heavily congested throughout Pinellas as it provides the main commuter route throughout the urban county. 12.3 miles of the US highway, from Pinellas Park to north Clearwater, run along a limited access freeway.
Leading south from Clearwater, U.S. 19 Alternate expands into an arterial style road though Largo and Seminole to reconvene with U.S. 19 (34th Street North) via 5th Avenue North in St. Petersburg. U.S. 19 follows 34th Street south from Pinellas Park to combine with Interstate 275 ahead of the Sunshine Skyway Bridge while SR 595 provides a direct connection into Downtown St. Petersburg as the former southern extent of U.S. 19.
The overlap between I-275 and U.S. 19 across Tampa Bay is one of three cases in Florida where a U.S. route merges onto an Interstate highway (U.S. 17 on I-10 and I-95 in Jacksonville and U.S. 1 in Miami being the others). The toll bridge turns the paired routes east at Terra Ceia, where U.S. 19 branches southward via a wye interchange for Palmetto. Once in Memphis, north of Palmetto and Bradenton, U.S. 19 ends at its junction with U.S. 41.
U.S. 19 was laid out in 1929 by the federal government through Pinellas County and remained roughly unchanged until the early 1950s. Then a new inland route was constructed, with the former along the coast redesigned as U.S. 19 Alternate. Population growth quickly overran the newer alignment for U.S. 19, resulting in 1962 plans for a parallel freeway along Belcher Road. That route was not funded in time, and a subsequent north-south toll road plan for the U.S. 19 corridor was killed by voters in 1976. All other planned freeways in Pinellas not already under construction at the time were cancelled by the early 1980s.9
Increasing traffic congestion in the mid-1980s led to plan in 1987 to upgrade U.S. 19 to an urban freeway with six overall lanes and a companion frontage road system from Gandy Boulevard (SR 694) north to the Pasco County line. Funding prioritized the building of overpasses and frontage roads at the busiest intersections first, with lower costs upgrades following. Work to add an overpass at Roosevelt Boulevard (SR 686) ran between January 1987 and March 1989. A second set of bridges opened in December 1989 to carry U.S. 19 over Ulmerton Road (SR 688).9
Further construction upgraded U.S. 19 to a freeway on the stretch between Main Street (SR 580) and Countryside Boulevard in Clearwater with work undertaken from 1992 to May 1994. Moving forward, funding issues again arose and pushed U.S. 19 upgrades back into the mid-2000s with completion of work between Pinellas Park and Dunedin. With all but two segments converted to limited access standards by 2009, the two remaining portions: Whitney Road to SR 60 and Sunset Point Road to Countryside Boulevard in Clearwater were completed in summer 2015. Future work to extend the freeway north to County Road 95 near Palm Harbor, including a new interchange with Curlew Road (SR 586), will take place when funding becomes available. Upgrades on the remaining stretch north to Pasco County are not planned at this time.
U.S. 41 is the Tamiami Trail, so named for its connection between Tampa and Miami. In the Tampa Bay area, U.S. 41 stays east of Tampa Bay, paralleling I-75 to the west. Through the city of Tampa, the route partitions with a Business loop through Downtown and the mainline taking a surface bypass partially with U.S. 92 along Hillsborough Avenue. The pair merge ahead of Lutz with U.S. 41 continuing to suburban areas of Land O' Lakes in Pasco County.
U.S. 41 exists as a suburban commuter route, urban arterial and industrial highway throughout its course through the Tampa Bay area. U.S. 41 Business provides the main route to Port Tampa Bay while U.S. 41 south from Tampa serves the growing areas of Apollo Beach, Ruskin and Sun City Center. As such all of U.S. 41 south from Tampa to Bradenton carries at least four lanes.
Historically the Business route for U.S. 41 represents the original northern extent of the intrastate alignment of U.S. 541. U.S. 541 otherwise followed the current alignment of U.S. 41 south from Tampa to Palmetto. It was decommissioned in 1951.
Gandy Blvd / Dale Mabry Hwy / Hillsbourgh Av
U.S. 92 through Tampa Bay consists of either a local roadway or commuter route, having been supplanted by Interstate 4 and the Crosstown Expressway (Florida 618). The US route originates at the intersection of 4th Street North and 5th Avenue North outside Downtown Petersburg. The seemingly arbitrary end point results from this location representing the historic south end of U.S. 19.
Traveling 4th Street North, U.S. 92 lines a business strip northward to Gandy Boulevard in North St. Petersburg. Gandy Boulevard, a wide boulevard with original plans as a freeway, travels east from Pinellas Park as Florida 694 to become the U.S. 92 mainline east of 4th Street North. U.S. 92 lines the four-lane highway through to the Gandy Bridge across Tampa Bay.
Once in South Tampa, U.S. 92 transitions into a commercial arterial, taking Gandy Boulevard to both the west end of the Leroy Selmon Expressway (SR 618) and Dale Mabry Highway (SR 573). Dale Mabry Highway takes U.S. 92 due north along an equally commercialized stretch bisecting the Tampa peninsula through to I-275 and Raymond James Stadium (home of the Tampa Bay Buccaneers NFL team). Dale Mabry Highway expands to six lanes along this stretch and almost is never referenced to by any of its numbered components (SR 573, U.S. 92, SR 580 and SR 597).
A six-ramp parclo cloverleaf interchange sees U.S. 92 depart Dale Mabry Highway for Hillsborough Avenue (SR 580 to the west) east to Seminole Heights. U.S. 41 ties into the arterial between Nebraska Avenue and 40th Street as well. Hillsborough Avenue otherwise carries U.S. 92 east away from Tampa, with a brief split at U.S. 301 and I-4, where the route utilizes collector distributor roadways of the freeway.
Beyond the I-4 and U.S. 301 confluence at the Florida State Fairgrounds, U.S. 92 downgrades into a two-lane route as it parallels Interstate 4 east to Plant City. Through Downtown Plant City, the route partitions into a one-way couplet. U.S. 92 exits Hillsborough County en route to Downtown Lakeland to the south of I-4.
U.S. 301 mirrors the course of U.S. 41 to the east of Tampa Bay between Palmetto and Tampa. The route begins at U.S. 41 near Downtown Sarasota, traveling a four to six lane route northward to Bradenton and a short overlap with U.S. 41 across the Manatee River into Palmetto.
Once in Palmetto, U.S. 301 splits with U.S. 41 for an eastern push to Ellenton and Parrish in northern Manatee County. The route reduces to a two-lane rural highway along this stretch, but suburban expansion from Sun City Center and Riverview resulted in widening to four and six lanes northward into Hillsborough County. As such, U.S. 301 generally serves as a commuter or local route through to the Brandon area.
Having stayed east of I-75 since Ellenton, U.S. 301 loops west through a large industrial park area between the Crosstown Expressway and Florida State Fairgrounds at Interstate 4. Curving back to the east, the US highway passes under I-75 with no direct access en route to Thonotosassa and Zephyrhills in Pasco County.
Overall U.S. 301 connects the northeast with the Deep South. The nearly 1,100 mile route provides part of the through route between Tampa Bay and Jacksonville, supplementing the lack of freeway between Ocala and Baldwin. U.S. 301 generally mirrors I-95 northward to Glasgow, Delaware.
Hillsborough County Roads
Hillsborough County generally does not sign county roads. Exceptions occur at state roads and in Temple Terrace. A number of these roads are profiled below. Others include CR 580, CR 581, CR 582, CR 582A, CR 583, CR 585A, CR 587, CR 589, CR 640, CR 676, CR 676A and CR 682A. See the Pinellas County guide for coverage of County Roads posted there.
7th Av / Broadway Av / Hewitt St
County Road 574 runs east along 7th Avenue through Ybor City in Tampa to Broadway Avenue and Hewitt Street at Mango. A few shields are posted in Ybor City, but overall the 9.25-mile route between SR 45 and SR 574 is unsigned.
A second County Road 574 segment exists in Hernando County between U.S. 19 at Spring Hill and U.S. 41, south of Brooksville.
Hillsborough County Road 576 follows Memorial Highway west 2.65 miles from SR 589 (Veterans Expressway) to SR 580 (Hillsborough Avenue) at Town 'N Country. The route is only signed at the interchange (Exit 3) with the Veterans.
Pinellas County Road 576 runs east-west for 5.976 miles. The county road lines Sunset Point Road east from U.S. 19 Alternate (Edgewater Drive) on Clearwater Harbor to County Road 611 (McMullen Booth Road) in Clearwater and along Main Street east from CR 611 to 10th Avenue (former SR 590) in the city of Safety Harbor.
A third section of County Road 576 travels through rural areas of southern Hernando County, 10.17 miles east from U.S. 41 near Masarkytown to CR 541 near Hickory Hill.

Mango Rd / Morris Bridge Rd
Four sections of County Road 579 are posted in west central Florida. Three portions are maintained in Hillsborough County, with one leading north to Dade City in Pasco County. The southernmost section of County Road 579 spurs 4.97 miles south from State Road 674 near Wimauma to Safford Road at the Manatee County line.
Northward between Mango and U.S. 301 at Thonotosassa, a 6.01-mile segment of CR 579 follows Mango Road through unincorporated parts of Hillsborough County. This route is poorly signed.
Morris Bridge Road northeast from Interstate 75 and Fletcher Avenue (CR 582A) rounds out the Hillsborough County alignments of CR 579. This section angles 9.74 miles to the Pasco County line, where the route extends another 14.17 miles north to County Road 578 outside Dade City.
Waters Avenue is a four lane boulevard extending west from north Tampa to Egypt Lake-Leto, Town 'n' Country and Westchase. The roadway between U.S. 41 Business (Florida Avenue) and SR 580 (Dale Mabry Highway) is unsigned County Road 587A. The remainder west from Dale Mabry Highway to Countryway Boulevard is County Road 584. Some shields are posted for CR 584 between SR 589 (Veterans Expressway) and Anderson Road, but the rest of the route is unmarked.
An 15.87-mile route, Hillsborough County Road 672 exists in two portions, with an implied overlap along U.S. 301. Signage is limited to just to green street blades on the leg leading east from U.S. 301. Signage along Big Bend Road, west from U.S. 301, is only posted at the end with U.S. 41.
Other Tampa Bay Area Streets and Highways
Gandy Boulevard
Gandy Boulevard stretches across the Interbay Peninsula, from Bayshore Boulevard off Hillsborough Bay to the Gandy Bridge spanning Old Tampa Bay. U.S. 92 follows the arterial west from Dale Mabry Highway (SR 573) to the Gateway area of St. Petersburg. A three-year construction project finished in 2017 upgraded Gandy Boulevard west from the confluence of SR 687 (4th Street North), SR 686 (Roosevelt Boulevard) and the departing U.S. 92 south to 94th Avenue North onto a high-speed, elevated freeway. Gandy Boulevard extends west as SR 694 from 4th Street North to the SPUI joining U.S. 19 and Park Boulevard in Pinellas Park.
| | |
| --- | --- |
| | Gandy Boulevard runs west from Bayshore Boulevard between the Bayshore Beautiful and Ballast Point neighborhoods in South Tampa. MacDill Avenue intersects the four lane boulevard south to Interbay and the Mac Dill Gate of Mac Dill AFB. 10/05/15 |
| | |
| --- | --- |
| | Himes Avenue follows north from the Gandy / Sun Bay South neighborhood north to Bayshore Beautiful and Palma Ceia. The street eventually meets Interstate 275 and the back side of Raymond James Stadium. 10/05/15 |
| | |
| --- | --- |
| | A shopping center lies along the north side of Gandy Boulevard between Himes Avenue and the intersection with U.S. 92 east and SR 573 (Dale Mabry Highway) south. U.S. 92 overtakes Gandy Boulevard west from Dale Mabry Highway to St. Petersburg. 06/27/20 |
| | |
| --- | --- |
| | SR 573 heads 1.83 miles south along Dale Mabry Highway between Gandy Boulevard and the main gate to Mac Dill Air Force Base. 06/27/20 |
| | |
| --- | --- |
| | U.S. 92 takes Dale Mabry Highway north to Hillsborough Avenue (SR 580) at Drew Park in Tampa. 06/27/20 |
Tampa Downtown Area Streets
An assortment of photos taken in and around the central business district and Ybor City.
Brorein Street
| | |
| --- | --- |
| | Brorein Street branches northwest from Channelside Drive near Amalie Arena to form a service road to the Selmon expressway west from the Exit 7 off-ramp to Exit 5 at Hyde Park. An eastbound on-ramp ties into SR 618 from Jefferson Street. 03/07/07 |
| | |
| --- | --- |
| | Brorein Street veers alongside the elevated Selmon Expressway ahead of Morgan Street here. 11/08/06 |
| | |
| --- | --- |
| | This overhead directed motorists onto SR 618 west from Brorein Street at Morgan Street. 08/20/06 |
Florida Avenue
Florida Avenue heads north from Old Water Street between Tampa Convention Center and Amalie Arena 0.4 miles to SR 60 (Jackson Street). U.S. 41 Business lines the remainder of the street northward through Tampa.
| | |
| --- | --- |
| | Florida Avenue originates at Old Water Street just east of Tampa Convention Center. The street flows northward into Downtown as part of a through route to Interstates 275 and 4. These trailblazers precede the intersection with Brorein Street. 03/19/14 |
| | |
| --- | --- |
| | A loop ramp connects the eastbound Selmon Expressway with Florida Avenue north ahead of Brorein Street. Signs direct oncoming traffic from SR 618 to Harbour Island and Downtown area points of interest. 03/19/14 |
| | |
| --- | --- |
| | Brorein Street parallels the elevated Selmon Expressway west from Cumberland Avenue and the Exit 7 off-ramp to Hyde Park. 03/19/14 |
| | |
| --- | --- |
| | Whiting Street passes under the Old Fort Brooke Municipal Parking garage just west of Florida Avenue. 10/28/06 |
| | |
| --- | --- |
| | Florida Avenue proceeds north four blocks to intersect U.S. 41 Business/SR 60 east along Jackson Street. 03/19/14 |
| | |
| --- | --- |
| | SR 60 west travels one block further north along Kennedy Boulevard. 03/19/14 |
2 photos

2 photos

U.S. 41 Business parts ways with SR 60 west to join Florida Avenue north from Kennedy Boulevard toward Tampa Heights. Kennedy Boulevard becomes a two-way boulevard west at Ashley Drive and the draw bridge across the Hillsborough River. 03/19/14, 03/19/06
Franklin Street
| | |
| --- | --- |
| | Franklin Street bisects Downtown Tampa as a pedestrian street mall. The street serves vehicular traffic south from Whiting Street to Tampa Convention Center and the Garrison Channel bridge onto Harbour Island. 01/19/14 |
| | |
| --- | --- |
| | Franklin Street winds north across Tyler Street as a two lane brick street. 03/19/06 |
Davis Boulevard / Hyde Park Avenue / Plant Avenue
| | |
| --- | --- |
| | Davis Boulevard combines with traffic from Columbia Drive and Tampa General Hospital ahead of the bridge over Hillsborough Bay. 03/07/07 |
| | |
| --- | --- |
| | Davis Boulevard crosses the bay and quickly reaches a northbound on-ramp for Bayshore Boulevard to Platt Street and Downtown Tampa. 03/07/07 |
| | |
| --- | --- |
| | An overhead previously directed motorists on Plant Avenue north onto Verne Street for Bayshore Boulevard leading south to Ballast Point and South Tampa. 03/07/07 |
| | |
| --- | --- |
| | Hyde Park Avenue forms a one way couplet with Plant Avenue between SR 60 (Kennedy Boulevard) and the bridges across Hillsborough Bay onto Davis Islands. Pictured here is the avenue southbound at Platt Street, which heads east to the Tampa Convention Center. 03/07/07 |
| | |
| --- | --- |
| | Overheads posted south of Azeele Street direct drivers southward onto the bridge linking Hyde Park Avenue with Davis Boulevard. 03/07/07 |
| | |
| --- | --- |
| | Hyde Park Avenue passes over Bayshore Boulevard and veers east onto a bridge across Hillsborough Avenue. An on-ramp joins the bridge from Bayshore Boulevard north. 03/07/07 |
2 photos

2 photos

The Hillsborough Bay bridge southbound separates splits with an off-ramp leading directly to Tampa General Hospital. 11/24/07
| | |
| --- | --- |
| | Two lanes veers southward onto Davis Boulevard, the main roadway along Davis Islands. 11/24/07 |
| | |
| --- | --- |
| | Davis Boulevard separates into West and East Boulevards. These roads form a loop south to Peter O. Knight Airport. 03/07/07 |
Jefferson Street
| | |
| --- | --- |
| | Jackson Street carries U.S. 41 Business south & SR 60 east across Jefferson Street to Channelside. 11/24/07 |
| | |
| --- | --- |
| | Whiting Street east at Jefferson Street south. Traffic lights were installed here by 2007. 11/08/06 |
| | |
| --- | --- |
| | Jefferson Street leads south from U.S. 41 Business/SR 60 (Kennedy Boulevard/Jackson Street) to Exit 7 of the Lee Roy Selmon Expressway. 03/19/14 |
| | |
| --- | --- |
| | A direct ramp carries drivers onto SR 618 east toward Brandon. Brorein Street travels one block west to Morgan Street and the westbound Crosstown on-ramp. 03/19/14 |
| | |
| --- | --- |
| | This set of royal blue Tampa Crosstown Expressway trailblazers was previously posted on Jefferson Street south at the SR 618 eastbound on-ramp. 08/20/06 |
Meridian Avenue
| | |
| --- | --- |
| | Meridian Avenue runs alongside a CSX Railroad yard south from the turn of U.S. 41 Business/SR 60 east at Jackson Street toward Harbour Island. 11/24/07 |
| | |
| --- | --- |
| | Upcoming Cumberland Avenue connects Meridian Avenue with the Port Tampa Bay Parking Garage adjacent to Florida Aquarium and Cruise Terminals 2 through 6. 11/24/07 |
| | |
| --- | --- |
| | Cumberland Avenue passes under the parking garage ahead of a roundabout with Channelside Drive. A separate section of the avenue exists west of the adjacent railroad tracks. 11/24/07 |
| | |
| --- | --- |
| | Meridian Avenue transitions to Beneficial Drive south across Garrison Channel to Harbour Island after the intersection with Channelside Drive. 11/24/07 |
Morgan Street
| | |
| --- | --- |
| | Morgan Street sees a brick surface on the block leading south from Harrison Street to Tyler Street. 03/19/06 |
| | |
| --- | --- |
| | Zack Street travels west from Morgan Street to Ashely Street at Curtis Hixon Riverfront Park and east to Nebraska Avenue (SR 45). 03/19/06 |
| | |
| --- | --- |
| | Morgan Street leads south from the central business district to Amalie Arena, an entertainment venue that is home to the Tampa Bay Lightning hockey franchise. Morgan Street meets Channelside Avenue across from the parking garage entrance to the arena. 01/28/07 |
Nuccio Parkway
| | |
| --- | --- |
| | Nuccio Parkway provides a four lane gateway into Ybor City from Downtown Tampa. 7th Avenue (CR 574) intersects the parkway west of central Ybor City and east of SR 45 (Nebraska Avenue). 03/19/06 |
| | |
| --- | --- |
| | Nuccio Parkway stems south from East 12th and Palm Avenues along the west side of Ybor City to East 7th Avenue (CR 574). The parkway intersects East 4th Avenue next, which links with Channelside Drive south nearby. 11/24/07 |
Palm Avenue
| | |
| --- | --- |
| | Palm Avenue eastbound at Nuccio Parkway and the Ybor City parking garage. Nuccio Parkway leads south to Downtown and northeast to the HCCC Ybor City campus at 15th Street. 03/19/06 |
| | |
| --- | --- |
| | SR 585 previously followed a one way street couplet of 21st & 22nd Streets through Ybor City between Adamo Drive (SR 60) and 22nd Avenue. 22nd Street leads drivers north from Palm Avenue to Exit 1 of Interstate 4. 03/19/06 |
Pierce Street
| | |
| --- | --- |
| | Pierce Street extends two blocks south from Orange Avenue to Zack Street. Zack Street heads one block east to the Hillsborough County Courthouse. 10/09/15 |
| | |
| --- | --- |
| | Orange Avenue dumps traffic from the Downtown East Interchange of I-275 south onto Pierce Street as a gateway into the central business district. The avenue also provides part of a through route to the Selmon Expressway from I-275. 03/19/14 |
| | |
| --- | --- |
| | Pierce Street ends at Whiting Street, two blocks south of Jackson Street. Jackson Street doubles as U.S. 41 Business south & SR 60 east to Meridian Avenue. 10/09/15 |
Scott Street
| | |
| --- | --- |
| | Scott Street comprises an east side service road to I-275 between the Downtown West and East Interchanges. This connection joins the freeway with U.S. 41 Business, which runs south along Tampa Street here. 10/11/15 |
| | |
| --- | --- |
| | A set of trailblazers for Interstate 275 appears along Scott Street east beyond Franklin Street. The southbound on-ramp departs from Kay Street on the north side of the viaduct. 10/11/15 |
| | |
| --- | --- |
| | Florida Avenue, two blocks east of Tampa Street, carries U.S. 41 Business north to Tampa Heights. 10/11/15 |
| | |
| --- | --- |
| | Scott Street intersects Marion Street on the north side of the HART Marion Transit Center. 10/11/15 |
| | |
| --- | --- |
| | Motorists departing from I-275 north are directed onto Scott Street east to Orange Avenue south for Channelside, Ybor City and Amalie Arena. 10/11/15 |
| | |
| --- | --- |
| | Scott Street provides access to the Orange Avenue on-ramps to Interstate 275 leading into the Downtown Interchange. This sign bridge stands east of Morgan Street, two blocks from U.S. 41 Business (Florida Avenue) north. 10/08/16 |
| | |
| --- | --- |
| | Painted shields accompany the sign bridge along Scott Street east for the separate on-ramps to Interstate 275 north. The right side ramp provides access to the adjacent eastbound beginning of I-4. 10/08/16 |
| | |
| --- | --- |
| | Scott Street continues with one through lane toward Ybor City while Jefferson Street south defaults onto Orange Avenue South toward Amalie Arena and the Channel District. 10/11/15 |
| | |
| --- | --- |
| | Turning left from Scott Street east at Jefferson Street leads motorists to the ramp split with Interstate 275 north. The left side ramp joins the left side ahead of the Downtown Interchange, allowing motorists to avoid weaving traffic with the departing Interstate 4. 10/11/15 |
Tampa Street
| | |
| --- | --- |
| | Tampa Street continues south from the U.S. 41 Business turn onto Jackson Street to a westbound on-ramp to the Selmon Expressway. SR 618 spans the Hillsborough River nearby en route to Hyde Park and Palma Ceia in South Tampa. 04/22/15 |
| | |
| --- | --- |
| | Tampa Street next approaches Brorein Street, which parallels SR 618 west to Bayshore Boulevard and Hyde Park. The Tampa Convention Center lies just ahead otherwise. 01/19/14 |
Twiggs Street
| | |
| --- | --- |
| | Jefferson Street heads south six blocks from Twiggs Street to an eastbound on-ramp to the Selmon Expressway. Connections with Brorein Street there lead drivers to SR 618 west as well. 03/19/14 |
Willow Avenue
| | |
| --- | --- |
| | This set of Tampa Crosstown Expressway trailblazers preceded to the westbound on-ramp to SR 618 at Cleveland and Willow Avenues. They were replaced by 2012. 10/28/06 |
| | |
| --- | --- |
| | Passing under the Selmon Expressway, Willow Avenue intersects Platt Street. An eastbound on-ramp to SR 618 departs just to the left. 10/28/06 |
Zack Street
| | |
| --- | --- |
| | Zack Street was a wide one way street flowing eastbound with three lanes. This stretch was repaved by 2011 but then redesigned into a two lane, two-way street in 2012. 03/07/07 |
| | |
| --- | --- |
| | Marion Street, a transit-restricted street during the weekday hours, intersected Zack Street east in this scene. Wide sidewalks were added to both sides of Zack Street to Marion Street. The street east from here now carries two lanes with a center turn lane. 03/07/07 |
| | |
| --- | --- |
| | A Tampa Crosstown Expressway trailblazer pointed motorists southward on Jefferson Street on Zack Street east at the George E. Edgecomb Courthouse. 03/19/06 |
Sources:
"From New Tampa To I-75 Flyover, With Love." Tampa Bay Times, July 23, 2008.
Updated November 22, 2019.