April 26, 2018, 09:06:32 PM
Welcome, Guest
1
on: Today at 09:02:58 PM
Started by Scott5114 - Last post by Eth
Louisburg
, NC →
Greer
, SC
2
on: Today at 09:01:00 PM
Started by The Nature Boy - Last post by adwerkema
A small portion of Florida is west of Chicago.

Westernmost Florida longitude: 87.634631 W
Chicago longitude: 87.6298 W
4
on: Today at 08:11:10 PM
Started by jbnv - Last post by Eth
Gipp
St →
Ponce de Leon
Ct (Decatur, GA)
5
on: Today at 08:09:57 PM
Started by 02 Park Ave - Last post by vdeane
I'd hardly call it "the rest of the world". In North America, just about everything is somewhat close, with the exceptions of Saint Pierre and Miquelon, Cancún (which switched to permanent DST), most of Alaska, the Yukon, and part of the Northwest Territories. Iceland and part of Greenland seem to be on permanent DST. Most of South America is somewhat close, with the exceptions of Uruguay, Chile (two hours ahead of where they should be by longitude (!)), and Argentina. Europe was just about perfect until World War II (when France and Spain switched to CET; Belarus has since switched to MSK for political reasons). Most of south and east Asia are just about perfect sans China; ditto for Australia and New Zealand. The Middle East is pretty good too. Same for Africa with the exceptions of Libya, Namibia, and some countries in West Africa.

Russia is interesting because their time zones already seem to be one hour ahead for the most part; I didn't realize they were no longer on permanent DST. That must have been like double DST!
6
on: Today at 08:08:49 PM
Started by Scott5114 - Last post by oscar
Normal
=>
Louisburg
(NC):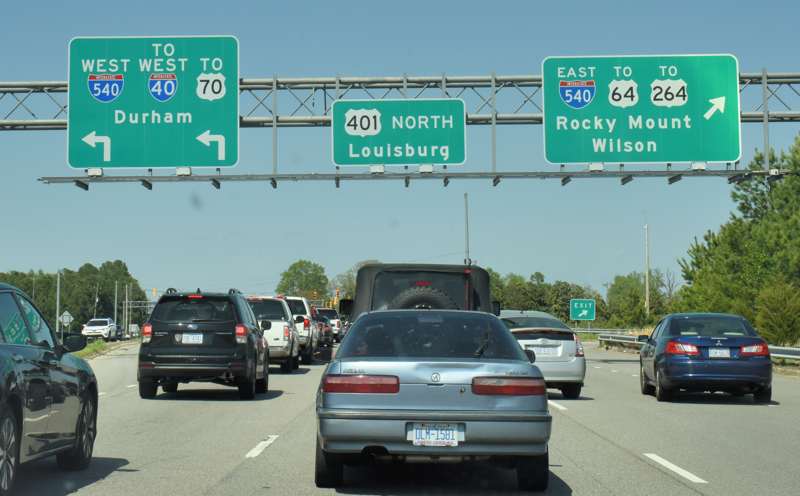 7
on: Today at 08:04:13 PM
Started by adwerkema - Last post by Jordanes
Hello! I was just in Kalamazoo on Sunday.
8
on: Today at 08:03:09 PM
Started by MrAndy1369 - Last post by MrAndy1369
The former freeway stub west of I-5 today simply segues into the 5-lane surface alignment.
Former freeway stub? It's still there - the area where 126 goes west of I-5 and crosses Commerce Center Drive. That's now a diamond/cloverloaf intercharge. That wasn't there in 2011. It also has an "End Freeway" sign right around where the WB ramp merges with 126... so it's a freeway stub, still, I'd say?
Also, I looked at the map, and it looks like there CAN be a bypass of Fillmore. Look at the rendering (black line) I've drawn here:
https://imgur.com/a/QoyCxec
. Thoughts? That could be a full freeway, and the rest of 126 could then easily be converted to a freeway, with all the at-grade intersections removed and changed to limited access.
9
on: Today at 07:56:31 PM
Started by empirestate - Last post by vdeane
I've always thought of the Genesee River as the dividing line between pop and soda.
10
on: Today at 07:52:54 PM
Started by Desert Man - Last post by 7/8
Currently 19 C (67 F) and sunny in Lincoln, NE. Beautiful weather
. It looks like Denver should be nice tomorrow, so it's a good start to my road trip.