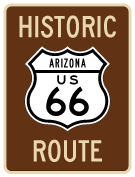 Historic U.S. 66 is the storied Mother Road, connecting Chicago with Los Angeles. This highway has been entirely supplanted by freeways, and its last signed segment was bypassed by Interstate 40 in Ash Fork in 1985. U.S. 66 was first eliminated in California in 1964, and by 1977, signage for U.S. 34-66 near Jackson Drive was removed in downtown Chicago.
Arizona 66 is part of the longest extant section of former US 66 left in the country. The road was bypassed by Interstate 40 in 1978, but remained signed as U.S. 66 until 1985, when it was redesignated as Arizona 66. Arizona 66 runs from Kingman to the Yavapai County line, due to an ADOT policy of multiple roads not serving the same two points.
Until 2004 Arizona 66 was signed with a unique white on black shield. Those assemblies were eventually phased out in favor of Historic US 66 shields.
Arizona 66 Guides
Connect with:
Interstate 40
Page Updated 03-22-2007.