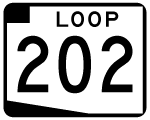 The Red Mountain Freeway forms the upper portion of the Loop 202 beltway system around the Phoenix area. Originating from the I-10/State Route 51 Mini-Stack interchange, Arizona Loop 202 initially travels east along the Red Mountain Freeway through Tempe and Mesa, connecting to the Sky Harbor (State Route 143) and Loop 101 freeways. Loop 202 turns at Power Road (Exit 23A), following the Fannin-McFarland Aqueduct southeast to University Drive (Exit 27) before bending south. The Red Mountain Freeway ends at the exchange with the Superstition Freeway (U.S. 60), as the Santan Freeway continues Loop 202 to Chandler.
Connect with:
Interstate 10
U.S. 60
State Route 51
Loop 101
State Route 143 - Hohokam Expressway
Loop 202 - Santan Freeway
Page Updated 06-12-2020.