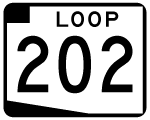 Forming part of the regional beltway system along with Loop 101 and Loop 303, Loop 202 encompasses a 78 mile elongated loop through the Phoenix metro area. Loop 202 overlays the Red Mountain, Santan, and Ed Pastor (South Mountain) Freeways on its course through the east and west valleys, connecting downtown Phoenix with Chandler, Gilbert, Mesa and Tempe.
Red Mountain Freeway
Loop 202 begins at the Mini-Stack interchange with Interstate 10 and State Route 51 east of Downtown Phoenix. Initially following the Red Mountain Freeway, Loop 202 travels east to meet the Hohokam Expressway (SR 143) near Phoenix Sky Harbor International Airport (PHX). Beyond SR 143, the Red Mountain Freeway turns south and east to follow the Salt River through Tempe to a systems interchange with Loop 101 (Pima Freeway). Continuing east, Loop 202 travels north and east through Mesa before turning south to U.S. 60 (Superstition Freeway) and the Santan Freeway at the SuperRedTan interchange.
Santan Freeway
The Santan Freeway continues Loop 202 from U.S. 60 (Superstition Freeway) on a stairstepped course south and west through southeast Mesa, Gilbert and Chandler. Loop 101 (Price Freeway) ties into the Santan Freeway west of Downtown Chandler as Loop 202 continues to I-10 opposite the South Mountain Freeway. The Santan Freeway was completed by June 20061, and varies between six and eight general purpose travel lanes with High Occupancy Vehicle (HOV) lanes between I-10 and Gilbert Road (Exit 44).
South Mountain Freeway
West of a multi-level interchange with I-10, Loop 202 advances along the South Mountain Freeway. Named after the South Mountains range, the freeway extends Loop 202 an additional 22 miles around the Phoenix city limits, connecting the lower portions of the east and west valley regions. The freeway stays south and west of the mountain range before turning north to conclude at a directional T-interchange with I-10 (Papago Freeway) midway between I-17 (Black Canyon Freeway) and Loop 101 (Agua Fria Freeway). A final cost of $1.7 billion, the entire South Mountain Freeway opened to traffic December 21, 2019, three years sooner than anticipated.2 This portion of Loop 202 maintains six overall travel lanes and a total of two HOV lanes. The South Mountain Freeway doubles as the Congressman Ed Pastor Freeway, dedicated to the late state representative who was influential in the funding and building of the regional transportation system.3
Loop 202 Guides
The western half of the Red Mountain Freeway to Loop 101 was planned as a part of the 1960 Phoenix Freeway plan. The city of Mesa planned a parkway dubbed the Red Mountain Parkway in 1982, from present-day Loop 101 to the Maricopa County line along the alignment of Loop 202. The two corridors were conglomerated in the 1985 freeway plan and renamed the Red Mountain Freeway. Originally, the route was planned to be signed State Route 217. The designation changed by the time the freeway opened and SR 217 was never signed along the freeway.
Completion dates for the Red Mountain Freeway:
August 1990: Mini-Stack (I-10/SR 51) to 40th Street
February 1992: Papago Interchange (40th to 48th Streets)
March 1993: 48th Street to Priest Drive
January 1995: Priest Drive to McClintock Drive
March 1995: McClintock Drive to Loop 101
October 1995: Salt River Bridge, first phase of the Loop 101/202 interchange
October - December 1996: Completion of the Loop 101/202 interchange
October 1997: Loop 101 to McKellips Road
September 1998: McKellips Road to Country Club Drive
January 2002: Country Club Drive to Gilbert Road
January 2003: Gilbert Road to Higley Road
June 2005: Higley Road to Power Road
Both the Santan and South Mountain Freeways were built from funds generated by Proposition 400, a half-cent sales tax for the basis of transportation improvement projects within Maricopa County. The proposition was passed by voters on November 2, 2004 and extends until December 31, 2025.4
The original route markers for the Red Mountain Freeway were white on brown. Fading issues over time resulted in the removal of the brown shields in favor of standard black on white shields posted today along the beltway system. The replacement of colored Loop 202 shields began in 2003, along with those along Loop 101 and Loop 303.
Sky Harbor Boulevard serves as an unsigned spur of Loop 202, connecting the Red Mountain Freeway with PHX Airport. Built in 1993 in conjunction with access changes to the airport, Sky Harbor Boulevard connects with SR 143 (Hohokam Expressway) and 44th Street (eastbound only).
Sources:
Loop 202 (Santan Freeway) official site, Arizona Department of Transportation (ADOT), accessed through archive.org, June 12, 2020.
Loop 202 South Mountain Freeway is now open, after decades of debate, Arizona Central newspaper, published December 21, 2019.
New section of Loop 202 to be named after late Congressman Ed Pastor, Arizona Central newspaper, published October 24, 2019.
Connect with:
Interstate 10
U.S. 60
State Route 24 - Gateway Freeway
State Route 87 - Beeline Highway
Loop 101
Page Updated 04-25-2022.