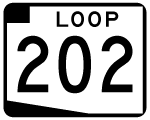 Red Mountain Freeway, Santan Freeway, South Mountain Freeway
The Red Mountain Freeway is a loop of the East Valley. Beginning in downtown Phoenix at the mini-stack, the road travels east to meet the Hohokam Expressway (Arizona 143), then turns south and east to follow the Salt River through Tempe to reach Loop 101. Continuing east, the road travels north and east through Mesa before cutting south to US 60 and becoming the Santan Freeway.
Arizona Loop 202 Highway Guides
The western half of the Red Mountain Freeway (to Loop 101) was planned as part of the 1960 Phoenix Freeway plan. In 1982, the City of Mesa planned a parkway called the Red Mountain Parkway, from present-day Loop 101 to the Maricopa County line along the alignment of Loop 202. The two corridors were meshed together in the 1985 freeway plan and named the Red Mountain Freeway. Originally, the route was planned to be signed State Route 217, but this number was changed by the time the freeway opened and not signed in the field.
Completion dates for the Red Mountain Freeway:
August 1990: Mini-Stack (Interstate 10/Arizona 51) to 40th Street
February 1992: Papago Interchange (40th to 48th Streets)
March 1993: 48th Street to Priest Drive
January 1995: Priest Drive to McClintock Drive
March 1995: McClintock Drive to Loop 101
October 1995: Salt River Bridge, first phase of the Loop 101/202 Interchange
October - December 1996: Completion of the Loop 101/202 interchange
October 1997: Loop 101 to McKellips Road
September 1998: McKellips Road to Country Club Drive
January 2002: Country Club Drive to Gilbert Road
January 2003: Gilbert Road to Higley Road
June 2005: Higley Road to Power Road
The original shields for the Red Mountain Freeway were white on brown, as seen at the top of this page. There were issues with sign fading and keeping the signs consistent, and in 2003, all colored shields were dropped from the Loop road system around Phoenix.
There are plans to widen Loop 202 between Interstate 10 and Loop 101. There are carpool lanes between Interstate 10 and Loop 101.
Loop 202 has one spur route, the access road to Sky Harbor Airport. This spur has exits to Arizona 143 and Arizona 153, and was constructed in 1993 as part of the access changes to Sky Harbor Airport.
| | |
| --- | --- |
| | Arizona Loop 202 Spur west |
| | |
| --- | --- |
| | Loop 202 Spur is unsigned, and functions as a connection between Arizona 143 and Loop 202 in addition to it's role to provide access to Sky Harbor Airport. This first City of Phoenix sign shows airlines in Terminal Four. Photo taken 04/08/07. |
| | |
| --- | --- |
| | There are two additional signs in a similar style - this one shows airlines in Terminal Three. Photo taken 04/08/07. |
| | |
| --- | --- |
| | The last of the three signs shows airlines in Terminal Two. Loop 202 Spur is signed as a 45 MPH freeway, but drivers routinely drive above 45 MPH. Photo taken 04/08/07. |
| | |
| --- | --- |
| | The one exit along Loop 202 Spur connects the Spur to Arizona 143 southbound. Beyond this point, Loop 202 Spur ends (below Arizona 153) and becomes Sky Harbor Boulevard, maintained by the City of Phoenix. Photo taken 04/08/07. |



Photo Credits:

04/08/07 by Kevin Trinkle

Page Updated 04-22-2004.