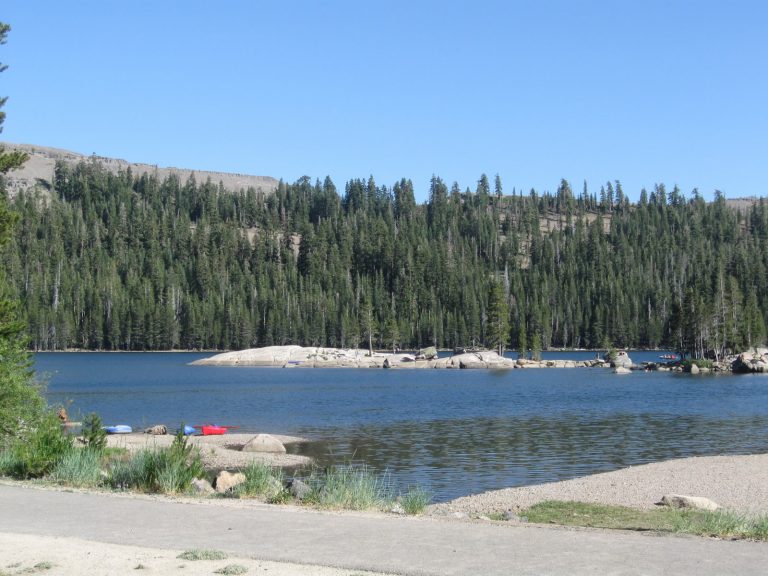 California 4 connects the San Francisco Bay Area with the Sierra Nevada, passing through the city of Stockton along its 192 mile course. The highway originates at Interstate 80 near Hercules, and begins as a four-lane expressway from Hercules east toward Martinez. Once in Martinez, California 4 becomes a full freeway known as the California Delta Highway. Along this industrial route, California 4 serves a number of power plants, ports, and industries in Concord, Pittsburg and Antioch. The freeway then connects to the California 160 high bridge that crosses over the Sacramento/San Joaquin River Delta on its route north to Sacramento.
East of California 160, California 4 becomes a very busy two-lane highway on its way to Stockton, one of the largest cities of the Central Valley. California 4 is the principal route between the Central Valley and the Delta. Although California 4 is briefly a freeway between Interstate 5 and California 99, it resumes as a busy, two-lane road as it approaches the Sierra Nevada foothills.
Passing the Gold Country Highway (California 49) in Angels Camp, California 4 starts to ascend toward Ebbetts Pass. Losing traffic as it progresses east, the state route passes by the mountain communities of Calaveras County. Beyond California 207, a spur route into Bear Valley Ski Area, and Lake Alpine, California 4 narrows to a one and a half lane road across Ebbetts Pass. On the rainshadow side of the Sierra Nevada, California 4 descends toward its eastern terminus at California 89 south of Markleeville and west of Monitor Pass. Some maps show California 4 continuing east into Nevada via California 89 north and California 88 east, and California 4 west is signed from California 88 through Markleeville.
California State Route 4 Guides
Upgrades to SR 4 through Contra Costa County included the six-year Highway 4 Widening Projects involving the Contra Costa Transportation Authority (CCTA), Caltrans, Bay Area Rapid Transit (BART) and a number of other organizations. The freeway was expanded from four to eight overall lanes along a 5.5 mile segment from Loveridge Road (Exit 24) to just west of SR 160 (Exit 30). Missing ramps at the exchange joining SR 4 and SR 160 were completed, and the SR 4 Bypass south from Lone Tree Way to Balfour Road in Brentwood was widened to four lanes. Additionally, reconstruction of the freeway through Pittsburg and Antioch accommodated a 10 mile BART extension, with the station at Hillcrest opened by early 2018. Overall 21 bridges were replaced between Pittsburg and Brentwood. A ribbon cutting event for the project was held by officials on July 20, 2016.1
The Highway 4 bypass extends 12.4 miles from Antioch to Brentwood. Split into three sections, the northern segment opened from SR 4 south to Lone Tree Way (Exit 33) in February 2008. The central portion, from Exit 33 south to Balfour Lane, was completed in April 2002. The final segment south to Vasco Road opened in fall 2008. Plans for the bypass date to the late 1980s, with the State Route 4 Bypass Authority formed in 1989 and design environmental documents approved in 1994. Groundbreaking for segment 2 took place in 1999.2
Additional work on the Highway 4 bypass upgrades the at-grade intersection with Balfour Road into a parclo A2 interchange. Construction on the $42.7 million exchange started in spring 2017, and the new eastbound lanes for SR 4 opened to traffic on the weekend of July 20-22, 2018. Work continues through early 2019.3
A portion of the long planned western extension of the Crosstown Freeway in Stockton opened to traffic by the end of 2016. A $140 million project, the Highway 4 Ramp Extension constructed an elevated four-lane freeway west from the previous roadway end at Fresno Avenue to Navy Drive at the Port of Stockton. Finished one year ahead of schedule and $50 million below budget, the new freeway allows truck traffic to bypass the Boggs Tract neighborhood where the Crosstown Freeway previously ended.4
The $214.5 million SR 99 - South Stockton Six-Lane Widening Project reconfigured SR 4 where it ties into the freeway from Farmington Road in southeast Stockton. Construction between June 2012 and December 2016 included the elimination of both ramps along the concurrent section of SR 4/99 at with Dr. Martin Luther King Boulevard and the right in right out (RIRO) ramps with Farmington Road. A new folded diamond interchange was constructed for Golden Gate Avenue, which was extended southeast to Farmington Road as the new alignment for SR 4. The Golden Gate Avenue Interchange was finished in summer 2015.5
| | |
| --- | --- |
| | East of Bear Valley Mountain Resort and west of Ebbetts Pass is Lake Alpine, a reservoir managed by the Northern California Power Agency. This warning sign advises lake users to watch for submerged objects as the level of the lake may fluctuate. Stanislaus National Forest manages a campground at this location as well. 07/18/09 |
2 photos

2 photos

A boat launch ramp into Lake Alpine is located across from the Lake Alpine Lodge. Boat rentals are available at the lodge, and a floating dock allows access over the water for boarding. 07/18/09
3 photos

3 photos

3 photos

Lake Alpine as seen from the central boat launch in the campground. The lake is surrounded by mountains and provides electrical generation and water to users downstream. Campgrounds line the lake on the north shore. 07/18/09
| | |
| --- | --- |
| | Cape Horn Vista is found on California 4 a few miles east of Lake Alpine at the point where the highway passes through a rock outcropping. Situated at an elevation of 7,960 feet above sea level, the vista offers excellent views toward the Dardenelle Range, including Elephant Rock, and the Carson-Iceberg Wilderness Area of Stanislaus National Forest. 07/18/09 |
Photo Credits:
07/18/09 by AARoads
Connect with:
Interstate 5
Interstate 80
State Route 160
Page Updated 07-22-2018.