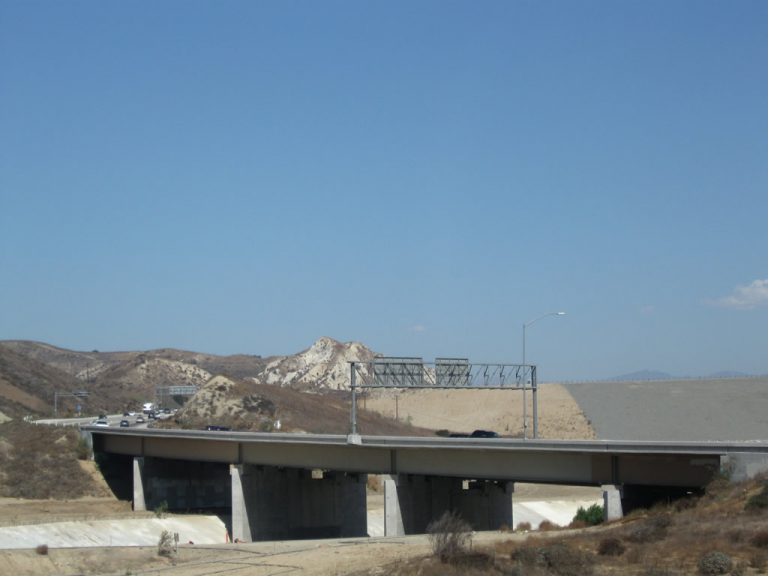 California 71 is the Chino Valley Freeway between California 91 near Corona and the Kellogg Interchange with Interstate 10 and California 57 (Orange Freeway). The 16.8 mile route was slowly upgraded through the 1990s and 2000s into a freeway, starting at Rio Rancho Road in Pomona (just north of California 60) and continuing southeast along the Chino Hills to California 91 near Prado Dam. The section of freeway between California 83 (Euclid Avenue) and California 91 (Riverside Freeway) was the last section to be upgraded to freeway standards (aside from a few connecting service roads).
The remainder of California 71, between California 60 (Pomona Freeway) and California 57 (Orange Freeway), is an older urban expressway with right in right out (RIRO) intersections with Old Pomona Road, North Ranch Road and West Phillips Drive to the west. $243 million in construction will upgrade the four-lane expressway to an eight-lane freeway between 2020 and 2023.1
California State Route 71 Guides
Historically, SR 71 extended south to U.S. 80 in San Diego via Temecula and Elsinore. This route was superseded by U.S. 395 in 1935 northward to San Bernardino. Route 71 was redefined from Route 79 near Aguanga and Temecula. Construction of Interstate 15 replaced this section, and Route 71 northwest to Corona was dropped in 1974.2 SR 71 was formerly known as the Corona Expressway, but that name now applies to Interstate 15 (Corona Freeway).
| | |
| --- | --- |
| | The pre-freeway bypass alignment of California 71 around Lake Elsinore follows Auto Center Drive north and Casino Drive south from Diamond Drive. Now a frontage road for Interstate 15, this stretch spans the San Jacinto River across a 1957-built bridge. 06/24/07 |
| | |
| --- | --- |
| | A remnant postmile for Route 71 was located at the east end of the San Jacinto River bridge along Auto Center Drive. The marker was removed after 2008. 06/24/07 |
| | |
| --- | --- |
| | Looking southeast from Auto Center Drive at the nearby Lakeshore Drive carrying Business Loop I-15 across the San Jacinto River in Lake Elsinore. Lakeshore Drive is the historic route of U.S. 395 and California 71. 06/24/07 |
2 photos

2 photos

Pomona Boulevard formerly connected with California 71 at an trumpet interchange in Pomona. The antiquated exchange permanently closed in 2011 with the ramps subsequently demolished. 07/15/07
2 photos

2 photos

The East Spadra Overcrossing along SR 71 dates to 1926 and was expanded to expressway standards in 1939. The bridge spans 233 feet across Pomona Boulevard, the Union Pacific Railroad, AMTRAK and Metrolink. 07/15/07
Sources:
"Here are the major highway improvement projects happening in Southern California through 2023." The Orange County Register (CA), January 23, 2018.
Photo Credits:
06/24/07, 07/15/07 by AARoads
Connect with:
Interstate 10

Page Updated 06-27-2018.