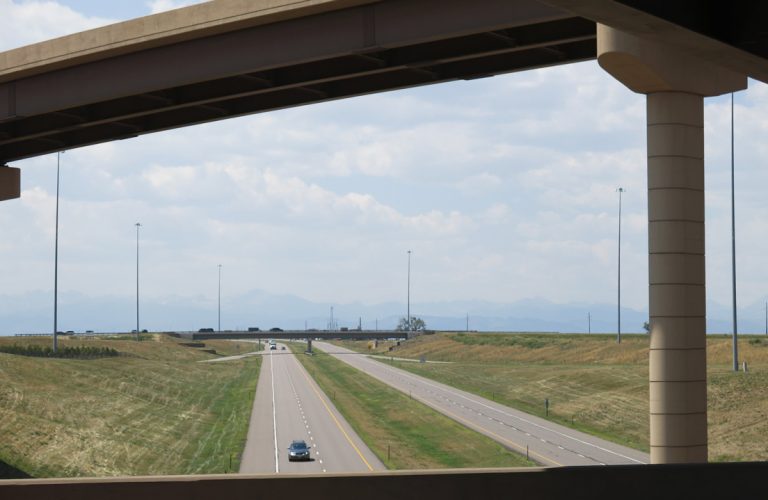 Operated by the E-470 Public Highway Authority, E-470 is the eastern half of the Denver Beltway. Inventoried by CDOT as Route 470B, the north-south roadway stretches 46.40 miles from Lone Tree in Douglas County to Aurora, Denver International Airport (DEN) and Broomfield in Adams County. The Northwest Parkway (Route 470N) is the 8.05 mile long extension of the tolled beltway from Interstate 25 west to U.S. 36 (Denver-Boulder Turnpike) at the Interlocken development in Broomfield. Both roads utilized all electronic toll collection (AET) with ExpressLane transponder or toll by plate.
E-470 Guides
The initial segment of E-470 opened from I-25 near the Denver Technology Center to SH 83 (Parker Road) near Aurora. With private financing, the 5.5 mile section opened on June 1, 1991 at a cost of $68 million. Connections with C-470 followed by Fall 1991.1,2
Revenue shortages led to a number of delays and financing concessions for the E-470 Public Highway Authority through 1992. The original 48 mile plan for the beltway north from Lone Tree to I-25 and 160th Avenue to the north was revised to use a new alignment, partially on existing roads, to cut costs.3 Unveiled September 10, 1992, the adjusted course for E-470 supplanted Gun Club Road to the east of Aurora, with the existing road converted into a signalized frontage road. Saving $40 million in construction costs, E-470 used the preexisting interchange at Gun Club Road and I-70.4 This Breezewood type connection remains in use today.
Debate and controversy for the 10 mile segment of E-470 east of Aurora continued through 1993. Finally the E-470 Public Highway Authority finalized the route by a unanimous vote by July 1, 1993. This move was thought to allow construction to proceed on the 30 mile extension north from SH 83 (Parker Road).5 However funding woes and legal issues from opposition prolonged delays on the second section of E-470. The Colorado Court of Appeals cast aside objects from the Arapahoe County Commission for the proposed highway on March 24, 1994, allowing the realignment plan to go forward. Plans called for completion of E-470 from East 56th to East 120th Avenues and from SH 83 to Smoky Hill Road in December 1996, and the intervening gap in 1997.6
A $312 million design-build contract for the 30 mile portion of E-470 from Parker Road north was approved by the E-470 Authority on March 31, 1994. A lawsuit by two Arapahoe County Commissioners against the toll road however continued.7 The county eventually withdrew from the lawsuit in 1995 behind efforts of County Commissioners Polly Page and Tom Eggert, allowing construction to finally proceed.8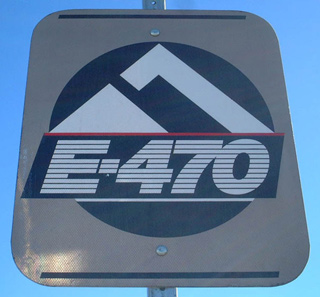 With $654 in funding secured through bond sales, design work on E-470 north from Parker started on August 31, 1995. The updated time table for the $321.4 million contract called for opening of E-470 from SH 83 to Smoky Hill Road and from 56th Avenue north to 120th Avenue in June 1998. The 14 mile section between was slated for completion in June 1999. A ground breaking ceremony took place on October 13, 1995, with construction commencing in May 1996.8
The separate sections of E-470 totaling 17 miles, opened to traffic in Douglas and Arapahoe Counties respectively on July 1, 1998. The new legs operated as toll free roads for 30 days.9 The 12 mile link from DEN Airport and Aurora debuted to travelers on May 3, 1999. It was still somewhat incomplete, as E-470 utilized an at-grade section of Gun Club Road with traffic lights at Colfax Avenue, the ramps for I-70 and Smith Road.10
With $321 million in funding from a bond sale in spring 2000, ground breaking for the last 12 miles of E-470 took place on September 7, 2000.11 E-470 opened north from East 120th Avenue to U.S. 85 on August 8, 2002. The 4.5 mile link provided a high speed route from Denver International Airport (DEN) to Brighton.12 The last eight miles west from U.S. 85 to I-25 were completed on January 3, 2003.13
With 73% of transactions made by transponder, the entire 47 mile length of the E-470 beltway switched to all electronic tolling (AET) on July 4, 2009.14 The five main line toll plazas were removed.
A new diamond interchange (Exit 41) opened along E-470 at Quebec Street on November 24, 2014. Work on the $5 million projects started in Spring 2013.15 The E-470 Public Highway Authority authorized an $80 million widening project along the southeast leg of the toll road in February 2016. Expansion added a lane in each direction from Parker Road to Quincy Avenue. Construction ran from Spring 2016 to January 2018.16
Northwest Parkway extended the beltway system southwest from E-470 at Interstate 25 to U.S. 36 through Broomfield. The 11 mile long highway opened to traffic on November 24, 2003. Tolling on 9.5 miles of the parkway commenced on December 7, 2003.17 Further extension south through Golden encountered several hurdles over the ensuing decade. Known as Jefferson Parkway, the final leg of the western beltway will overlay portions of SH 128 and SH 93 south to Golden.
| | |
| --- | --- |
| | scenes |
| | |
| --- | --- |
| | Jewell Avenue east at the diamond interchange (Exit 16) with E-470 in a rural area of east Aurora. 02/03/02 |
| | |
| --- | --- |
| | The shield assembly along Jewell Avenue with old trailblazer design was replaced by 2009 and then again with the current design by 2015. The junction shield was removed by 2021. 02/03/02 |
| | |
| --- | --- |
| | Viewing the E-470 tollway prior to six lane expansion south from the E 6th Parkway overpass in east Aurora. 07/04/12 |
| | |
| --- | --- |
| | 6th Parkway continues east to the Cross Creek neighborhood from the exchange with E-470. 07/04/12 |
| | |
| --- | --- |
| | 2016-18 expansion of E-470 to six lanes extended north from E 6th Parkway here to Interstate 70. 07/04/12 |
| | |
| --- | --- |
| | 6th Parkway becomes Stephen D. Hogan Parkway west from the diamond interchange (Exit 19) with E-470 to the Horizon Uptown neighborhood and SH 30 (E 6th Avenue). 07/04/12 |
| | |
| --- | --- |
| | E Colfax Avenue forms the south frontage road for Interstate 70 east from Business Loop I-70/U.S. 40-287 to Gun Club Road adjacent to E-470. 04/28/17 |
| | |
| --- | --- |
| | E Colfax Avenue intersects Gun Club Road between the diamond interchange (Exit 289) with I-70/U.S. 40-287 and wye interchange with E-470 south. 04/28/17 |
| | |
| --- | --- |
| | Gun Club Road defaults onto E-470 south of the traffic light at E Colfax Avenue. 04/28/17 |
Sources:
"E-470: Future looks good as aid rolls in." Denver Post, The (CO), November 13, 1989.
"E-470's first leg to open." Denver Post, The (CO), June 1, 1991.
"E-470's new route gains momentum - Contractor says revenue projections positive." Denver Post, The (CO), July 8, 1992.
"Realigned E-470 plan unveiled - Gun Club Road area residents vent anger." Denver Post, The (CO), September 11, 1992.
"10-mile segment of E-470 realigned - Only three property owners protest." Denver Post, The (CO), July 1, 1993.
"Ruling puts E-470 closer to reality." Denver Post, The (CO), March 25, 1994.
"Contract for E-470 approved." Denver Post, The (CO), April 1, 1994.
"E-470 officials laugh in face of superstition Long-delayed project finally breaks ground." Denver Post, The (CO), October 14, 1995.
"E-470 coming around New highway legs nearly done." Denver Post, The (CO), May 15, 1998.
"Final leg of E-470 in place Drivers surprised by 4 traffic lights." Denver Post, The (CO), May 4, 1999.
"E-470 completion nearer as work begins on final 12-mile stretch." Denver Post, The (CO), September 7, 2000.
"E-470 addition to open today $2 toll segment offers shorter trip to airport." Denver Post, The (CO), August 8, 2002.
"Final E-470 segment to open Jan. 3." Denver Post, The (CO), November 15, 2002.
"E-470 drops cash tolling - NEW RULES TODAY - Motorists can use a prepaid transponder or get a bill in the mail." Denver Post, The (CO), July 4, 2009.
"E-470 interchange opens early." Denver Post, The (CO), November 25, 2014.
"E-470 to spend $80 million to expand lanes." Denver Post, The (CO), February 24, 2016.
"Northwest toll road linking U.S. 36, I-25 set to open - Traffic-easing route free for 2 weeks, then $1.75." Denver Post, The (CO), November 23, 2003.
Photo Credits:
02/03/02, 07/04/12, 04/28/17 by AARoads
Connect with:
Interstate 25
Interstate 70
Interstate 76
State Highway 30
State Highway 83
Peña Boulevard
Page Updated 01-28-2022.