Wakulla County Road (Rose Street) 22 extends 5.73 miles west from Sopchoppy to a dead end near Syfrett Creek within Apalachicola National Forest. Florida Secondary 22 was established west from S-375 by 1972.
County Road 22 in Liberty County stemmed east from 8th Street at Sumatra to Owens Bridge at the New River in Apalachicola National Forest. An eastern segment joins CR 67 with a rural community by Marshall Lakes in southeastern Liberty County. Neither are acknowledged in FDOT GIS Data or on General Highway Maps since at least 2007.
Two unsigned segments of County Road 22 in Gulf County join Wewahitchka with Lake Grove and Cutoff Landing to the east. CR 22 follows Lake Grove Road to Gaskin Park along the Apalachicola River. The leg on Cox Landing Road spurs south to a boat ramp along the Chipola River at Dead Lakes.
S-22 in Wewahitchka was designated along Lake Grove Road east to Cox Landing Road south by 1948. The extension of Lake Grove Road east to the Apalachicola River first appeared on Gulf County General Highway Maps as S-22A in 1973.

East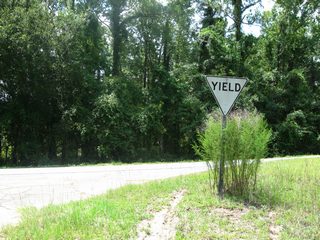 CR 299 (Curtis Mill Road) intersects CR 299 (Rose Street) at an acute angle outside Sopchoppy.
06/27/09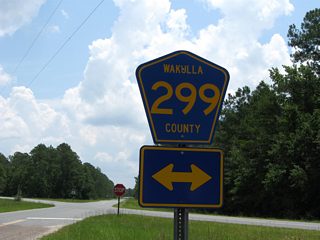 CR 299 (Curtis Mill Road) loops 6.29 miles southeast to U.S. 319 near the Franklin County line.
06/27/09

West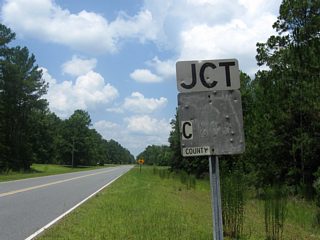 CR 22 branches west from CR 375 (Smith Creek Road) outside Sopchoppy and approaches CR 299 (Curtis Mill Road). This junction shield for CR 299 was removed.
06/27/09
Photo Credits:
06/27/09 by AARoads
Connect with:
State Road 71
County Road 299
County Road 375
Page Updated 04-23-2020.