Routed wholly within Suwannee County, CR 49 travels 24.63 miles north from the east split of U.S. 27/129 to Beachville and U.S. 90 east of Live Oak. SR 49 accompanies U.S. 129 south to Chiefland as its unsigned state road component.
Historically, CR 49 navigated along a number of unpaved roads in Suwannee County. Heading north from SR 247, then-SR 49 followed 57th Road to 200th Street west one mile to its current alignment. The former alignment diverges with CR 49 north of 180th Street along 65th Road and returns via 164th Street west. SR 49 was straightened out along a continuous bituminous road by 1955.
The Suwannee County General Highway Map from October 1956 shows U.S. 129 cosigned with the entire route of CR 49 north to U.S. 90 at Live Oak. The present day route of U.S. 129 to the west was SR 249. U.S. 129 shifted onto SR 249 by the issue of the January 1958 General Highway Map.

North

South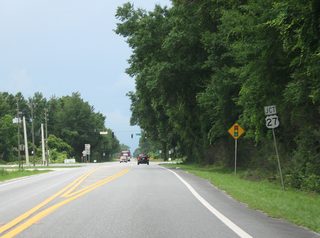 CR 49 concludes at the intersection where U.S. 129 turns south from U.S. 27 east from Branford.
06/05/09
Photo Credits:
06/05/09, 11/24/15 by AARoads
Connect with:
U.S. 27
U.S. 90
U.S. 129

Page Updated 04-25-2020.