Splits between two segments, County Road 183 travels 11.29 miles northwest from SR 81 to Knox Hill and U.S. 90 at Argyle, and 7.10 miles north from U.S. 90 by Spring Lake to the Holmes County line near Lake Cassidy. The north end of CR 183 becomes CR 81A (Line Road) east and south to CR 10A.

North

South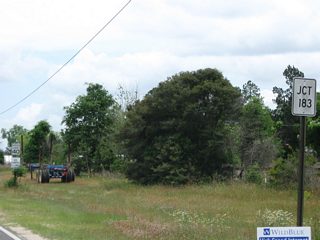 CR 183 branches southeast from U.S. 90 at Argyle and quickly intersects CR 10A (Old Highway 90).
05/02/09
Photo Credits:
05/02/09, 06/21/09, 07/03/09 by AARoads
Connect with:
U.S. 90
State Road 81
County Road 10A
County Road 280
Page Updated 04-17-2020.