Tram Road 18.08 miles east from SR 363 (S Monroe Street) in Tallahassee to Wacissa in Jefferson County is part of County Road 259. CR 259 turns northeast from SR 59 at Wacissa along Waukeenah Highway 14.61 miles to U.S. 19 near Casa Blanco.
A separate leg of County Road 259 branches northwest from U.S. 19 at Monticello 6.15 miles to Alma and CR 142 at Jarrott.

North

South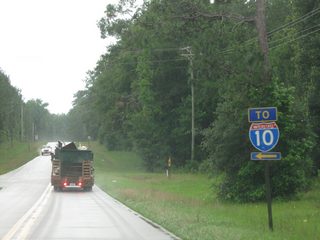 The east branch of CR 158B follows Nash Road 1.92 miles from CR 259 to U.S. 19 by the exchange with Interstate 10.
06/05/09
Photo Credits:
06/05/09 by AARoads
Connect with:
U.S. 19
U.S. 27
U.S. 319
State Road 59
State Road 61
County Road 158A / County Road 158B
Page Updated 04-24-2020.