County Road 284 forms an 11.89 mile long arc in western Washington County. Following Miller's Ferry Road, CR 284 runs west from SR 79 at New Hope to Miller's Ferry. River Road turns the highway north to CR 280 at Hinsons Crossroads and Burris Lake Road near Yates Mill Pond.
County Road 284A (Shell Landing Road) spurs 3.40 miles south from CR 284 at Miller's Ferry to Shell Landing and the Shell Landing Park and boat ramp along Holmes Creek.

North

South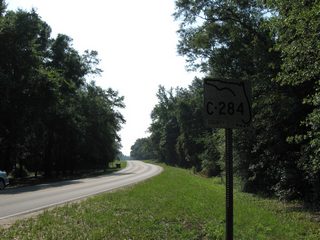 CR 284 curves east from River Road onto Millers Ferry Road at the north end of CR 284A (Shell Landing Road).
07/03/09

North
Photo Credits:
07/03/09 by AARoads
Connect with:
State Road 79
County Road 280
Page Updated 04-19-2020.