Wakulla County Road 299 forms a 7.13 mile long loop west from U.S. 319 to Curtis Mill and north to Alligator Swamp and CR 375 outside Sopchoppy. Florida Secondary 299 was designated by 1972.

North

South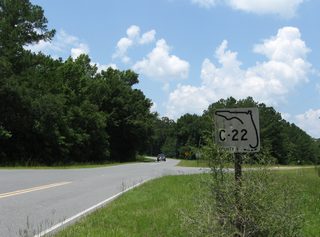 CR 22 (Rose Street) spurs 5.78 miles west from CR 375 at Sopchoppy to a dead end near the Ocholockonee River.
06/27/09
Photo Credits:
06/27/09 by AARoads
Connect with:
U.S. 319
County Road 375
Page Updated 04-23-2020.