Wakulla County Road 374 spurs 1.47 miles west from U.S. 319 (Crawfordville Highway) along Harvey Mill Road to Lawhons Mill. Florida Secondary 374 was designated by 1972.

East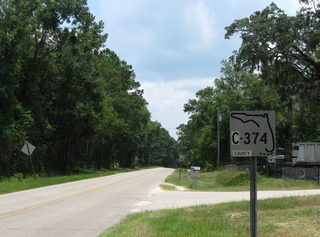 CR 374 begins along Harvey Mill Road east from the intersection with Bostic Pelt Road and Lawhon Mill Road.
06/27/09
Photo Credits:
06/27/09 by AARoads
Connect with:
U.S. 319
Page Updated 04-23-2020.