County Road 375 has two branches in the Big Bend Region. The main route travels 34.03 miles north from U.S. 319 at Sopchoppy to Sanborn, Ward and Bloxham in western Leon County. CR 375 becomes SR 375, the hidden state road for U.S. 319, east from Sopchoppy to U.S. 98/SR 30 at Medart.
A 3.69 mile long leg of CR 375 stems east from U.S. 98/319 near Medart along Jack Crum Road to CR 365 north of Spring Creek.
North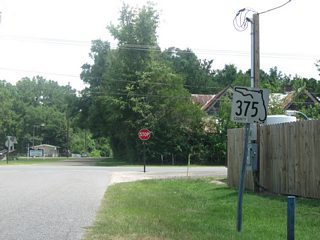 Winthrop Avenue provides a cutoff from U.S. 319 (Sopchoppy Highway) north to CR 375 west along Rose Street.
06/27/09
South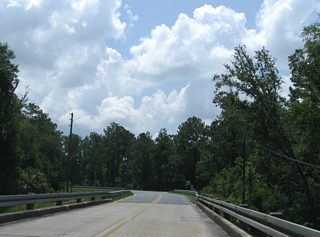 CR 375 (Smith Creek Road) converges with CR 22 (Rose Street) just beyond the Sopchoppy River.
06/27/09
East
Photo Credits:
06/27/09 by AARoads
Connect with:
U.S. 319
State Road 20
State Road 267
County Road 299
Page Updated 04-23-2020.