County Road 379 has five branches in the Big Bend region of Florida. Franklin County Road 379 spurs 1.82 miles north along the Carrabelle River from U.S. 98/319 to the turn of River Road east by the Retreat at Three Rivers platted subdivision. North into Liberty County, CR 379 forms a 19.61 mile long loop west from SR 65 at Sumatra to CR 12 at Orange. This leg of CR 379 traverses areas of both Apalachicola National Forest and Wildlife Management Area north to Lewis.
A 2.47 mile spur of County Road 379 arcs southeast from SR 20 along Hoecake Road on the outskirts of Bristol. This section was previously numbered CR 379A, with the CR 379A loop east from CR 12 to Woods incorporated in a longer CR 379 leading north along Pea Ridge Road into Bristol.
Within Gadsden County, the southern section of CR 379 follows the combination of Juniper Road west and Edwin Clark Road and Audie Clark Road north 3.96 miles from SR 12 southwest of Greensboro to CR 270A near Flat Creek. The northern leg lines Mt. Pleasant Road 6.23 miles between CR 268 (Hardaway Highway) and the Georgia state line at Hannatown.

North

North

South
Pea Ridge Road - Old

North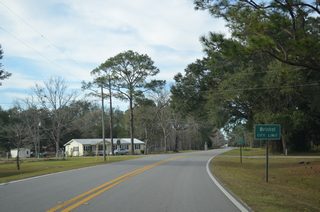 Pea Ridge Road formerly was a part of CR 379 leading north from Woods into the city of Bristol. Pea Ridge enters Bristol at the intersection with Michaux Road (old CR 67A).
01/16/16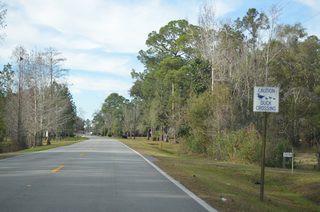 Freeman Road branches north from Pea Ridge Road ahead of this duck crossing sign. Freeman Road represents another former branch of CR 67A.
01/16/16
Photo Credits:
06/27/09, 01/16/16 by AARoads
Connect with:
U.S. 90
U.S. 98
U.S. 319
State Road 12
State Road 20
Liberty County Road 12
County Road 268
County Road 270
County Road 270A
County Road 379A
Page Updated 04-24-2020.