Franklin County Road 379A spurs 0.49 miles west from CR 379 (River Road) on the west side of Carrabelle. The segment on Mill Road leads to the Yent Place community.
Within Liberty County, CR 379A constitutes a 3.65 mile loop connecting CR 12 with CR 67 east from the community of Woods. CR 379A in Gadsden County travels northwest from CR 268 (Solomon Dairy Road) between Gretna and Quincy, to Glory and the Georgia state line at Hannatown. The 6.90 mile long highway runs along Glory Road north to CR 272, where it overtakes Hutchinson Ferry Road to CR 379 (Mt. Pleasant Road) just into Decatur County, Georgia.

North

North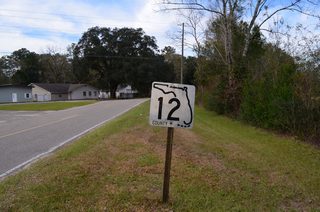 CR 12 leads north from CR 379A to Bristol. CR 12A ties into CR 12 from the adjacent intersection to the south.
01/16/16

South
CR 379A south converges with Pea Ridge Road, the former alignment of CR 379 north into Bristol.
01/16/16
Photo Credits:
06/27/09, 01/16/16 by AARoads
Connect with:
State Road 12
County Road 67
County Road 379
Page Updated 04-24-2020.