Two sections of County Road 384 are posted along the Florida Gulf Coast. The Gulf County component spurs east along Madison Street from U.S. 98 at Oak Grove to Ward Ridge in the city of Port St. Joe. The 1.81 mile long leg concludes at Holly Hills Cemetery east of George Washington Swamp. CR 384 in Franklin County travels 4.57 miles northwest from U.S. 98 in Apalachicola to Franklin and Pine Log Road at Box-R Wildlife Management Area.
Florida Secondary 384 appeared on general highway maps for the state of Florida east of Oak Grove to Old Niles Tramroad by 1948. S-384 was assigned along Garrison Avenue north into Port St. Joe by 1973. This section later became a part of CR 30A.
CR 384 along Bluff Road northwest of Apalachicola was originally part of the proposed route of State Road 277. SR 277 was projected in 1943 to parallel the Apalachicola Northern Railroad across the Apalachicola River, St. Marks River and East River northward to then SR 12 at Beverly. S-384 was designated by 1950.
Separate branches for S-384 north along Bay City Road to Bay City and west from Apalachicola along The Prado and Brownsville Road appeared on Florida General Highway Maps by 1954. Additional branches of S-384 followed 24th Street south from Bluff Road to U.S. 98, and along both Bayview Drive and Jackie Whitehurst Street between U.S. 98 and Brownsville Road by 1972.

East

West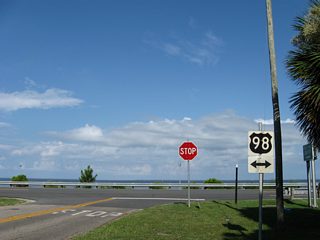 CR 384 (Madison Street) concludes at U.S. 98 (Constitution Drive) and the Oak Grove community across from St. Joseph Bay.
06/27/09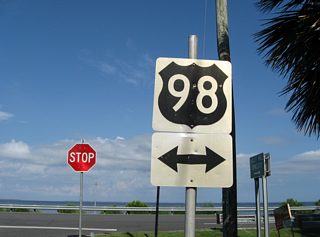 The reverse color U.S. 98 shield on CR 384 survived Hurricane Michael but was subsequently removed in 2019. It was date stamped 11-20-67.
06/27/09

East

West
Photo Credits:
06/27/09 by AARoads
Connect with:
U.S. 98
County Road 30A
Page Updated 04-23-2020.