John Young Parkway is a major arterial route leading north from Kissimmee to Orlando. North from the Osceola County line, the commuter route passes through Hunter's Creek and other south Orange County suburbs to Center Florida Parkway. Designated as County Road 423, the arterial transitions from a residential route to a commercial route, passing through the Southpark retail area, Orlando Central Park and Oak Ridge. John Young Parkway enters Orlando briefly at the Park Central, before reentering unincorporated Orange County ahead of Lake Catherine and Interstate 4.
The northernmost 2.3 miles of the 18.4-mile long County Road 423 takes a winding course through Orlando between Clear Lake and Lake Sunset. State Road 423 extends John Young Parkway north from Church Street in Orlando to U.S. 441 (Orange Blossom Trail) at Lee Road and SR 434 (Forest City Road).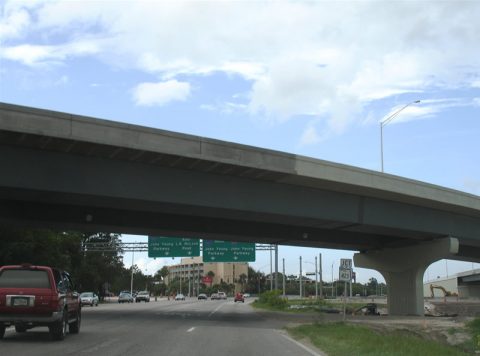 County Road 423 Guides
A $39 million project improved the interchange linking Interstate 4 with John Young Parkway in Orlando. The major component of the two-year construction is the 1,627 foot long flyover ramp connecting I-4 westbound with John Young Parkway north of L.B. McLeod Road. The new ramp opened on April 27, 2006.1
The $75.8 million expansion of SR 482 (Sand Lake Road) from International Drive east to Florida's Turnpike includes the construction of a single point urban interchange (SPUI) with John Young Parkway. Work on the flyover for CR 423 - Project 407143-6 started on October 14, 2016. Estimated completion is Spring 2020 early 2021.
| | |
| --- | --- |
| | John Young Parkway scenes |
| | |
| --- | --- |
| | L.B. McLeod Road east at CR 423 (John Young Parkway) by the exchange with Interstate 4 at Catalina in Orlando. 01/13/14 |
Sources:
"Rising above I-4 crowds - Flyover exit will move traffic at John Young Parkway." Orlando Sentinel, The (FL), April 26, 2006.


Photo Credits:

01/13/14 by Justin Cozart

Connect with:
Interstate 4
State Road 417 - Central Florida GreeneWay / Seminole Expressway
State Road 423 - John Young Parkway / Lee Road
State Road 482 - Sand Lake Road / McCoy Road
State Road 528 - Martin Andersen Beachline Expressway
Osceola County Road 525 - John Young Parkway

Page Updated 06-06-2019.