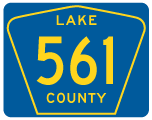 Two branches of County Road 561 are assigned in Lake County. The southern leg stretches 11.97 miles north from SR 33 to Lake Gloria, Lake Minnehaha and Minneola Avenue at CR 561A (12th Street) west of Downtown Clermont. The 12.26-mile long northern section branches east from U.S. 27 to Sugarloaf Mountain, Astatula and SR 19 (Duncan Drive) in Tavares.
Construction completed on June 29, 2015 replaced the intersection with CR 561 and CR 455 north of Sugarloaf Mountain with a roundabout. Built in the 1930s, the previous traffic pattern included four two-way ramps, six stop signs and four yield signs. Designed to improve safety, the roundabout was controversial due to the $1 million cost estimate.1
A 2.80 mile section of CR 561 was decommissioned through the city of Clermont from 12th Street east to U.S. 27 at Main Avenue. The alignment followed Minneola Avenue east to 8th Street north and Osceola Street east through Downtown. East Avenue continued the route north onto Lake Minneola Drive and S Main Avenue.
Sources:
"Lake County to spend $1M on controversial roundabout" WFTV (Orlando, FL), January 22, 2013.
"Officials say roundabouts make intersections safe, despite driver confusion." Orlando Sentinel (FL), July 10, 2015.
Photo Credits:
03/14/08, 04/28/08, 10/18/08, 10/19/17, 05/22/20 by AARoads
Connect with:
U.S. 27
State Road 50

Page Updated 05-24-2020.