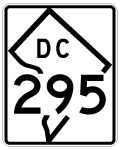 The only "state" route within Washington is District of Columbia 295, which continues the 295 numbering convention from Interstate 295 to the south. It almost connects with MD 295 north, but the portion between the D.C. line and U.S. 50 is officially a part of MD 201 (Kenilworth Avenue). The National Park Service maintained Baltimore-Washington Parkway extends northward from MD 201 as an unnumbered route. It is inventoried as MD 295 by the Maryland State Highway Administration. Signs for District of Columbia Route 295 were erected by 1994.
Origins of D.C. 295 date back to 1952, when Kenilworth Avenue was expanded from a two-lane surface road into a six-lane freeway north from East Capitol Street to the Maryland state line. One-way service roads were built along this new route, which opened on October 25, 1957 at a cost of $8.5-million.1 The Anacostia Freeway portion of D.C. 295 extended south from the Kenilworth Avenue Freeway to the 11th Street Bridge. Construction on this portion commenced in 1957, with all of the Anacostia Freeway, including the portion of I-295, opening on August 7, 1964.2
District of Columbia 295 Guides
Sources:
Kenilworth Avenue Freeway (DC 295), DCRoads.net.
Anacostia Freeway (I-295 and DC 295), DCRoads.net.
Page Updated 12-20-2018.