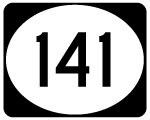 SR 141 encircles the city of Wilmington between New Castle and Fairfax, partially as a limited access highway through Newport and Greenville. Commissioned in 1952, the state route mostly acts as a commuter route between New Castle, Newport, Prices Corner, Greenville and Fairfax. The majority of SR 141 accommodates four lanes with some access control.
Delaware State Route 141 Guides
Beginning at the junction of SR 9/273 in New Castle, SR 141 follows Basin Road, a four lane arterial, northward to an antiquated cloverleaf interchange with U.S. 13/40 (Dupont Highway). Exit ramps to Dupont Highway are assigned as Exits 1A/B, despite Basin Road traveling at-grade in both directions.
U.S. 202 begins an eight-state route at the SR 141 (Basin Road) exchange with U.S. 13/40. The US Highway was realigned from an end in Wilmington and extended south along I-95 and SR 141 in 1984, though signs are inconsistent and the designation is mostly ignored by locals, traffic reports, etc. U.S. 202 overlaps with SR 141 for 1.6 miles between Dupont Highway and Interstate 95 (Exit 3A).
Basin Road separates New Castle County Airport (ILG) and the community of Wilmington Manor northward to SR 37 (Commons Boulevard). This stretch was reconfigured by winter 2005 with the closure of the Delaware and Pennsylvania Avenue intersections with Basin Road and the addition of a U-turn at a new intersection with Washington Avenue. Previously Delaware and Washington Avenues provided the connection from SR 141 north to Dupont Highway south.
Additional work on Basin Road included the rehabilitation of the overpass above U.S. 13/40 and a variety of changes northward to Jay Drive. Improvements included repaving the original concrete roadway with asphalt, sidewalk construction, traffic signal timing adjustments and other safety improvements. An acceleration lane was also added for the ramp carrying drivers from Dupont Highway south to Basin Road north in place of the previous Delaware Avenue turn off (former Exit 1B). All related work was slated for completion by August 2004.1
North of SR 37 and the Corporate Commons business park, the roadways of SR 141 diverge ahead of Nonesuch Creek and Airport Road west. The state route transitions into a limited access highway through a large cloverleaf interchange with I-95, I-295 and I-495. Ramps are assigned as Exit 2 for I-295 north and Exits 3A/B for I-95 and I-495.
The SR 141 overpasses across I-95 and I-295, and several of the ramps at their exchange, were rehabilitated between 2000 and 2001. SR141 and I-95 Ramps G&F Improvements6 construction underway from Winter 2016 to October 2018 redesigned a portion of the ramp system within the cloverleaf interchange.
Continuing work through Spring 2022 expanded SR 141 to three lanes in each direction, replaced the four SR 141 bridges over I-95, and further realigned ramps, including the I-295 southbound ramp to the Newport Freeway northbound. Work also rebuilt the intersection with SR 37 (Commons Boulevard). Unfunded work will add a new ramp from SR 141 (Basin Road) north to I-295 north.
Constructed between 1971 and 1979, the Newport Freeway passes through the town of Newport along a combination of viaduct and below-grade roadway. Built to relieve congestion along Newport Gap Pike (old SR 41), plans for the limited access freeway originated in 1961.2 Accommodating four lanes of traffic, with auxiliary lanes between on and off-ramps, the freeway leads SR 141 north to a directional cloverleaf interchange with SR 2 (Kirkwood Highway) at Prices Corner.
Beyond Prices Corner, SR 141 downgrades into a boulevard along Centre Road between several older subdivisions and apartments. Speed limits reduce to 35 miles per hour. The state route north to Faulkland Road (former SR 34) was rebuilt from an undivided arterial with narrow lanes and adjacent frontage roads into a divided roadway with 12 foot travel lanes and 11 foot wide shoulders. Work ran through November 9, 20107 and included property acquisition on the east side to accommodate the realignment of local roads and the addition of a multi-use path.
SR 141 north from Prices Corner to Greenville was formerly proposed for upgrades to limited access standards. A visible remnant from the canceled plan was a concrete stub at the north end of the collector distributor roadway for SR 2 (Exits 6A/B). This was eventually incorporated into the rebuilding of Centre Road.
SR 141 (Centre Road) passes west from the Dupont corporate campus as a controlled access arterial between Faulkland Road and Barley Mill Road. Access to the four lane highway is limited to two signalized intersections and the junction with SR 48/100 (Lancaster Pike).
Northeast from Lancaster Pike, SR 100 accompanies SR 141 to Montchanin Road. The overlap includes a 0.9 mile limited access segment punctuated by a parclo interchange with SR 52 (Kennett Pike). The freeway portion ends just east of SR 52, where SR 100 turns north to Montchanin.
Traveling east from SR 100 (Montchanin Road), SR 141 (Barley Mill Road) quickly downgrades to two lanes ahead of Tyler McConnell Bridge across Brandywine Creek. Opened in December 1952, the two lane span ties into the intersection of Powder Mill Road, Rising Sun Lane and an access road to the Dupont Experimental Station. The state route turns north from here along Powder Mill Road, lining a bluff above adjacent Brandywine Creek.
SR 141 upgrades again into a controlled access expressway from the Dupont Experimental Station east to the intersection of Childrens Drive and Powder Mill Road. The state route curves southward by the AstraZenica corporate campus to end opposite SR 261 (Foulk Road) at a grade separated intersection with U.S. 202 (Concord Pike).
The easternmost extent of SR 141 was slowly upgraded through a series of projects. Constructed first was an underpass built for Rockland Road. Completed in 1998, it coincided with the opening of a new access road (Childrens Drive) from SR 141 west to Rockland Road and Dupont Childrens Hospital. Subsequent work realigned SR 141 (Powder Mill Road) southward to accommodate the new AstraZenica campus. That stretch was decommissioned in 2007 with construction of SR 141 Spur, a new four lane roadway built in conjunction with the Blue Ball construction projects.
Unconstructed SR 141 Freeway
The Newport Freeway, and the short stretch of limited access highway along SR 141 at Greenville, were two portions built for the planned beltway between I-95 near Newport and U.S. 202 at north Wilmington. The freeway was incorporated in the 2010 transportation plan for New Castle County issued in 1990, and still in formal plans by 1992. Interchanges planned for the route included exchanges with SR 48 (Lancaster Pike), SR 100 (Montchanin Road), Alapocas Road and U.S. 202 (Concord Pike). Additionally upgrades were slated for the cloverleaf interchange joining Interstate 95 and U.S. 202, and Concord Pike north to Blue Ball and Fairfax.
With five of the state's seven largest employers situated along the SR 141 corridor, plans were unveiled in 1992 for several upgrades along the state route. DelDOT chief design engineer C. David Jamison commented that the department was committed to upgrading the SR 141 corridor in an effort to offset the build-up of traffic on local area side roads and outer roads in northern New Castle County. Details of the $100 million plus freeway plan with tentative contract award dates:5
Widen SR 141 between Rockland Road and U.S. 202 at Old Murphy Road (late 1992) - $10 million
Construct a new twin bridge over Brandywine Creek (late 1993) - $20 million
Reconstruct and build new interchanges along SR 141 between SR 52 (Kennett Pike) and Alapocas Road (late 1994) - $14 million
Reconstruct SR 141 between SR 2 (Kirkwood Highway) and Wagoner Drive (late 1996) - $6 million
Reconstruct SR 141 between Wagoner Drive to a point south of SR 48 (Lancaster Pike) (late 1997) - $17 million
Construct new Alapocas Drive interchange (late 1997) - $13 million
Build a new interchange for SR 141 at the junction with Interstate 95 and U.S. 202 at Blue Ball (1999) - $35 million plus
Construct new SR 48 / 100 (Lancaster Pike) interchange (after 1999) - $15 million
Upgrade the interchange between Interstate 95 and U.S. 202 / SR 141, south of Newport, as part of a widening project (after 1999) - $66 million
Replacement of the two-lane Tyler McConnell Bridge called for a six-lane bridge positioned 25 feet higher than its predecessor. This garnered vehement opposition, with critics citing that the new span would harm the rustic nature of the Brandywine valley and effect the nearby historic Hagley Museum. Planners were asked to reduce the span initially, and then to instead upgrade the existing bridge. Community opposition also arose against the remainder of the SR 141 freeway plan, eventually leading to its cancellation. However some elements of the original plan were incorporated into later upgrades along the state route, such as the Rockland Road underpass near Fairfax.
The Centre Road portion of the SR 141 upgrade was cost prohibitive due to property acquisition needs and adjacent dense development between SR 2 (Kirkwood Highway) and Faulkland Road (old SR 34). A subsequent improvement plan called for a more subtle expansion of Center Road, with the addition of a continuous center turn lane. The stretch was eventually expanded with a narrow median and shoulders.
Tyler McConnell Bridge
The Tyler McConnell Bridge spans Brandywine Creek over a deep valley between Montchanin Road (SR 100 north) and Powder Mill Road north of Wilmington. Consisting of 12 spans, the 816 foot long bridge supports a 33 foot wide deck.4 The crossing represents the lone two lane segment of SR 141.
Plans for the Tyler McConnell Bridge originated in 1948 when the DuPont Company announced the location for its experimental station along the banks of the Brandywine Creek. Dupont contributed $250,000 toward construction of the new bridge in an effort to enhance access to the site. Two design types were considered for the crossing, a steel arch bridge and a metal-girder bridge.4
With the more economical metal-girder bridge design selected, construction got underway in February 1951. Opened to traffic in December 1952, the Brandywine Creek bridge was dedicated in April 1953 after a former member of the Delaware State Highway Commission, J.H. Tyler McConnell. The span featured some of the earliest uses of reinforced concrete hammerhead pier supports, a popular design used throughout the world today.4
Prolonged traffic congestion associated with the Tyler McConnell Bridge continued to fuel discussion for either replacing it or adding a second span. Proposals under consideration in 2003 included an option to add a companion metal-girder bridge alongside the current span. Replacement designs varied from building two new variable depth concrete-girder bridges, or a single four-lane elliptical arch bridge. Bridge aesthetics factored heavily in these options in an effort to maintain the historic character of the Brandywine valley.
A fifth option arose following input from public workshops and feedback received regarding the previous alternatives. It called for a four lane multiple parabolic bridge design in place of the existing span. Cost estimates for the alternatives at the time ranged from $26 million for the companion bridge concept, and $40 million for the multiple arch bridge.3 The intervening years revealed no progress on plans for either expansion or replacement of the Tyler McConnell Bridge.
Delaware State Route 141 - 2015 Annual Average Daily Traffic (AADT)
15,385 - SR 273 (Chestnut Street) to University Avenue
39,087 - U.S. 13-40 (Dupont Highway) to SR 37 (Commons Boulevard)
67,585 - I-95 (Exit 3) to SR 4 / Newport (Exit 4)
46,539 - SR 62 (Exit 5) to SR 2 (Exit 6)
33,012 - SR 2 (Exit 6) to Road 330
39,344 - SR 34 (Faulkland Road) to SR 48 / 100 (Lancaster Pike)
43,611 - Barley Mill Plaza to SR 52 (Kennett Pike)
26,070 - Rising Sun Lane to Alapocas Drive
20,484 - Childrens Drive to U.S. 202 (Concord Pike)
| | |
| --- | --- |
| | scenes |
| | |
| --- | --- |
| | Centre Road doubles as the southbound off-ramp from SR 141 to SR 2 (Kirkwood Highway). 12/22/16 |
| | |
| --- | --- |
| | A direct ramp connects the Centre Road ramp with Kirkwood Highway west to Newark. 12/22/16 |
| | |
| --- | --- |
| | SR 2 trailblazer posted on Centre Road west at Centerville and Greenbank Roads in Prices Corner. Greenbank Road leads drivers west to Albertson Boulevard to complete the movement to SR 2 (Kirkwood Highway) east to Elsmere. 08/03/13 |
| | |
| --- | --- |
| | Forming a west side service road for the Newport Freeway, Newport Gap Pike continues southward from SR 62 (Boxwood Road) with one way traffic. The trailblazer for SR 141 here is still missing an arrow as of 2019. 12/22/20 |
| | |
| --- | --- |
| | An entrance ramp for SR 141 southbound separates from Newport Gap Pike ahead of Kiamensi Road (Rd 331) and Newport. 12/22/20 |
| | |
| --- | --- |
| | Newport Gap Pike becomes N James Street at the intersection with Highland Avenue. Highland Avenue spans SR 141 to the east side service road. 07/31/13 |
| | |
| --- | --- |
| | Marshall Street extends from the exit ramp connecting SR 141 northbound with SR 4 (Market / Justis Streets) at Downtown Newport. 12/22/16 |
| | |
| --- | --- |
| | SR 141 shifts northwest away from Marshall Street just beyond SR 4 (Justis Street) westbound. An entrance ramp follows from N James Street. 12/22/16 |
| | |
| --- | --- |
| | James Street splits from Marshall Street just ahead of the ramp for SR 141. A dated guide sign references Fairfax, the former end point of SR 141, and SR 41, which was truncated west to SR 2/62. 12/20/17 |
| | |
| --- | --- |
| | SR 141 briefly travels at grade level adjacent to N James Street before descending below the Highland Avenue overpass. James Street continues with two lanes northward. 12/22/16 |
| | |
| --- | --- |
| | Highland Avenue west crosses SR 141 from N James Street into a nearby subdivision. 12/22/16 |
| | |
| --- | --- |
| | N James Street becomes Newport Gap Pike northbound ahead of Burnside Avenue. Burnside Avenue spans SR 141 just beyond the Newport town limits. 12/22/16 |
| | |
| --- | --- |
| | Newport Gap Pike north transitions onto Centerville Road at the exit ramp linking SR 141 northbound with SR 62 (Boxwood Road). 12/22/16 |
| | |
| --- | --- |
| | The succeeding entrance ramp for SR 141 northbound joins the freeway from Centerville Road north of SR 62 (Boxwood Road). 12/22/16 |
| | |
| --- | --- |
| | One of the entrances to the former General Motors auto-assembly plant tied into the SR 141 on-ramp from Centerville Road. 12/23/18 |
| | |
| --- | --- |
| | A ramp from Centerville Road joins the northbound exit from SR 141 to SR 2 (Kirkwood Highway) east. 12/22/16 |
| | |
| --- | --- |
| | Centerville Road passes under SR 141 ahead of Prices Corner Shopping Center. Construction of the parclo interchange at SR 2/141 included a grade separation at Kirkwood Highway ahead. 12/22/16 |
| | |
| --- | --- |
| | Centerville Road passes under SR 2 ahead of Greenbank Road. Greenbank Road west to Albertson Boulevard connects both SR 141 south and Centerville Road north with Kirkwood Highway westbound. 12/21/17 |
| | |
| --- | --- |
| | New Bridge Road climbs from the historic Rising Sun Bridge across Brandywine Creek to intersect SR 141 at the Dupont Experimental Station. 08/03/13 |
| | |
| --- | --- |
| | New Bridge Road connects north Wilmington with SR 141 (Powder Mill Road) north to Fairfax. Turns to SR 141 south were restricted here by 2004. 08/03/13 |
Sources:
SR 141 Basin Road Improvements Project http://www.sr141-basinroad.com/, DelDOT project web site.
"Town Down Under - As traffic hurtles on 'the asphalt monster' overhead, a 300-year-old town inches toward the future." The News Journal (Wilmington, DE), July 16, 2001.
"Tyler McConnell Bridge Over Brandywine Creek - Project Purpose and Need." RKK Engineers web site, June 12, 2003.
Delaware Historic Bridges http://www.deldot.net/static/projects/archaeology/historic_pres/delaware_bridge_book/bridge_toc.html, Delaware Department of Transportation.
"Del. 141: $100 million face-lift." The News Journal (Wilmington, DE), November 19, 1992.
https://deldot.gov/information/projects/sr141/.
https://deldot.gov/information/projects/CompletedProjects/center_road/index.shtml.
Photo Credits:
07/31/13 by AARoads.
08/03/13 by AARoads and Steve Alpert.
12/22/16 by AARoads.
12/20/17 by AARoads.
12/21/17 by AARoads.
12/23/18 by AARoads.
12/22/20 by AARoads.
Connect with:
Interstate 95
Interstate 295
U.S. 13
U.S. 40
U.S. 202
State Route 2
State Route 4
State Route 9
Former State Route 34
State Route 37
State Route 48
State Route 52
State Route 62
State Route 100
State Route 261
Page Updated 01-09-2023.