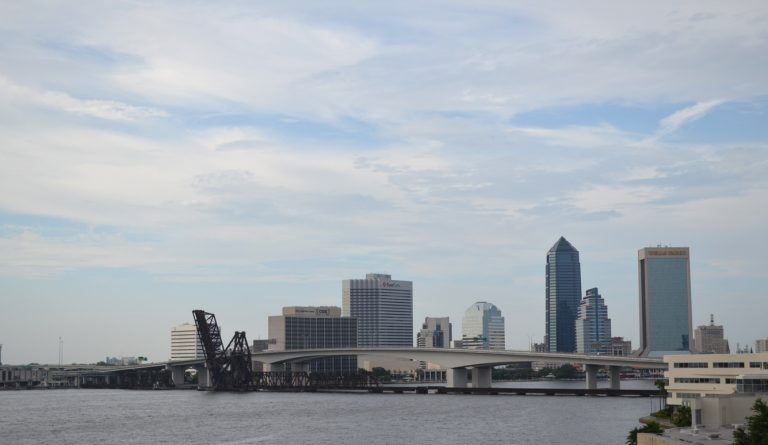 County Road 13 and Florida State Road 13 mirror the course of the St. Johns River north from near Hastings to the Acosta Bridge outside Downtown Jacksonville. The state road initially runs concurrent with SR 16 for 3.998 miles, from CR 13 near Sixmile Creek to the east end of the Shands Bridge across the St. Johns River. SR 13 takes a winding course from there 13.30 miles to the Duval County line, and 15.64 miles through Southside Jacksonville to the north end of the Acosta Bridge.
County Road 13 extends southward 21.96 miles from SR 16 to SR 207 at Spuds. A second branch of CR 13 runs east from SR 207 in Hastings, 13.255 miles to Old Brick Road into Flagler County. The Flagler County portion continues 12.10 miles south along Old Brick Road / Old Dixie Highway to U.S. 1 at Bunnell.
SR 13 branches northwest from SR 16 ahead of the settlement of Orangedale. Generally staying close to the east banks of the St. Johns River, the state road progresses north to Rivertown, a 4,170-acre development slated for up to 4,950 residences.1 There a roundabout was constructed between Fall 2012 and February 2013 with River Town Boulevard, the main entrance to the master planned community. A second roundabout added in the Fall of 2017, joins SR 13 with the entrance to the RiverClub, the St. Johns riverside amenity center for Rivertown.2,3
Northward from New Switzerland Point, SR 13 passes through the communities of Switzerland and Fruit Cove to the four lane span across Julington Creek. Entering Jacksonville, SR 13 follows San Jose Boulevard, a commercial boulevard leading north through the Mandarin neighborhood. San Jose Boulevard becomes Hendricks Avenue as the state road navigates through areas between the St. Johns River and U.S. 1 (Phillips Highway) to the San Marco neighborhood.
Approaching Downtown Jacksonville, State Road 13 takes a stair stepped alignment between Interstate 95 and the Acosta Bridge. Pruential Drive leads the route west from Hendricks Avenue to San Marco Boulevard, which connects north with an entrance ramp to the Acosta Expressway spanning the St. Johns River. The directional T interchange at the north end of the bridge links with Riverside Avenue (SR 211) south at Broad and Jefferson Streets, the former alignment of U.S. 17 and SR 228.
| | |
| --- | --- |
| | South |
| | |
| --- | --- |
| | An erroneous junction shield for County Road 13 follows the Main Street intersection with SR 207 (Church Avenue) in Hastings. This should be a southbound confirming marker. 06/16/16 |
Sources:
"St. Johns County Commission OKs more changes for RiverTown." The Florida Times-Union (Jacksonville), April 20, 2017.
"Rivertown, a Mattamy Homes Community, Honored with Silver Award in the St. Johns County Parade of Homes." Jacksonville Regional Chamber of Commerce web site. September 7, 2017.
"St. Johns County Road & Lane Closures: Oct. 14-20." The St. Augustine Record (FL), October 14, 2017.
SR-13 SB over JULINGTON CREEK, St. Johns County, Florida. BridgeReports.com


Photo Credits:

06/16/16 by AARoads and JP Nasiatka

Connect with:
Interstate 95
Interstate 295 - East and West Beltway
U.S. 1
U.S. 90
State Road 5
State Road 16
State Road 109
State Road 126 - Emerson Street
State Road 152 - Baymeadows Road
State Road 211

Page Updated 12-08-2020.