A cross-peninsula highway between U.S. 19 at Weeki Wachee and U.S. 1 at Titusville, Florida State Road 50 links the Orlando area with Brooksville, Clermont, and the Space Coast. SR 50 along Colonial Drive constitutes the main east-west arterial through Orlando, as is the state road along Cortez Boulevard through Hernando County and Brooksville.
Florida State Road 50 Guides
With the exception of SR 50 between U.S. 98 at Ridge Manor and Groveland, all of the 114-mile route carries at least four overall lanes. Within Hernando County, A $3 million project anticipated for 2019 will four-lane the state road east from U.S. 98 to U.S. 301. Additional work in 2019 will expand Cortez Boulevard to six overall lanes from Windmere Road east to U.S. 98 (McKethan Road).
Those projects follow previous expansion along SR 50 between U.S. 19 and SR 589 (Suncoast Parkway). Costing $58 million, the six-lane project ran from October 2012 to October 2015.1 Widening of I-75 from Cortez Boulevard north to the Sumter County line includes adding a lane along a 0.4-mile segment of U.S. 98 & SR 50 through the exchange with Interstate 75. The $95 million project through fall 2019 also upgrades the diamond interchange with Cortez Boulevard into a single point urban interchange (SPUI).2 Future work will add a flyover from the freeway north to SR 50 west.
Other portions of SR 50 (Cortez Boulevard) across Hernando County will be six-laned. Those include from SR 589 east to SR 50A, and the south bypass of Brooksville. Long range plans call for adding capacity to SR 50 east from U.S. 98 to SR 471 as well.
Groveland Realignment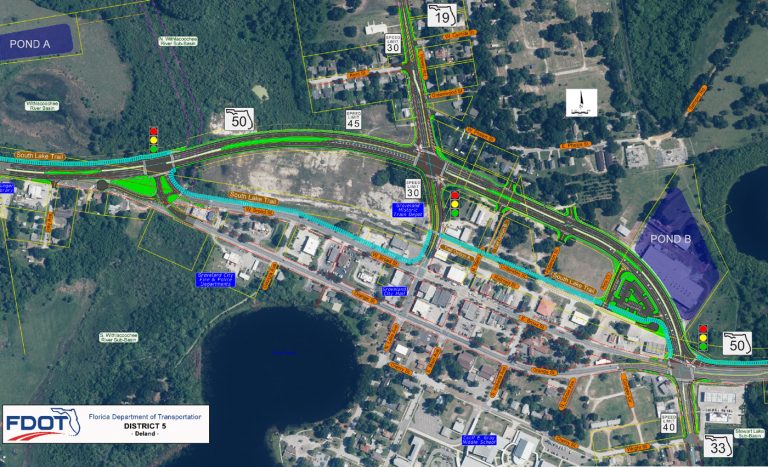 Design work for a realignment of SR 50 around Downtown Groveland was completed in May 2017. Intended to better serve truck traffic across the city, the 1.6 mile long project included redesigning SR 50 east from County Road 565 (Villa City Road) to Brown Street. The bypass will loop north of the one-way couplet of SR 50 along Broad Street. Right of way acquisition and construction for project 427056-1-52-01 was not funded as of Fall 2018.
The diamond interchange connecting SR 50 with U.S. 27 at the city of Clermont was reconstructed into a cloverleaf interchange. The $20.8 million project widened both roadways from four to six lanes, and added collector distributor lanes along U.S. 27 for the new ramp system. The upgrade was completed in Fall 2013.3 This work precede separate expansion projects reconstructing SR 50 from four to six lanes between Grand Highway and Hanock Road in Clermont, and Hancock Road and Florida's Turnpike in western Orange County. The respective $4.7 million, 1.120-mile and $17.8 million, 1.370-mile projects wrapped up in Early 2012.4,5
Orange County
Through the Orlando area, several projects rebuilt SR 50 in Orange County from rural four lane standards to a six lane urban arterial. This included stretches in Ocoee, Pine Hills and Union Park. Further east beyond SR 408 (East-West Expressway) and through Bithlo to SR 520, the Colonial Parkway PD&E Study studies upgrading SR 50 with potential limited access toll lanes.
The 3.060-mile section of SR 50 (West Colonial Drive) between Avalon Road (CR 545) and SR 429 (Western Beltway) was upgraded from a five-lane rural roadway into a six-lane divided arterial by Fall 2011 at the cost of $16.9 million.6 Subsequent construction completed in Spring 2014 expanded another 1.270 miles of SR 50 between the exchange with Florida's Turnpike at Oakland and Avalon Road at the cost of $7.3 million7 Project 239535-3 widened 2.560 miles of SR 50 from SR 429 (Western Beltway) to West Oaks Mall, just east of Clarke Road. Costing $42.6 million, the project added a travel lane in each direction in addition to bike lanes and sidewalks. Work started in May 2015 and was completed in Spring 2018.8
Widening of SR 50 east to the Pine Hills community included expanding West Colonial Drive to six lanes and reconstructing the twin bridges over Lake Lotta. The 0.450-mile project between West Oaks Mall and Good Homes Road cost $15.3 million and was completed in Spring 2015.9 Adjacent work rebuilt 3.630 miles of Colonial Drive into a six-lane arterial from Good Homes Road to Pine Hills Road (CR 431). Completed in Spring 2011, the $30.7 million project included widening Good Homes Road south from SR 50 to the ramps with SR 408 (East-West Expressway).10
East of Orlando, improvements along SR 50 included reconstructing the roadway from four to to six lanes and replacing the bridges across the Little Econlockhatchee River. The 1.040-mile expansion between The Greenway and Dean Road cost $18.8 million and was finished in Summer 2010.11A $68.3 million project expanded a 4.910 mile section of SR 50 (East Colonial Drive) between Dean Road and Avalon Park Boulevard. Colonial Drive was rebuilt into a six-lane arterial with various intersection improvements made and bike lanes and side walks added. Work ran from January 2014 to January 2017.12
State Road 50A
SR 50A acts as a business loop for SR 50 through the city of Brooksville in Hernando County. The state road overlaps with portions of U.S. 41 and U.S. 98 through Downtown.
| | |
| --- | --- |
| | scenes |
3 photos

3 photos

3 photos

A trumpet interchange and access road links SR 50 (West Colonial Drive) with Florida's Turnpike in Ocoee. Photos taken 12/05/10.
| | |
| --- | --- |
| | North Apopka-Vineland Road southbound at SR 50 (West Colonial Drive) near Pine Hills and Orlo Vista. SR 50 comprises a busy commercial arterial through this stretch with six overall lanes. Additionally the state road carries traffic westward to Good Homes Road for SR 408 and the connection to South Apopka-Vineland Road. Photo taken 11/05/06. |
| | |
| --- | --- |
| | Woodbury Road connects Challenger Parkway south with SR 50 (East Colonial Drive) as the parkway transitions into SR 408 westbound from Union Park. Photo taken 09/01/18. |
Photo Credits:
11/05/06 by AARoads and Justin Cozart.
12/05/10 by AARoads.
09/01/18 by AARoads.
Connect with:
Interstate 4
Interstate 75
Interstate 95
Florida's Turnpike
U.S. 1
U.S. 17
U.S. 19
U.S. 27
U.S. 41
U.S. 301
U.S. 441
Spessard Lindsay Holland East-West Expressway
State Road 417 - Central Florida GreeneWay / Seminole Expressway
State Road 423 - John Young Parkway / Lee Road
State Road 429 - Western Beltway / Apopka Expwy / Wekiva Pkwy
Page Updated 05-30-2020.