Mostly routed through Duval County and the city of Jacksonville, State Road 115 travels 37.20 miles from Southside to Callahan in Nassau County. The route lines Southside Boulevard, a busy commercial arterial from U.S. 1 (Philips Highway) at Greenland north to Arlington Expressway (SR 10A) at Regency. The route turns west along Arlington Expressway to Woodland Acres, Arlington and the Mathews Bridge across the St. Johns River into Midtown, Jacksonville.
Beyond the Mathews Bridge, a hidden overlap takes SR 115 northwest alongside U.S. 1 Alternate (Martin Luther King, Jr. Parkway) around the central Jacksonville communities of Phoenix and Springfield to Interstate 95. There it turns north along another hidden concurrency by Brentwood to Lake Forest. The state route emerges along Lem Turner Road, an at-grade boulevard northwest through Riverview, College Park and Garden City. SR 115 leaves the city en route to Callahan and U.S. 1/23.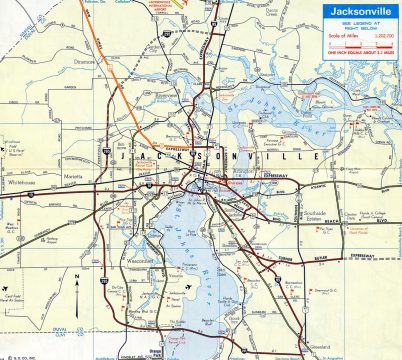 Florida State Road 115 Guides
Historically Southside Boulevard was designated as U.S. 1 Alternate from U.S. 1 (Philips Highway) north to Beach Boulevard (U.S. 90), where it combined with U.S. 90 Alternate northward. U.S. 1 Alternate / U.S. 90 Alternate then overlapped along Arlington Expressway west across the tolled Mathews Bridge to Downtown Jacksonville.
U.S. 1 Alternate was eventually relocated onto the Emerson and Hart Bridge Expressways, leaving SR 115 as a stand alone route south of Beach Boulevard (U.S. 90). U.S. 90 Alternate was eventually realigned southward from Arlington Expressway onto Atlantic Boulevard (SR 10) west. The bannered route remains along Southside Boulevard between Beach and Atlantic Boulevards. The overlap is mostly signed as SR 115, with inconsistent references to U.S. 90 Alternate.
Arlington Expressway
The Arlington Expressway was one of several roads planned by the Jacksonville Expressway Authority during the 1950s. It was originally envisioned as an alternate route for U.S. 1 and incorporated into the 1946 agreement made to build a high level bridge across the St. Johns River. Named the Mathews Bridge, work on the new span linking the Downtown area with Arlington broke ground in 1950.1
With the advent of connectivity to Downtown via the Mathews Bridge and Arlington Expressway, construction of subdivisions in Arlington kicked off in 1951. The at-grade expressway fueled development with numerous neighborhoods and shopping centers built along the corridor through the mid 1950s and early 1960s. 26,500 vehicles per day were recorded on the span in 1961.1
The Expressway Authority addressed increasing traffic demand for the bridge with a $25 million feeder road program implemented during the 1960s. Expansion followed on Arlington Road, Cesery Boulevard and Rogero Road to four lanes, which facilitated additional population growth. Grade separations were also made along Arlington Expressway to reduce crash numbers. Of these, two bridges were planned at Arlingwood and Townsend Boulevard as well. However those were never built due to community opposition and instead the respective intersections were eliminated, requiring motorists to utilize the west side service road to access them.1
Regency Square Mall opened in 1967 at the east end of Arlington Expressway, where it merged with Atlantic Boulevard. The mall preceded infill development along the Arlington Expressway corridor through the 1970s. Economic decline along the freeway ensued in the following decade, as suburban expansion continued further outward from the city center.1
Today Arlington Expressway remains a substandard freeway with a narrow right of way and slip ramps connecting the mainline with the adjacent service roads. A few changes were made to the route. The cloverleaf interchange with University Boulevard was altered slightly with the removal of the southbound to eastbound loop ramp. Work at Southside Boulevard / Connector between January 2004 and August 2007 added two flyovers connecting SR 115 south with SR 113 (Southside Connector) north and from SR 113 south to SR 115 west. Southside Connector links the freeway portion of SR 115 with Interstate 295 across the N.B. Broward Bridge to Jaxport, New Berlin and Oceanway.
Arlington Parkway?
The Arlington Expressway mainline was completed in 1953. The bridges across the route, and along the service roads at Mill Creek were built in 1961. Long range plans for the aging freeway were the focus of the Arlington Expressway Corridor Study. The North Florida Transportation Planning Organization (TPO) document evaluated a No Build Alternative, an Urban Boulevard Alternative and an Urban Parkway Alternative. The study indicates that 2015 traffic volumes are more consistent with demand for an urban arterial than a freeway. It also cited multi-modal deficiencies and the social barrier created by the expressway.
The Boulevard and Parkway alternatives both convert the four-lane freeway and adjacent service roads into a six-lane arterial with 12 foot travel lanes, seven foot bike lanes and eight foot sidewalks. The Boulevard alternative proposes a 44 foot median while the parkway alternative includes a linear park within a 98 foot median. At-grade intersections replace the overpasses at Cesery Boulevard and Arlington Road, with J-turns implemented elsewhere.
Mathews Bridge
The Mathews Bridge opened to traffic in 1953 as a tolled crossing of the St. Johns River. The 7,382 foot (1.4-miles) long bridge is named for John E. Mathews, a Florida state legislator and State Supreme Court justice who advanced funding efforts to build the span. The steel through truss bridge provides a 146 foot clearance for ships on the St. Johns River.2
A referendum passed in 1988 by Duval County voters resulted in the removal of tolls from four Jacksonville bridges, including the Mathews, and J. Turner Butler Boulevard. Tolling in Jacksonville ceased in 1989.
Prior to 2004, the Mathews Bridge deck consisted of metal grating. A project in 1999 replaced the grating, but resulted in an increase in crashes due slippery surfaces. A fatality in July 2004 led an effort by Jacksonville City Council to have the Florida Department of Transportation (FDOT) replace the grating. Completed in 2007, work replaced the grating with a exodermic composite bridge deck (steel grid filled with lightweight concrete).2,3
| | |
| --- | --- |
| | scenes |
| | |
| --- | --- |
| | Westbound on the Arlington Expressway service road at Arlington Road. The Mathews Bridge and Downtown Jacksonville appear on the horizon. 07/04/06 |
| | |
| --- | --- |
| | Vintage shield for State Road 115 posted along Soutel Drive (SR 115A) eastbound at Lem Turner Road in Jacksonville. 03/26/20 |
| | |
| --- | --- |
| | The SR 115 keys shield assembly was date stamped on August 17, 1966. 03/03/13 |
Sources:
"The Evolution of the Arlington Expressway." Metro Jacksonville, January 31, 2013.
"One of Jax busiest bridges has checkered past." News4Jax, March 18, 2015.
JEAces - Mathews Bridge Grating Replacement, JEA Construction Engineering Services, Inc.
Photo Credits:
07/04/06 by AARoads and Justin Cozart.
03/03/13 by AARoads.
03/26/20 by AARoads.
Connect with:
Interstate 95
Interstate 295 - East and West Beltway
U.S. 1
U.S. 17
U.S. 23
U.S. 90
State Road 10
State Road 10A
State Road 104
State Road 109
State Road 111
State Road 113 - Southside Connector
State Road 117
State Road 202 - J. Turner Butler Boulevard
Page Updated 12-07-2020.