Florida State Road 202 travels 13.04 miles, mostly as a limited access highway, from South Point in Jacksonville to Jacksonville Beach. The state road is better known by its formal name, J. Turner Butler Boulevard (JTB). It doubles as both a commuter route for the growing Southside of Jacksonville, but also a conduit for beach traffic headed to Jacksonville and Ponte Vedra Beaches. Interchanges along the freeway are unnumbered.
Florida State Road 202 Guides
James Turner Butler was a Jacksonville lawyer and Florida legislator who helped established the Jacksonville Expressway Authority (JTA). SR 202 was constructed as a JTA project in the 1970s. It was opened east to St. Johns Bluff Road by 1974. Tolls were collected along Butler Boulevard until August 1989, after a March 8, 1988 voter referendum replaced tolls there and on four area bridges with a half-cent sales tax.1
The east end of Butler Boulevard originally tied into SR A1A at-grade. A $10 million JTA project upgraded the junction into a trumpet interchange from February 1996 to March 18, 1997. Land acquisition for the ramps commenced in 1986, but changes in environmental laws at the time required JTA to purchase additional right of way.2 Upon completion, the interchange was named for Brown and Marian Whatley. The couple died in an automobile accident at the intersection of SR 202 and A1A in 1982. Brown was real estate developer involved with the development of Ponte Vedra beach and a proponent of the Jacksonville Expressway Authority.3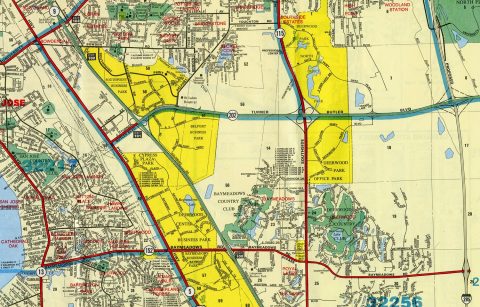 Further west, a diamond interchange connected SR 202 with St. Johns Bluff Road. St. Johns Bluff Road was the predecessor to the SR 9A beltway encircling the east side of Jacksonville. When the freeway was vastly complete, the substandard interchange remained, with traffic signals operating on SR 9A. An $84 million project upgraded the exchange into a turbine interchange with four new elevated ramps. The first flyover opened to traffic on July 28, 2008 to connect JTB west with SR 9A south. The remaining three ramps opened from mid-August to October of 2008. The overall project wrapped up in December of that year.4
Construction on a $78 million project5 started in August 2014 to upgrade the parclo interchange connecting SR 202 and Interstate 95. The work added a 1400 foot long high speed flyover for I-95 south to J. Turner Butler Boulevard east and added a left turn movement from I-95 north to SR 202 west. Additional work reconstructed the I-95 mainline bridges over the state road.5 The flyover ramp was scheduled to open on September 6, 2017, but delays in final road striping pushed that back one day.7
Duval: Good news Jax! Flyover bridge on I-95 SB to J. T. Butler EB is open - big improvement in traffic; please be cautious pic.twitter.com/7dY6Tk1bsf

— FDOT District 2 (@MyFDOT_NEFL) September 7, 2017
Adjacent work removed the left turn movement of Salisbury Road north to SR 202 west. Instead a right-in, right-out (RIRO) movement connects the two, with the westbound movement to Turner Boulevard accommodated by the U-turn ramp at the adjacent urban diamond interchange with Belfort Road.6 A ribbon cutting ceremony attended by Governor Rick Scott and other state and local officials at the new flyover marked the project's completion on August 30, 2017.5
| | |
| --- | --- |
| | scenes |
| | |
| --- | --- |
| | Trailblazers for SR 202 and Interstate 95 previously posted on Salisbury Road north at A.C. Skinner Parkway. These were removed by 2015. 03/14/10 |
| | |
| --- | --- |
| | 1988 installed trailblazers for I-95 and SR 202 formerly in place along Salisbury Road south at A.C. Skinner Parkway east. The I-95 shield was removed by 2011, with the SR 202 gone by 2013. 03/14/10 |
| | |
| --- | --- |
| | Belfort Road connects a number of office buildings, hotels and industrial businesses with SR 202 (Turner Boulevard) to adjacent Interstate 95. A set of trailblazers directs motorists on Belfort Road north from A.C. Skinner Parkway in this scene. 03/14/10 |
| | |
| --- | --- |
| | A narrow-width shield for SR 202 directed motorists onto Butler Boulevard east from Belfort Road north. This assembly was replaced by 2013. 03/14/10 |
| | |
| --- | --- |
| | Kernan Boulevard dead ends to the immediate south of east side ramps with SR 202 (JTB). 03/14/10 |
| | |
| --- | --- |
| | An overhead directs traffic from the stub end of Kernan Boulevard north to SR 202 (JTB) west toward Windy Hill and Baymeadows. 03/14/10 |
Sources:
"Tolls coming to suburbs." Florida Times-Union (Jacksonville, FL), September 26, 2006.
"Project survives costly delays." Florida Times-Union (Jacksonville, FL), May 25, 1996.
"Rush-hour relief." Florida Times-Union (Jacksonville, FL), March 13, 1997.
"Smoother sailing today from Butler to 9A south First of 4 ramps completed in $84 million interchange project." Florida Times-Union (Jacksonville, FL), July 28, 2008.
"I-95 at J. Turner Butler Boulevard interchange improvements." Northeast Florida Roads (FDOT web site).
"I-95/JTB interchange project nearly complete." WJXT (Jacksonville, FL), August 30, 2017.
"Opening Of JTB-I-95 Flyover Ramp Delayed; Was Set For Wednesday." >em>WJCT (Jacksonville, FL), September 5, 2017.
Photo Credits:
03/14/10 by AARoads
Connect with:
Interstate 95
Interstate 295 - East and West Beltway
U.S. 1
State Road A1A
State Road 115
Page Updated 11-07-2019.