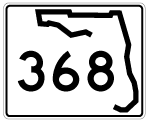 Florida State Road 368 (23rd Street) is an arterial loop bypassing U.S. 98 (18th Street / 15th Street) across the city of Panama City. The bulk of the 5.388 mile state road east from Bayview and Pretty Bayou to U.S. 231 near Diego Park constitutes a five-lane commercial boulevard. The $67.9 million 23rd Street Flyover project, ongoing through Winter 2019, upgrades the west end with U.S. 98 at the Port of Panama City with flyovers and a wye interchange.
An older section of State Road 368 bypassed by a realignment of West 23rd Street, was redesignated as SR 368A. An unsigned route, SR 368A follows Collegiate Drive west 0.690 miles from 23rd Street to Florida State University - Panama City and the parking entrance for Gulf State College. The 23rd Street Flyover Project includes a new split diamond interchange joining Collegiate Drive with U.S. 98 across from Seaport Drive.
Connect with:
U.S. 98
U.S. 231
State Road 77
State Road 327 / County Road 327 - Lisenby Avenue
State Road 390
State Road 391 - Airport Road
Page Updated 10-13-2018.