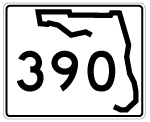 State Road 390 forms a 10.16-mile loop north from U.S. 98 and 98 Business in Panama City to Lynn Haven and east to U.S. 231. The northwestern portion of the route connected with the former Panama City Bay County International Airport, which ceased operations with the opening of Northwest Florida Beaches International Airport (ECP) in 2010.
Prior to 2016, the SR 390 ended at SR 77 (Ohio Avenue) across from County Road 390 (14th Street) in Lynn Haven. The county portion east 4.308 miles to U.S. 231 was transferred to state maintenance in an exchange with Bay County for a four mile section of Front Beach Road (SR 30) from U.S. 98 east to Deluna Place in Panama City Beach.1 Proposed improvements (Project 421225-2) along this stretch include rebuilding the state road from a two-lane rural collector into an undivided, six-lane urban arterial.
An FDOT widening project expands a 1.326-mile section of SR 390 from a three lane boulevard to a six-lane urban arterial. Costing $17.5 million, Project 217875-3 between CR 391 (Baldwin Avenue) and Jenks Avenue / Bayshore Road runs through winter 2020. Concurrent construction (Project 217875-4) widens SR 390 from two to six lanes north from Jenks Avenue to SR 77. Future road work (Project 217875-2) will expand the 2.479 mile section of SR 390 southwest from Baldwin Avenue to SR 368 (23rd Street) to six lanes.
Sources:
"Bay mulls turning County 390 over to state." News Herald, The (Panama City, FL), May 14, 2016.
Connect with:
U.S. 98
State Road 77
State Road 327 / County Road 327 - Lisenby Avenue
State Road 368 - 23rd Street
State Road 391 - Airport Road
Page Updated 10-13-2018.