Traveling 15.9 miles overall, Florida State Road 414 bypasses central Apopka and U.S. 441 (Orange Blossom Trail) along the John Land Apopka Expressway. The toll road ends at Orange Blossom Trail (OBT) and Maitland Boulevard near Lockhart. Maitland Boulevard extends the state road east from OBT as a controlled access arterial / expressway to the city of Maitland, Interstate 4 and U.S. 17/92 (Orlando Avenue).
Florida State Road 414 Guides
Upgrades to the six-lane arterial portion included construction of a single point urban interchange (SPUI) with SR 434 (Forest City Road) by 2001, and the building of a new southbound off-ramp to U.S. 17/92 at the eastern terminus. Sound walls were also erected along the arterial west of Interstate 4.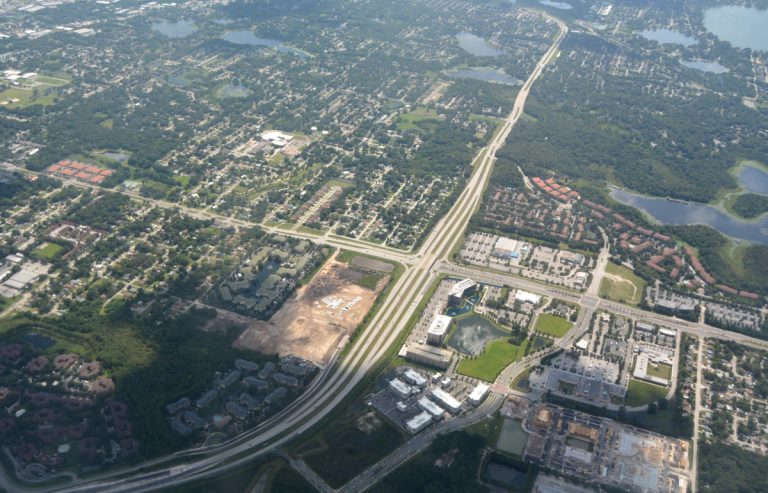 Work began in Winter 2007 on the first phase of the John Land Apopka Expressway. The six mile extension of SR 414 west from OBT to SR 429 (Daniel Webster Western Beltway) was named after Apopka's mayor of 50 years, John Land. The eastern section, from Ocoee Apopka Road (CR 437A) to U.S. 441 (OBT) opened to traffic on May 15, 2009.
Phase two of the Apopka bypass extended the toll road west from a temporary at-grade end with Ocoee Apopka Road northwest to U.S. 441 (OBT) at Plymouth. This section was incorporated into a realignment of SR 429 (Daniel Webster Western Beltway), in preparation for its northern extension along Wekiva Parkway. The 3.07 mile overlap between SR 414 and 429 opened to traffic on January 19, 2013.
A new half dumbbell interchange (Exit 5) opened along the Apopka Expressway with Marden Road on June 10, 20171 Expected to advance commercial development of area land, an Interchange Justification Report (IJR) for the new ramps was conducted from February 2013 to January 2014. Approved by City Council in September 2015, a Cost Sharing Agreement with the city of Apopka partially funded construction.2
Construction associated with the Ultimate I-4 project redesigns the exchange with SR 414 (Maitland Boulevard) to eliminate traffic lights in both directions. Work also adds connectivity to adjacent Lake Destiny Road to the west, removing signals from Maitland Boulevard there as well. The addition of collector roads on both sides of SR 414 coincides with new ramps to Keller Road and Maitland Summit Boulevard, with the Maitland Boulevard mainline elevated to eliminate at-grade intersections.
| | |
| --- | --- |
| | scenes |
2 photos

2 photos

Wymore Road passes below SR 414 (Maitland Boulevard) as it parallels I-4 northward through Maitland. Sandspur Road links the frontage road with Maitland Boulevard east via RIRO ramps. 01/30/08, 01/29/08
3 photos

3 photos

3 photos

Hope Road loops east from Wymore Road to connect with SR 414 (Maitland Boulevard) west. 01/29/08, 03/21/08



Photo Credits:

01/29/08, 01/30/08, 03/21/08 by AARoads

Connect with:
Interstate 4
U.S. 17
U.S. 92
U.S. 441
State Road 429 - Western Beltway / Apopka Expwy / Wekiva Pkwy
State Road 434

Page Updated 03-06-2018.