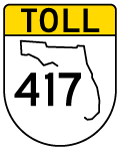 | | |
| --- | --- |
| | North |
| | |
| --- | --- |
| | SR 417 north enters the Orlando city limits east of Boggy Creek Road. Lake Nona Boulevard parallels to the south through Lake Nona's Medical City to Exit 19. 10/14/17 |
| | |
| --- | --- |
| | Lake Nona is a large master-planned community spreading south from Lake Nona to the Osceola County line. Lake Nona Boulevard represents the main east-west arterial through the area. 10/14/17 |
| | |
| --- | --- |
| | An auxiliary lane accompanies the northbound roadway of SR 417 to the diamond interchange (Exit 19) with Lake Nona Boulevard. 10/14/17 |
| | |
| --- | --- |
| | The Lake Nona Boulevard opened to traffic in 2006. 10/14/17 |
| | |
| --- | --- |
| | SR 417 gradually turns more north through Lake Nona en route to Sanford (29 miles). Daytona Beach is 70 miles away. 10/14/17 |
| | |
| --- | --- |
| | The subsequent off-ramp along SR 417 north joins the toll road with Narcoossee Road (County Road 15) at Exit 22. 10/14/17 |
| | |
| --- | --- |
| | Narcoossee Road heads north from the Narcoossee and Fells Cove area of northern Osceola County to Lake Nona and Conway. County Road 15 is poorly signed along the arterial route. 10/14/17 |
| | |
| --- | --- |
| | Northbound at the diamond interchange (Exit 22) with Narcoossee Road. CR 15 connects several retail centers through the Lake Nona community between SR 417 and Dowden Road. North at SR 528 (Beachline Expressway), CR 15 becomes SR 15 en route to Conway and central Orlando. SR 15 is the unsigned counterpart of U.S. 17 from Sanford north to Jacksonville. 10/14/17 |
| | |
| --- | --- |
| | Moss Park Road stems east from CR 15 (Narcoossee Road) to the first of two succeeding parclo A2 interchanges along SR 417 north. 10/14/17 |
2 photos

2 photos

The Moss Park Road exit opened to traffic by the East Park and Moss Park communities in December 2009. 09/20/17
| | |
| --- | --- |
| | Exit 23 leaves the GreeneWay north for Moss Park Road west to Lake Nona and southeast to Moss Park on Lakes Hart and Mary Jane. 09/20/17 |
2 photos

2 photos

Advancing north between East Park and Moss Park, the ensuing exit connects with Dowden Road. 09/20/17
| | |
| --- | --- |
| | Dowden Road is a suburban arterial leading west to the Waters Edge at Lake Nona community by MCO Airport and east to the Storey Park development. Prior to 2014, Dowden Road ended at SR 417. 09/20/17 |
| | |
| --- | --- |
| | Exit 24 opened to traffic in December 2009. The exchange further enhanced development of land to the east. An extension of Innovation Way southwest from the Beachline Expressway will tie into Dowden Road less than a mile to the east. 09/20/17 |
| | |
| --- | --- |
| | SR 417 next meets SR 528 (Beachline Expressway), an east-west toll road connecting Orlando and Orlando International Airport (MCO) with Cocoa and the Space Coast. 09/20/17 |
| | |
| --- | --- |
| | |
| | SR 417 runs along the east side of the Randal Park development to the Beachline Expressway. 09/20/17 |
| | |
| --- | --- |
| | Formerly the Bee Line Expressway, SR 528 travels 16 miles west to I-4 near Sand Lake and 21 miles east to SR 407 (Challenger Memorial Parkway) north to Titusville and Kennedy Space Center. 09/20/17 |
| | |
| --- | --- |
| | Motorists bound for SR 528 west to Conway, Orlando and Belle Isle or east to Merritt Island, Cape Canaveral and Cocoa Beach depart from SR 417 north in unison at Exit 26. 09/20/17 |
| | |
| --- | --- |
| | Exit 26 partitions into ramps for the Beachline Expressway. The directional cloverleaf interchange between the two toll roads is a three level junction. 10/14/17 |
| | |
| --- | --- |
| | Lee Vista Boulevard meets the Central Florida Greeneway next. Lee Vista Boulevard is an arterial serving newer subdivisions and commercial parks in the Vista Park and Vista Lakes area of southeast Orlando. 09/20/17 |
| | |
| --- | --- |
| | SR 417 is at least six lanes wide from the Beachline Expressway north to the University Mainline Toll Plaza. 09/20/17 |
| | |
| --- | --- |
| | Two lanes depart from SR 417 north for Lee Vista Boulevard at Exit 27. The arterial ends just east of the toll road at a distribution center. 09/20/17 |
| | |
| --- | --- |
| | Lee Vista Boulevard takes a winding course west from Exit 27 to SR 15 (Narcoossee Road), SR 551 (Goldenrod Road) and SR 436 (Semoran Boulevard) at the Lee Vista retail and commerce park. 09/20/17 |
| | |
| --- | --- |
| | SR 417 advances 0.75 miles north to the Curry Ford Mainline Toll Plaza. 09/20/17 |
| | |
| --- | --- |
| | A mileage sign 22 miles from Sanford and 64 miles from Daytona Beach precedes the Lee Vista Boulevard on-ramp. The previous sign here listed Orlando at 14 miles. 09/20/17 |
3 photos

3 photos

3 photos

The Curry Ford Main Plaza was expanded to include EPass lanes by 2005. Widening of the AET lanes to three lanes per direction was underway in 2012. 09/20/17
| | |
| --- | --- |
| | Leaving the Orlando city limits, SR 417 continues with four northbound lanes to the diamond interchange (Exit 30) with Curry Ford Road. 09/20/17 |
| | |
| --- | --- |
| | Curry Ford Road travels east by Andover Lakes, Cypress Springs, Andover Cay and other subdivisions to Alafaya Trail. 09/20/17 |
| | |
| --- | --- |
| | West from Exit 30, Curry Ford Road extends 2.7 miles to SR 551 (Goldenrod Road), where SR 552 begins and overlays the arterial to SR 15 (Conway Road). 09/20/17 |
2 photos

2 photos

Econlockhatchee Trail converges with SR 417 and parallels the Central Florida GreeneWay north to the cloverstack interchange (Exits 33A/B) with SR 408. 12/06/18, 09/20/17
| | |
| --- | --- |
| | SR 417 spans Barry Deese Road one mile ahead of SR 408 (East-West Expressway). Also operated by the CFX, SR 408 stretches 22 miles across the Orlando area from Ocoee to Union Park. 12/06/18 |
| | |
| --- | --- |
| | The SR 408/SR 417 South Interchange Project through Fall 2019 rebuilds the forthcoming exchange. Completed in the Fall 2017, the initial phase added a lane in each direction along 1.6 miles of SR 417 north from Barry Deese Road to East-West Expressway.1 12/06/18 |
| | |
| --- | --- |
| | Subsequent construction realigns and widens the ramp from SR 417 north to SR 408 east to Union Park and Titusville (via SR 50) and adds sound walls.1 12/06/18 |
2 photos

2 photos

Phase 2 of the SR 408/SR 417 South Interchange Project combines Exit 33 into a single ramp departure, with traffic partitioning onto a new flyover ramp for SR 408 west. Once open, the current loop ramp (Exit 33B) to SR 408 west will be removed.1 12/06/18
| | |
| --- | --- |
| | The East-West Expressway opened in 1973 as a bypass for the congested Colonial Drive (SR 50) through Orlando. SR 408 travels seven miles west from Exit 33B to ramps for Downtown Orlando and I-4. 09/20/17 |
| | |
| --- | --- |
| | The succeeding northbound exit links SR 417 with SR 50 (East Colonial Drive). Colonial Drive comprises a busy east-west arterial serving the heart of the Orlando metropolitan area. East toward Christmas and west to Winter Garden, Colonial Drive encompasses an almost uninterrupted commercial strip. 12/06/18 |
| | |
| --- | --- |
| | Completion of the flyovers linking SR 408 east with SR 417 north and from SR 417 south to SR 408 eliminated the unsigned SR 4080 connector freeway further northwest. The new ramps were built in 2011-12. 07/27/13 |
| | |
| --- | --- |
| | SR 417 angles northwest from the Holland East-West Expressway by Valencia Community College and the Valencia Woods subdivision ahead of Exit 34 with SR 50 (East Colonial Drive) near Union Park. 07/27/13 |
| | |
| --- | --- |
| | SR 417 bends eastward at the site of the wye interchange where traffic on SR 4080 north merged. The parclo interchange (Exit 34) with SR 50 lies a half mile ahead. 07/27/13 |
| | |
| --- | --- |
| | The auxiliary lane gained from SR 408 defaults onto Exit 34 for SR 50 (East Colonial Drive). SR 50 heads east to University Park, Bithlo and Christmas. The state road ends at U.S. 1 in Titusville. 07/27/13 |
| | |
| --- | --- |
| | Exit 34 departs SR 417 northbound for SR 50 (East Colonial Drive). SR 50 continues west from the GreeneWay through older suburbs of east Orlando to Orlando Executive Airport (ORL) and northern reaches of Downtown. 07/27/13 |
2 photos

2 photos

The Central Florida GreeneWay turns more easterly across the Little Econ River to the University Mainline Toll Plaza. 07/27/13
| | |
| --- | --- |
| | University Boulevard crosses paths with SR 417 beyond the toll collection point at Exit 37. The east-west arterial between the University of Central Florida (UCF) and SR 436 (Semoran Boulevard) at Aloma. 07/27/13 |
2 photos

2 photos

The University Mainline Toll Plaza was rebuilt in 2002-03 to include two EPass / SunPass lanes in each direction. Completed on August 15, 2003, it was the first plaza along SR 417 to use open-road tolling.1 07/27/13
| | |
| --- | --- |
| | A slip ramp links the high-speed EPass lanes with the cash lanes ahead of a collector distributor roadway for University Boulevard. 07/27/13 |
| | |
| --- | --- |
| | Exit 37 departs from the EPass lanes for University Boulevard. SR 417 reduces to four overall lanes from this point northward, however the master plan for the Seminole Expressway calls for eight overall lanes northward to Sanford. 12/06/18 |
2 photos

2 photos

University Boulevard extends 2.5 miles east from Exit 37A to SR 434 (Alafaya Trail) at the UCF campus. 12/06/18
3 photos

3 photos

3 photos

The $21 million project to convert the University Main Plaza for open road tolling coincided with work to build the northbound c/d roadway for University Boulevard.2 12/06/18
| | |
| --- | --- |
| | SR 417 north next meets SR 426 (Aloma Avenue) at a diamond interchange (Exit 38). 12/06/18 |
| | |
| --- | --- |
| | Curving back to the west, SR 417 travels through the Watermill community to the Seminole County line. 12/06/18 |
| | |
| --- | --- |
| | SR 426 constitutes a 14.5 mile route west to SR 424 (Edgewater Drive) at Fairview Shores and northeast to SR 419 and 434 (Central Avenue) at Oviedo. 12/06/18 |
| | |
| --- | --- |
| | Maintenance of SR 417 shifts from the Central Florida Expressway Authority (CFX) to Florida's Turnpike Enterprise (FTE) at the Seminole County line. 12/06/18 |
| | |
| --- | --- |
| | Maintenance of SR 417 shifts from the Central Florida Expressway Authority (CFX) to Florida's Turnpike Enterprise (FTE) at the Seminole County line. 07/27/13 |
---
Sources:
SR 408/SR 417 South Interchange Fact Sheet. Central Florida Expressway Authority (CFX).
"Toll-Plaza Express Lane Pass Muster - Transponder Users, Rejoice: Officials Plan to Add Bypasses to Seven More Exchanges." The Orlando Sentinel (FL), August 16, 2003.
Photo Credits:
07/27/13, 09/20/17, 10/14/17, 12/06/18 by AARoads
Connect with:
State Road 50
Spessard Lindsay Holland East-West Expressway
State Road 528 - Martin Andersen Beachline Expressway
Page Updated 04-23-2019.