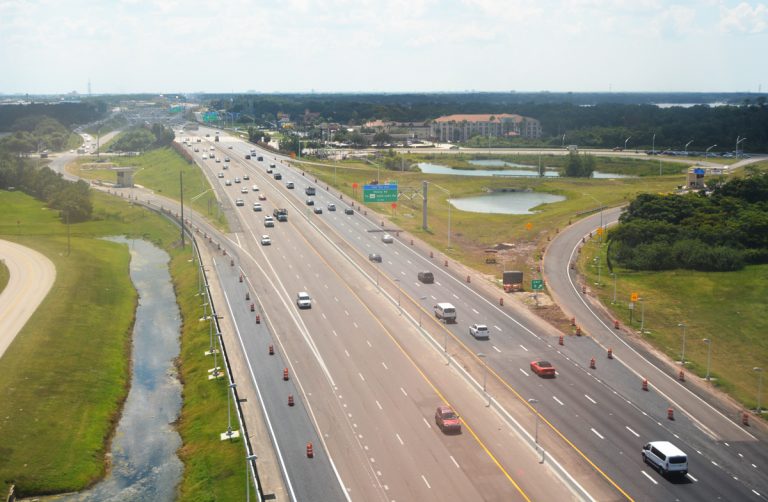 Florida 528 spurs east from Interstate 4 at the International Drive Resort Area to Bennett Island Causeway, east of I-95 and Cocoa. Renamed on July 1, 2005 to the Martin Andersen Beachline Expressway, the toll road joins the Orlando metropolitan area with Interstate 95, U.S. 1, Cape Canaveral, and the Space Coast. The name change, a result of House Bill 385, was done to increase tourism along the Central Florida beaches.1
Florida 528 Highway Guides
The Bee Line Expressway, named because it "beelined" east to Interstate 95, opened initially in 1967 from Sand Lake Road east to Orlando International Airport (MCO) and SR 520 near Bithlo. Sand Lake Road (SR 482) provided the link west to I-4 until December 1973, when SR 528 was built to the south.
Extension of SR 528 east into Brevard County includes two prongs: The southern prong represents the SR 528 mainline to Interstate 95 and Bennett Causeway to Cocoa Beach; The northern prong, designated SR 407, stems northeast to I-95 and SR 405 (Columbia Boulevard) at Titusville. SR 528 east to Port Canaveral and SR A1A is a toll free route.
A $174-million project underway through mid-2019 by the Florida Department of Transportation expands the western eight miles of the Beachline Expressway. Construction adds express lanes in each direction, where drivers will pay additional tolls to bypass local on and off-ramps between Interstate 4 and Orlando International Airport (MCO). One Express Lane will be added from the Beachline West Toll Plaza to Florida's Turnpike (milepost 4), and two from milepost 4 west to I-4. The free lanes west from Exit 4 will remain untolled. Express Lane pricing will be based upon traffic congestion.2
Bennett Causeway will be reconstructed and expanded from Industry Road (SR 524) to a point east of SR 3. Estimated to cost $259 million, Project 407402-3 widens SR A1A/528 to six overall lanes, with an express lane in each direction, and replaces all bridges except for the 2006-built eastbound span over Indian River. A multi use trail will be added along the north side of SR 528 and the interchange at U.S. 1 will be rebuilt. Project 407402-4 further widens SR 528 east from SR 3 to SR 401 at Port Canaveral. Anticipated to cost $216 million, the 5.091 mile project includes replacing all bridges, improvements at interchanges with Banana River Drive, SR 401 and George King Boulevard, and extending the multi use trail east from Merritt Island.
---
2 photos

2 photos

International Drive north at the folded diamond interchange with Florida 528 (Beachline Expressway). Photos taken 11/14/15.
2 photos

2 photos

A Breezewood connection links SR 528 (Beachline Expressway) east with Florida's Turnpike via Consulate Drive and Orange Blossom Trail. Trailblazers for the turnpike direct motorists south from Exit 4 to U.S. 17-92-441 north. Photos taken 02/27/16.
2 photos

2 photos

Trailblazers direct motorists from U.S. 17-92-441 (Orange Blossom Trail) along Consulate Drive northwest to the half diamond interchange with the Beachline Expressway. Photos taken 08/10/13.
| | |
| --- | --- |
| | The southbound off-ramp from Florida's Turnpike ties into Consulate Drive across from the westbound on-ramp to SR 528. Southridge Commerce Park lies just to the west. Photo taken 08/10/13. |
Sources:
Florida's Turnpike - System Description. http://www.floridasturnpike.com/about_system.cfm#5
"S.R. 528, turnpike get toll-within-toll - Work on BeachLine Expressway likely done in 2019." Orlando Sentinel, The (FL), June 11, 2016.
Photo Credits:
08/10/13, 11/14/15, 02/27/16 by AARoads
Connect with:
Interstate 4
Interstate 95
U.S. 17
U.S. 92
U.S. 441
Florida 407 - Challenger Memorial Parkway
Florida 417 - Central Florida GreeneWay / Seminole Expressway
Florida 436 - Semoran Boulevard
Florida 482 - Sand Lake Road / McCoy Road
Florida 520
Florida A1A
Page Updated 10-25-2018.