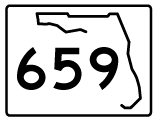 Florida State Road 659 stems 7.63 miles north from U.S. 98 at Easton Park and east Lakeland along a fairly linear route. Following Combee Road, the state road passes through Crystal Lake to meet U.S. 92 (Memorial Boulevard) at Joydon. North from there, Combee Road continues east of Lake Parker through the Rawls Park community to end at SR 33 in northeast Lakeland.
Photo Credits:
05/31/15, 09/20/17 by AARoads
Page Updated 07-01-2019.