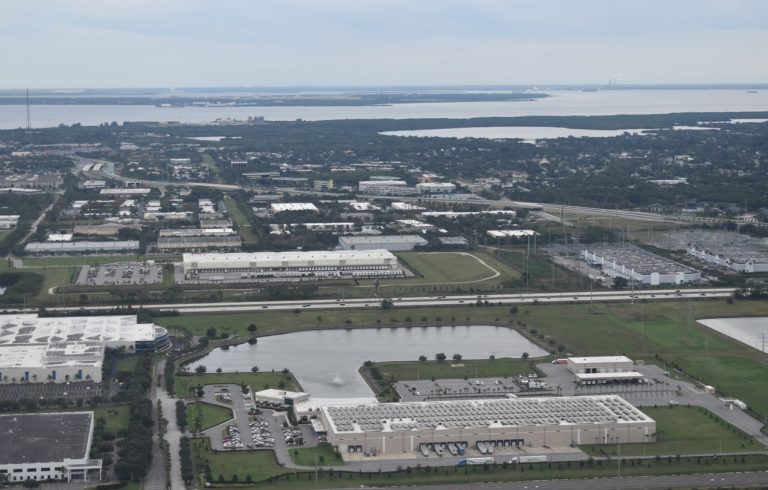 Traveling across urban Pinellas County, CR 694 and SR 694 follow a combination of Park and Gandy Boulevards from Indian Shores to St. Petersburg. The corridor carries at least four lanes throughout, mostly as a commercial boulevard, but with an expressway section east from Grand Avenue to U.S. 92/SR 687 (4th Street N).
Florida State Road 694 / County Road 694 Guides
State Road 694 originally ran only between 66th Street N (SR 693) and U.S. 19 along 74th Avenue through Pinellas Park. Gandy Boulevard northeast from U.S. 19 (Haines Road) to 4th Street N was designated as a western extension of SR 600. By 1959, Florida Secondary 694 appeared on maps along 74th and 78th Avenues west from SR 693 to Oakhurst Road. The secondary route turned north along Oakhurst Road and west along Walsingham Road to SR 699 at Indian Rocks Beach.
Florida Secondary 694 west from 66th Street N was redesignated as a County Road by 1980. SR 688 replaced SR 694 west from Oakhurst Road across the Intracoastal Waterway into Indian Rocks Beach later that decade. Also during this time frame was the construction of Gandy Boulevard northeast from Pinellas Park to St. Petersburg. It was added to the State Primary Road System as SR 600 by the Florida Department of Transportation (FDOT) in 1973.1 This replaced the alignment of SR 694 along 94th Avenue N and Koger Boulevard to the north. The Florida Department of Transportation renumbered SR 600 along Gandy Boulevard east from U.S. 19 to 4th Street N (U.S. 92) in 1981 as part of SR 694 to provide route continuity.2
Gandy Boulevard was built in a wide right of way with the intention of upgrading it as part of a 12.6-mile freeway extending east from U.S. 19 to South Tampa. The interchange with I-275 was finished in 1976,3 but left incomplete pending the completion of the Gandy Freeway. The freeway was however canceled in 1979,4 leaving both missing movements between SR 694 and I-275, and the remainder of Gandy Boulevard as an at-grade arterial / expressway. A ramp was subsequently added from SR 694 east to I-275 south, coupled with a new left turn from the northbound I-275 off-ramp to SR 694 west by 1980.3
The remainder of Gandy Boulevard remained as an at-grade route until 2014, when construction started to upgrade SR 694 to a freeway from I-275 east to 4th Street North (U.S. 92 and SR 687). $83-million in work completed in March 2018 upgraded the state road into a six-lane elevated roadway from I-275 to Dr. Martin Luther King, Jr. Street (CR 803), and a four lane freeway from CR 803 to east of 4th Street North. Frontage roads provide local access and connectivity to north-south roads.5
Sources:
"Opportunity for Public Hearing." St. Petersburg Times (FL) Legal Notices, August 28, 1981.
"Pinellas Cancelled Freeways." Bayciti - Tampa Bay Urban Blog. Cozart, Justin, April 8, 2005. August 21, 2015.
"Interstate 275." Bayciti - Tampa Bay Urban Blog. Cozart, Justin, April 8, 2005. August 21, 2015.
"Gandy Boulevard in St. Petersburg will be reconstructed as elevated, six-lane roadway." WFTS Tampa Bay, February 20, 2014.
"City, state at odds over cost of tube job." Bay News 9, December 19, 2010.
Connect with:
Interstate 275
U.S. 19
U.S. 92
State Road 686 - East Bay Drive / Roosevelt Boulevard
State Road 687 - 4th Street
State Road 693
State Road 699 - Gulf Boulevard
County Road 611
Page Updated 03-02-2020.