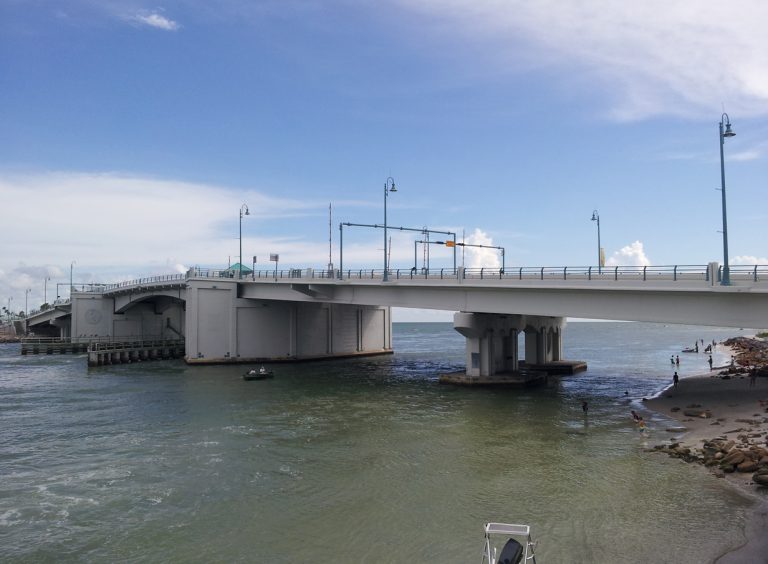 Florida State Road 699 is a coastal route joining the communities of St. Pete Beach, Madeira Beach, Treasure Island, Redington Beach and Indian Rocks Beach among others in Pinellas County. SR 699 connects the a chain of islands from Long Key and SR 682 (Pinellas Bayway) northward to Treasure Island and SR 688 on Sand Key. Two bridges along the route span inlets, Blind and Johns Passes, linking the Gulf of Mexico with Boca Ciega Bay.
Florida State Road 699 Guides
The southern terminus of SR 699 was originally located at Pass-a-Grille Point at the south end of Long Key. The route north from the Pinellas Bayway to Corey Causeway was later cosigned with State Road A19A. During the 1980s, SR 699 was lengthened north from Indian Rocks Beach to then tolled Clearwater Pass Bridge. It was later truncated back to the west end of SR 688. Additionally an east-west branch was signed on Madeira Beach Causeway between Madeira Beach and U.S. 19 Alternate at Bay Pines. This was eventually renumbered to SR 666.
Discussion in 2013 arose involving turning over the entire length of State Road 699 over from FDOT maintenance to Pinellas County maintenance, or to the individual municipalities that line the route. The rational for the possible switch involves a high number of pedestrian and bicyclist crashes along Gulf Boulevard and the potential easier implementation of safety enhancements if under county control. FDOT however has added Rapid Rectangular Flashing Beacons at several crosswalks along SR 699 in the intervening time.2
State Road A19A
Gulf Boulevard was originally designated as SR 699, but in 1960 a Madeira Beach motel operator suggested that the coastal route be renumbered as A19A (Alternate 19A). The Madeira Beach Chamber of Commerce board of directors approved a resolution asking the State Road Board for the change. The Treasure Island Chamber of Commerce also supported the idea, with proponents citing SR A1A on the east coast as a way to attract additional visitors to the Holiday Isles.2
H.M. Johnson, district engineer for the State Road Department however countered in early July 1961 that designating A19A would conflict with existing U.S. 19 Alternate (Seminole Boulevard, Tyrone Boulevard, etc.) and tend to confuse motorists. Johnson further added that the route could only be designated if it was approved by the Association of State Highway Officials (AASHO), after a respective highway department recommended it. He also cited that at 18 miles in length, that the A19A proposal could not be recommended as an additional alternate route. Supporters of A19A followed by indicating that they were seeking a state road designation, not a new U.S. highway.2
Efforts to renumber SR 699 as SR A19A continued with the Madiera Beach City Commission requesting the change to the State Road Board in February 1962. The proposal was rejected, with Board Chairman John R. Phillips explaining that state roads are assigned based upon a "grid method" and that SR 19 was located between Groveland and Palatka, and that SR 19A would be an alternate for that route. Phillips stated
If we were to assign an A to a number where the main route is in another area, our numbering system would soon lose its significance.
Despite repeated objections from the state, additional chambers of commerce weighed in support for A19A, and it was ultimately designated in February 1969.
5
State Road A19A formed a loop south from U.S. 19 at Pinellas Park along 66th Street to Pasadena Avenue. Pasadena Avenue connected SR A19A with St. Petersburg Beach Causeway to Gulf Boulevard, which extended the route south to the Pinellas Bayway. SR A19A returned to U.S. 19 (34th Street S) via 54th Avenue S in south St. Petersburg.5
| | |
| --- | --- |
| | scenes |
| | |
| --- | --- |
| | Corey Avenue crosses SR 699 (Gulf Boulevard) here into the heart of Downtown St. Pete Beach. 03/11/15 |
Sources:
"FDOT may give Gulf Boulevard to county." TBNWeekly.com, September 26, 2013.
"A19A Support." St. Petersburg Times (FL), December 18, 1960.
"More on A19A." St. Petersburg Times (FL), January 1, 1961.
"A19A Plan Rejected." St. Petersburg Times (FL), February 4, 1962.
"66th St. Ribbon-Cutting Today." St. Petersburg Times (FL), June 6, 1969.


Photo Credits:

03/11/15 by AARoads and Chris Kalina

Connect with:
State Road 666 - Tom Stuart Causeway / 150th Avenue
State Road 682 - Pinellas Bayway
State Road 688 - Ulmerton Road
State Road 693
State Road 694 / Pinellas County 694

Page Updated 05-15-2019.